Dollar Scholar Asks: How Often Should I Get a Free Credit Report?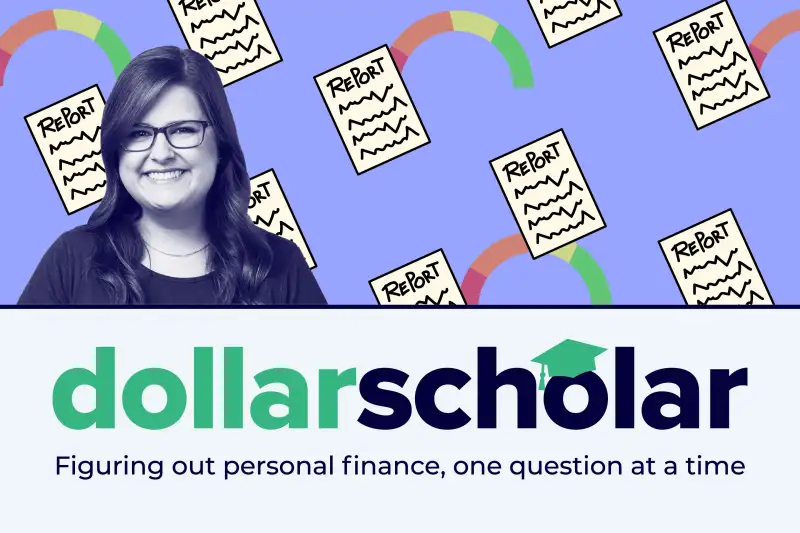 This is an excerpt from Dollar Scholar, the Money newsletter where news editor Julia Glum teaches you the modern money lessons you NEED to know. Don't miss the next issue! Sign up at money.com/subscribe and join our community of 160,000+ Scholars.
---
Back in 2003, the Fair and Accurate Credit Transactions Act gave Americans the legal right to download one free credit report from each of the three major credit reporting agencies every year. So personal finance experts developed a recommendation: Everyone should pull their credit every four months, cycling between the companies.
But then the pandemic changed the status quo.
In April 2020, the bureaus loosened their restrictions. Citing a surge in missed credit card, bill and rent payments due to unemployment levels not seen since the '40s, they announced people could — for a limited time only — pull a free credit report from each agency every week.
TransUnion, Equifax and Experian have recently decided to make that policy permanent. The once-every-four-months recommendation money experts have been relying on for two decades is no longer applicable; in theory, you can download more than 150 (!) credit reports a year for free. We're in uncharted territory… so what now?
How often should I check my credit report?
"Any time you're given greater access to information that can help you live a better financial life, that's fantastic," Bruce McClary, senior vice president of media relations and membership at the National Foundation for Credit Counseling, tells me. "We really need to be approaching it in a very purposeful and thoughtful way."
It's tough to come up with a blanket answer, but McClary says I should "at the very least" be pulling my credit report once a month to make sure the information on there is accurate.
Credit reports contain a slew of personal data, including my birthday, current and previous addresses, employers, accounts, balances, payment histories, inquiries and more.
If there's an error, I need to dispute it by contacting the credit bureau that issued the report, explaining what's incorrect and showing proof. The bureau must investigate within 30 days.
If there's something unfamiliar on my credit report, it could be NBD, like my student loan debt was sold to a new servicer and I never realized it. But there's a chance it could be a sign of identity theft — someone, say, using my name to open new credit card accounts.
"There are consequences involved in leaving inaccurate information unaddressed," McClary adds. "Treat everything as important."
Credit reports (and the scores based on them) are widely used as a barometer of my worthiness as a borrower.
It's not just a concern if I'm hoping to buy a house — my credit history can influence whether I get approved for an apartment, whether I have to put down a security deposit with a utility provider and whether I can buy a new cell phone, to name a few.
Shamica Joseph, learning experience designer at GreenPath Financial Wellness, says even if all the information listed is right, it's still a good idea to know what's on my credit report. That way there are no surprises the next time I apply for a loan.
This is also why I want to pull reports from all three bureaus: Although they should line up, there's a chance I'll find inconsistencies.
Similarly, if I'm not happy with what I see, I can use this as an opportunity to address it. (McClary suggests seeking out a legit financial counselor through the NFCC if I need professional help.)
"Whatever your credit goals may be, keeping track of your credit reports on a monthly basis will help you easily do that," Joseph adds.
Although pulling my own credit results in a soft inquiry, not a hard one, there can be risks in viewing my reports too often. She says some people get a lot of anxiety from checking their credit, so "in general, it's not recommended to check it weekly."
Contrary to popular belief, banks and credit card companies aren't legally required to report every on-time payment I make to to the bureaus, McClary says. So even if pulling my credit every single week doesn't freak me out, I likely won't see a ton of changes or improvement in that short amount of time anyway.
The bottom line
With the drastic expansion of free access to our credit reports, experts recommend I start pulling mine monthly (as opposed to the previous rule of thumb, which was every four months). While looking at the documents, I should keep an eye out for anything I don't recognize or don't think is correct.
This is a chance for me to protect myself from identity theft and prepare myself for future loan applications. After all, information is power.
More from Money:
How to Check Your Credit Report
How to Improve Your Credit Score
Am I Hurting My Credit Score Without Even Knowing It?