For $30 Million, You Can Be Donald Trump's Neighbor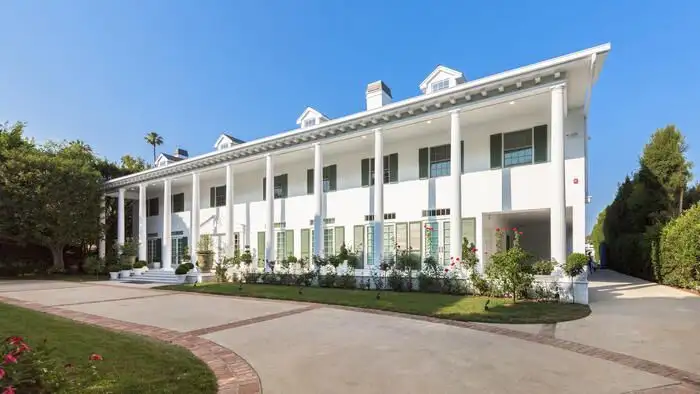 TopTenRealEstateDeals.com
If you have $30 million to spare, you could have the unique privilege of living next door to Donald Trump.
Not only that, but you'll have bragging rights of living in a home formerly owned by the 2016 Republican presidential nominee as well. The Beverly Hills mansion, once owned by Trump and located next to another home Trump still owns, has recently been put on the market for $29.995 million, TopTenRealEstateDeals.com reported.
Trump previously bought two side-by-side mansions on Rodeo Drive, but sold one in 2009 for $9.5 million. That's $805,100 less than the price he paid for the home a year earlier, according to public records--yet another indication that it's worth questioning Trump's claims to be an amazingly successful businessman.
The new owners renovated and expanded the home significantly, and are now putting it back on the market again. Real estate agents told TopTenRealEstateDeals.com the home is one of the best offerings in a neighborhood where homes are rarely put up for sale.
Read More: Hotel Bookings at Donald Trump's Hotels Are Way Down
The estate is located on the 800 block of Rodeo Drive -- just blocks from the Beverly Hills Golf Club and the Beverly Hills Hotel. The Greek Revival-style, two-story homes home spans nearly 15,000 square feet and contains 11 bedrooms, 10 baths, a pool and basketball and tennis courts. The decor features a Thassos marble foyer and grand chandelier, while outdoor terraces are designed in Carrara marble with fountains spread throughout.
If the Hollywood lifestyle doesn't appeal to you, Beverly Hills isn't the only place where you can buy an opulent estate within a stone's throw of a Trump property. The billionaire businessman also owns a triplex penthouse in Manhattan's Trump tower, the famed Mar-a-Lago palace in Palm Beach, Fla., and Seven Springs, a 60-room summer retreat in Bedford, N.Y.