President Trump Just Donated His Salary to the Education Department. Here's How Much He Wants to Cut From It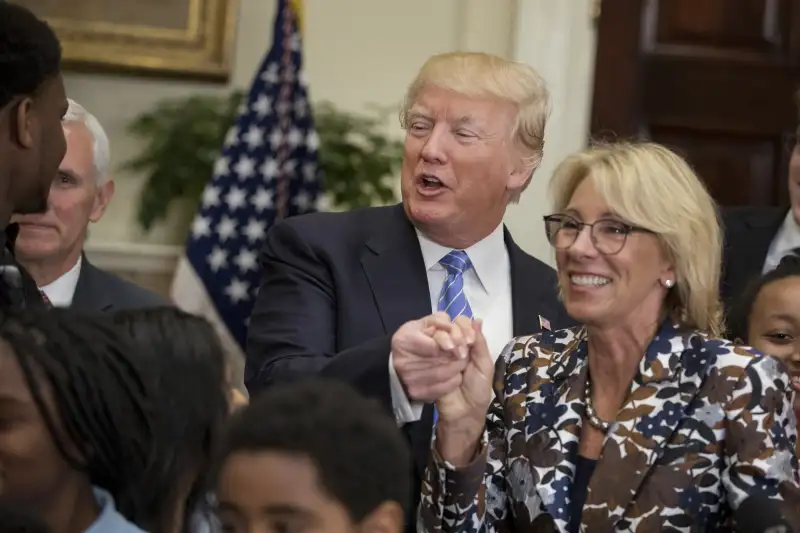 Bloomberg—Bloomberg via Getty Images
Before he entered the Oval Office in January,Donald Trump pledged to donate his yearly salary of $400,000 that he earns serving as President of the United States.
Fulfilling that promise for the second time this year, Trump donated his second-quarter salary of $100,000 to the Department of Education on Wednesday to help fund a STEM camp, which teaches young students about science, technology, engineering and math.
But the gift is just a small fraction of what the department would lose under Trump's proposed budget. Though Trump's 2018 budget will not be enacted without congressional approval, his proposal would cut the education department's spending by $9.2 billion — or about 13.5% — which would include significant slashes to student loan programs.
A similar situation occurred in April when Trump donated his first-quarter salary to the Department of Interior, which stands to lose 12%, of about $1.6 billion, of its funding under Trump's proposed budget. His $78,333.32 gift back then is helping fund the National Park Service's battlefield preservation efforts, which is currently $229 million behind in deferred maintenance costs.
Education Secretary Betsy DeVos released a statement Wednesday thanking Trump for his donation, lauding "his commitment to our nation's students and to reforming education in America so that every child, no matter their ZIP code, has access to a high quality education."
"We want to encourage as many children as possible to explore STEM fields in the hope that many develop a passion for these fields," she added.
It is unclear what the STEM camp will look like, but DeVos mentioned a reading event she hosted with Trump's daughter Ivanka, special assistant to the president, at a Smithsonian museum in Washington D.C. aimed at encouraging young girls to learn more about STEM subjects.
Representatives from the White House and the Department of Education did not immediately respond to request for comment.