20 Dream Home Upgrades That Will Make Your Friends Insanely Jealous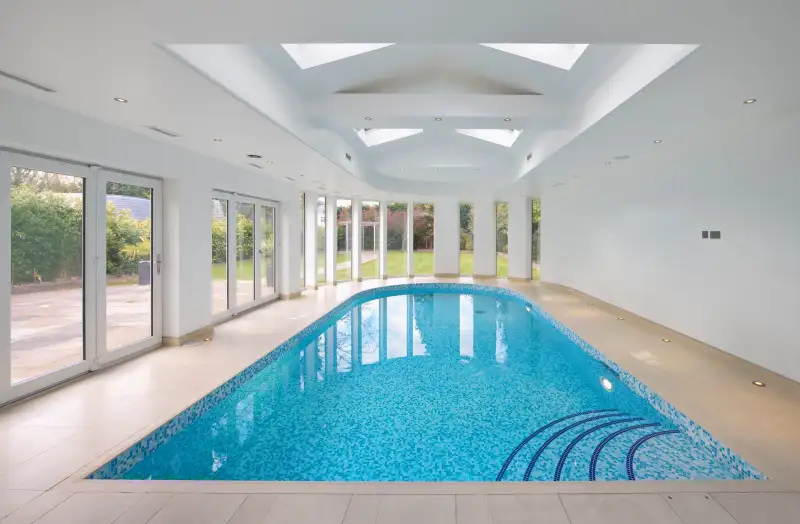 Sure, you dream about floating in your own indoor pool or playing full-court basketball in your basement. But have you ever wondered what it would cost to make this a reality?
Well, we did.
Tricked out houses have become an American obsession. Just look at the marble-trimmed home theater in LeBron James' $23 million Los Angeles estate and the elegant wine cellar in Beyoncé and Jay Z's Malibu mansion. And it's not just celebrities. Average American homeowners have been pouring fortunes into upgrading their homes, too. In all, Americans spent an estimated $316 billion on home remodeling in 2017, up from $296 billion the year before, according to Harvard University's Joint Center for Housing Studies.
While much of that likely funds functional upgrades, there's evidence Americans are having fun, too. Sure, necessary upkeep like attic insulation and bathroom remodeling populate home improvement website ImproveNet's list of hottest remodeling trends, but fun additions, like home theaters and what the site called "an outdoor oasis" make the compilation, too.
So how far would a dream home improvement job really set you back? Until the day Amazon charges a flat fee to drop a custom-built bowling alley on your doorstep, it can be hard to tell. Many of the most desirable dream additions require help from a knowledgable contractor or major DIY know-how before a price range comes into view. That said, we've taken the first step for you, pricing out all the extras you secretly covet -- from rock climbing walls to home arcades to doghouse mansions.
Hot Tub
Price range: $2,000 - $23,500
As far as dream home luxuries go, the hot tub is a relatively attainable one. Basic hot tubs built to fit four people start around $2,000 and can stretch up to $10,000, depending on brand and capacity. Want special lights or a custom design? You can expect costs to rise as you add glamor.
While the upfront cost of a hot tub isn't bad, installation can get pricy. According to Contractor Culture, associated costs -- from building a concrete patio to hiring an electrician -- can run your hot tub installation bill up to $13,500. The price of water filters, water treatments and electricity will recur throughout the hot tub's life span, so be sure to set aside the cash to account for these costs, too.
Sauna
Panama7—Getty Images/iStockphoto
Price range: $100 - $8,000
Installing a home sauna isn't as overwhelming as it used to be. What used to require a custom-built room has become achievable with a prefabricated kit. While low-cost portable saunas clock in between $100 and $300, infrared saunas, a chamber that heats participants with infrared light instead of steam, range in price from $1,000 to $2,500 at a store like Home Depot based on size and design. Saunas designed to withstand the elements or fit more people are costlier, with a price range that stretches up to around $8,000.
Indoor Pool
Price range: $20,000 - $256,874+
Indoor pools have a reputation as a luxury addition, and for good reason: According to Fixr, installation typically costs between $20,000 and $100,000, and that's assuming you already have a suitable room in which to put it. If not the price tag can more than double. According to River Pools, a pool construction company, the average cost of building a pool room is $112,500.
Once you have the pool and the pool room, your still not done, however. Count on a water heater ($1,560-$3,774 to install, $100-$600 per month to run, according to HomeAdvisor) electrical work (variably priced), a pool cover ($30-$10,000, depending on type) and a dehumidifying system ($20,000 to $30,000, according to River Pools).
Library
David Papazian—Getty Images
Price range: $850 - $1,100 per square foot
Thrifty readers know they don't need a fortune to assemble a home library. Just clear some wall space, pick a bookcase in your budget, add a cozy chair and -- voila! -- a home library.
If your dream is less IKEA showroom and more like the library in Beauty and the Beast, you might want to pony up for some built-in bookcases. Unless you plan to take library construction into your own hands, a contractor will run you $850 to $1,100 per linear foot, according to Brooklynbased. Open shelves keep the costs the lowest, while adding drawers, doors and ornamental features will bump up the total price.
Like the look but lack the books? For those who don't want to hit the local bookstore, companies like Books by the Foot allow home decorators to order books in bulk.
Hidden Passageway
Price range: $598 - $8,000+
The dream of every child who ever wanted to discover a secret passage behind a bookshelf can be yours -- and it might cost less than you would think. The Murphy Door sells assembled bookcase doors suitable for hiding your secret passages starting at $598. That price goes up with tweaks to height, design, finish and security.
Secret passageway enthusiasts unconfined by a budget have even more options for bringing their hidden doorway dreams to life. Creative Home Engineering offers custom-built hidden bookcase door designs starting at $8,000. Always been more of a "secret entrance behind a fireplace" or "doorway camouflaged by a full-length mirror" kind of person? They make those, too.
Indoor Bar
Price range: $2,000 - $12,000
If your ideal night out is a night in, an indoor bar could be the perfect touch to your dream home.
The average construction cost for a small bar falls between $2,000 and $4,000, while a larger bar can run you $6,000 to $12,000, according to Angie's List. The related costs are much like those that go into a kitchen remodel: What kind of counter, cabinets and sink do you want? How much room do you need? Do you want a fridge or plan to keep all your spirits on a shelf?
Once the home bar is built, you still need to fill it in. If you don't have your favorite spirits on hand, be sure to take the cost into account.
Indoor Theater
Price range: $800 - $50,000+
At a base level, a home theater really only needs four things: a TV, a media player, a sound system and darkness. Assuming you have a dark room for your home theater, the bare minimum will run you about $825 total: between $700 and $4,000 for a large television, $25 to $100 for a DVD or Blu-ray player and between $100 and $3,000 for speakers.
That said, if you're planning your dream home, you probably don't want to stick with the bare minimum. AudioAdvice, a home electronics company that specializes in home theaters, estimates the cost of a typical home theater between $10,000 and $50,000, a price that includes a projector, sound system, seating and professional design and installation.
Doghouse Mansion
Price range: $125 - $40,000
Once your dream home is finished, it's only natural to want the same for your dog. Whether your ideal doggie dwelling is a quaint log cabin or a hip Brooklyn brownstone, you can make Fido's dreams come true, too.
While less pricey luxury doghouses, like a nice little house with a window planter, fall below $200, you'll need to shell out the big bucks if you want a specific architectural style. Love mid-century modern? There's a $3,500 doghouse for that. Prefer a more homey Cape Cod-style? You can get one for just about $4,900.
As with most luxury projects, the only boundary is the money you're willing to spend. Those with a budget big enough for a down payment on a human house can instead invest that money in a $30,000 limestone doggie mansion or a $40,000 canine version of the Taj Mahal.
Indoor Basketball Court
Price range: $5,000 - $70,000
Yearn for the days of shooting hoops on the playground? Why not recapture the feeling with a custom-built indoor basketball court?
At Snap Sports, an athletic flooring company based out of Salt Lake City, projects to turn existing space into a basketball court are priced by the square foot. According to Jimmy Wood, the company's regional sales manager, the least expensive option rings in at $5,000 for a fully-finished 900-square-foot indoor court. Those looking for a top-of-the-line basketball experience can install a full indoor court for between $60,000 and $70,000, Wood says.
Of course, if that price runs too high, there's always the good old over-the-door basketball hoop, which you can find online for around $20.
Wine Cellar
Price range: $10,000 - $74,000+
According to home wine cellar manufacturer Heritage Vine, the least expensive custom wine cellar rings in around $10,000, a price that includes climate control, wine racks and construction materials. New Hampshire wine cellar design company Vigilant pegs the price of their smallest wine cellar between $16,675 and $21,375 on average. The most expensive option, a 300-square-foot room that holds 3,245 bottles, can bump cost up to $74,000 and beyond. Those estimates only include the cost of design, wine racks, cooling and installation -- don't forget to account for the price of the wine you want to house.
If all this sounds like a high price to age a few bottles of your favorite merlot, a wine cooler might be a better option. While coolers built to house 100 or more bottles can run you $3,000 or more, while smaller versions start around $50.
Elevator
Price range: $10,000 - $100,000
Elevators are not just dream house items anymore. Cheaper technology has made them affordable for those looking for greater accessibility. According to home remodeling website Fixr, the average cost of installing a home elevator falls between $10,000 and $50,000, depending on the type of elevator. Additional work, like concealing the elevator or adding access to additional floors, can bump the cost up to $100,000.
Rock Climbing Wall
Price range: $100 - $300 per square foot
Elevator too blasé? Staircase not challenging enough? Maybe your dream home could use a rock climbing wall.
Adding a custom-built rock climbing wall to an existing home typically costs between $150 and $300 per square foot, says Christina Frain, the sales and marketing director at the Colorado-based Eldorado Climbing Walls. That price tag depends on the wall's design, level of complexity and work required to install it. If incorporated into an unbuilt home still in the planning stages, the cost can drop to $100 per square foot.
Heliport
Price range: $15,000 - $500,000
Even with a dream home that fits your every need, you're going to want to leave once in awhile. And what better way to depart than a helicopter ascending from your very own heliport?
According to Business Jet Traveler, the price for a home heliport ranges between $15,000 and $500,000. A heliport is useless without a helicopter, which can run you anywhere between $250,000 and $1,700,000, according to Owlcation -- and that's not counting fuel costs or maintenance.
Home Arcade
Price range: $1,000 - $4,950 per cabinet
Is your best life the one in which you always get the high score on Space Invaders? Investing in a home arcade is one way to guarantee your name will never leave the leaderboard.
If you have a finished basement already, converting it into a game room is just a matter of hunting down the games you want. eBay sellers frequently price functional retro gaming cabinets between $1,000 and $2,000 -- games included. For those who like arcade games but prefer newer hardware, companies like the Wisconsin-based Extreme Home Arcades's newly-built cabinets housing game-emulating software range in price from $2,250 to $4,950.
Bowling Alley
Price range: $45,000 - $333,900
It's hard to estimate the cost of a home bowling alley because there are so many variables: equipment, materials and installation all factor into the overall price. According to HomeAdvisor, building one lane in a commercial alley with new equipment generally costs around $45,000 -- a price point replicated or undershot by assembling your own home alley piece-by-piece. Those who don't want to worry about building their own bowling lanes can pay a little more to hire a company to do it for them. Fusion Bowling, a Florida-based bowling alley company, offers bowling alley packages starting at $90,900 for one lane and maxing out at $333,900 for four.
Greenhouse
Per Magnus Persson—Getty Images/Johner
Price range: $164 - $81,144
Home greenhouses run the gamut from affordable but basic to beautiful but expensive. Home Depot stocks a range of greenhouses from a 10 x 10 tarp structure priced at $163.29 to a 16 x 30 polycarbonate and steel greenhouse for just under $21,000.
Those with grander budgets and visions can hire contractors to construct the greenhouse of their dreams. Architectural Glass, a Washington-based greenhouse design company, places the average cost of a custom greenhouse between $160 and $165 per square foot, with their most expensive 504-square-foot greenhouse estimate ringing in around $81,144.
Chef's Kitchen
Price range: $63,829 - $125,721
Whether you're training for your Chopped audition or just perfecting your grandmother's bouillabaisse, a chef's kitchen is a homeowner favorite. The cost to transform your current kitchen into a gourmet prep area depends on how much work you have to do. Remodeling's 2018 Cost vs. Value Report placed the price of a major kitchen remodel at $63,829 for a mid-range renovation and $125,721 for a high-end makeover that included a built-in refrigerator, commercial-grade cook top and other gourmet features.
Outdoor Kitchen
Price range: $900 - $50,000
Barbecue area not luxe enough for your dream house? Might as well make it an outdoor kitchen.
According to Angie's List, an outdoor kitchen can run you anywhere between $5,000 and $50,000. The centerpiece of an outdoor kitchen, a high-quality grill can cost anywhere between $1,000 and $15,000. Additional luxuries, like a built-in fridge or high-quality countertops, will add to your overall bill. And setting up electrical, plumbing and gas lines can range between $2,200 to $3,000 to install, depending on how far your kitchen is from the house.
Putting Green
IPGGutenbergUKLtd—Getty Images/iStockphoto
Price range: $15 - $25 per square foot
Whether you prefer a small putting green for practicing your swing or a full-fledged 18-hole golf course, you can integrate your love of golf into your dream home. Like most custom projects, the cost of your at-home green varies based on how large you want it. According to Tour Greens, a custom golf course manufacturer, a golf course will run you about $15 to $25 per square foot.
Aquarium
Elad Gonen/ArcaidImages—Getty Images
Price range: $570 - $1 million+
When it comes to setting up a home aquarium, the only limit is your budget. On the lower end, a well-prepared 29-gallon home aquarium stocked with fish can cost just over $570, according to PetEducation.com, a Petco-owned animal health website. On the upper end, Realtor.com estimates the price of some high-end 5,000 gallon aquariums at $1 million or more, rare fish included.
We've included affiliate links into this article. Click here to learn what those are.