Meet Eddie Lampert, the Billionaire Investor Who Once Negotiated His Way Out of a Kidnapping and Is Now Trying to Save Sears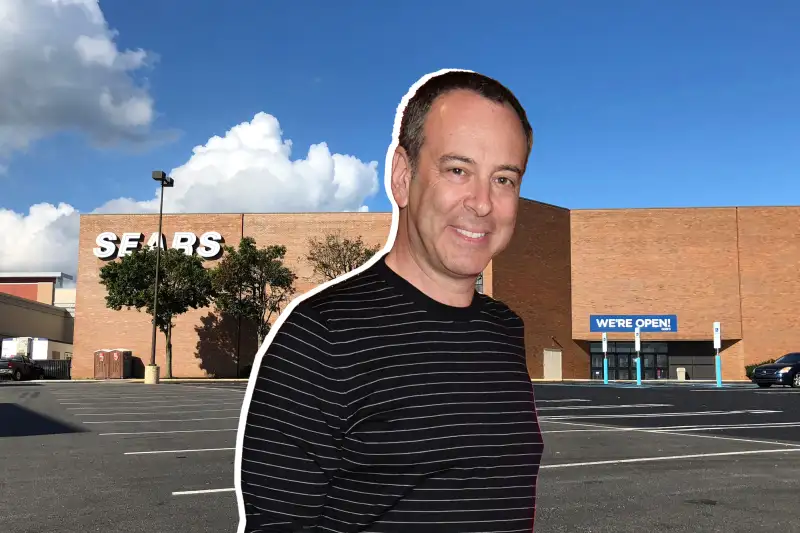 Photo illustration by Money; (Eddie Lampert) Rob Rich/WENN.com/Alamy; (Sears) Tom Hals—Reuters
Once a rising star on Wall Street, Sears Chairman Eddie Lampert has spent the last 15 years overseeing the decline of the once-iconic American retailer. Now, the 56-year-old billionaire is trying to save the company from liquidating.
The saga has been unfolding for months, ever since Sears filed for bankruptcy in October of last year. On Thursday, Lampert made a last ditch attempt to keep the chain open, with a revised bid of more than $5 billion, including $40 million set aside for Sears' employee severance. Sears' creditors, along with the board, are expected to make a final decision Monday.
Despite his effort to keep Sears' doors open, many employees worried about their jobs and have decidedly mixed feelings about Lampert, blaming his management decisions for the company's collapse.
"I feel that the company should – and Eddie Lampert in particular – should honor the commitments that he made," says Gabe McGuire, an employee at a Kmart in western North Carolina that is slated to close in March.
(Sears declined to comment. ESL, Lampert's hedge fund, didn't immediately return a call for comment.)
Early Life and Career
Lampert wasn't always wealthy. He spent his early years in Roslyn, N.Y., a village on the North Shore of Long Island, growing up in an affluent family. But life changed drastically after his father, a successful lawyer, died of a heart attack when Eddie was only 14 years old. With his family struggling to make ends meet, Lampert became an hourly worker, and helped out by taking jobs at warehouses packing boxes.
He later attended Yale University, with the help of financial aid and student loans. His college roommate was Steve Mnuchin, who later worked for Lambert's hedge fund and served on the board at Sears for 12 years before he became Secretary of the Treasury. While at Yale, Lampert was admitted into the exclusive Skull and Bones society, whose members include various business moguls and political elites as well as three former presidents.
After graduation, he ended up working in the risk-arbitrage department at Goldman Sachs for several years. After his boss, Robert Freeman, was arrested for insider trading in 1987, Lampert decided to leave the company in 1988. With $28 million in seed money from Texas billionaire investor Richard Rainwater, he founded his own hedge-fund, ESL investments. For the first fifteen years, Lampert reported average annual gains of around 30%, outperforming almost everyone else on Wall Street.
One of Lampert's biggest coups as an investor was when he purchased 30% of AutoZone in 1998. By setting up a series of stock buybacks, he was able to drive up earnings per share and send the stock price soaring. Lampert later sold his stock for between $500 and $600 per share in 2012, making nearly $1.5 billion in the process.
The Next Warren Buffett?
In 2003, spurred by his success with AutoZone, Lampert decided to buy Kmart out of bankruptcy. He purchased the majority of Kmart's debt before the company went into Chapter 11, and after taking control, he immediately started cutting costs to keep the company alive by reducing stores' inventory, slashing expenses, and scaling down on advertising.
A week before the Kmart deal was announced, however, Lampert was kidnapped from the garage of his Connecticut building by four assailants, who held him at gunpoint in a hotel for almost 30 hours. His captors told him they'd been offered $3 million to kill him, but Lampert was reportedly able to negotiate his release by offering to pay $5 million, according to Law-enforcement officials. He was dropped off along the highway and walked a half-mile to the nearest police station, where officials traced stolen credit-card transactions to locate and arrest Lampert's captors.
After he completed the Kmart deal, Lampert's cost-cutting strategy yielded results: Kmart's operating profit rose from $400 million to $900 million in 2004. As Lampert turned the once-bankrupt company into a $3 billion cash cow, various financial media began singing his praises: Time magazine called him part of a "new breed" of hedge-fund managers and Businessweek even dubbed him "the next Warren Buffett."
In 2005, Lampert decided Kmart should buy Sears, another struggling retailer. He merged the two into Sears Holdings, becoming the nation's third largest retailer, in an $11.5 billion deal. "Kmart had the locations and Sears had the brands," he told Vanity Fair. Lampert envisioned that by combining the two chains, they could better compete with retail titans like Walmart and Macy's.
Sears: The Fall of an Iconic Brand
Lampert began proactively cutting costs just like he had done at Kmart, but, amid a fast-changing and increasingly competitive retail environment, Sears never really found its footing. Sears' stock steeply declined, as sales fell and losses piled up. The company closed stores, sold brands, and reduced inventory in an effort to regain profitability, but the arrival of Amazon as well as the 2008 financial crisis both dealt further blows.
Lampert took over as CEO in 2013 with the hopes of finally turning the retailer around, but failed against a national decline in the department store industry. Under his management, Sears' deterioration has erased over 200,000 jobs and $30 billion in shareholder wealth since the company's April 2007 peak, according to The Wall Street Journal. The company is now on the verge of liquidation after it filed for bankruptcy in October 2018 and closed another 142 stores.
There is a great deal of discontent with Lampert, as many have lost jobs as Sears struggled through years of losses and thousands of store closures under his watch. Lily Wang, an organizer with labor group Rise Up Retail, has been working with laid-off and current Sears and Kmart employees amid the company's bankruptcy. "Some of the workers are telling us that they feel Lampert has been liquidating the store since he took over," she says.
A court-supervised bankruptcy auction Monday will ultimately decide whether the 126-year-old chain gets liquidated or if Lampert will keep control of the business. Thursday's $5 billion offer is likely the last chance for Lampert to buy the struggling retailer out of debt and keep its last 425 stores open.
The latest offer represents an improvement on Lampert's previous $4.4 billion bid, which Sears's creditors and independent directors rejected, saying it fell short of covering bankruptcy expenses and beneftted Lampert and his hedge-fund more than others. ESL protested Sears' decision, however, winning approval from the bankruptcy court to re-submit its offer.

Lampert's Own Losses

Today, Lampert commands a net worth of $1.6 billion, according to Forbes. He is known to rarely visit Sears headquarters in Chicago, instead preferring to run the company from his $38 million estate on the 'billionaire bunker' island off the coast of Miami. Lampert certainly lives a billionaire lifestyle: He owns two other homes – a $26 million property in Connecticut and a $14.5 million home in Colorado, as well as a $130 million yacht named 'Fountainhead.'
While Lampert hasn't suffered like his employees, Sears' decline has cost him: Since taking over as CEO in 2013, he's lost almost half his fortune – once as large as $3.1 billion. During his peak before the financial crisis, Lampert managed over $15 billion at his hedge-fund. As his bet on Sears soured over the years, more and more investors abandoned him. By the end of 2017, ESL managed only $1.3 billion, according to filings with the Securities and Exchange Commission.
Jennifer Calfas contributed to this article.