You Can Tell It's an Election Year Because Gun Sales Are Hitting Record Highs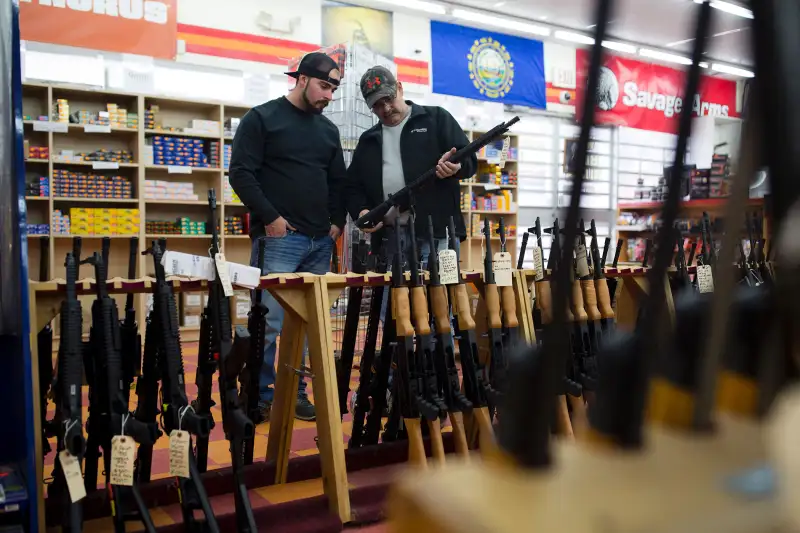 Dominick Reuter—AFP/Getty Images
Before even factoring in the final two months of the year, the FBI has already conducted more firearm background checks in 2016 than it handled for all of 2013 or 2014. We probably shouldn't be too surprised: 2016 is a general election year, and there's a history of increased gun sales associated with a changeover of power in Washington, D.C.
FBI data shows that the number of background checks conducted by the agency each month so far in 2016 has surpassed the total from the corresponding month in 2015—and 2015 was an all-time high for gun sales in America. The FBI has handled 22.2 million background checks during the first 10 months of 2016, compared to roughly 21 million apiece for all of 2013 and 2014 and 23.1 million over the course of 12 full months in 2015.
Before 2006, mind you, the FBI had never conducted more than 10 million background checks in the course of a year. From 1999 to 2005, the FBI handled between roughly 8 and 9 million background checks per year. The agency conducted more checks than that during the first four months of 2016 alone.
Read Next: Here's the Truth About That Ad for a 'Pre-Hillary Sale' on Guns
The final two months of the year are generally huge for gun sales, what with Black Friday and holiday shopping purchases. Now it is virtually guaranteed 2016 will surpass the previous all-time high for firearm sales. In all likelihood, it will break the old record for gun sales by an enormous margin.
To some extent, the rise in gun sales in 2016 has been predictable. Gun sales in America tend to be driven by two kinds of fear—the fear for one's safety in the light of mass shootings and general societal upheaval, and the fear that gun control advocates will make it difficult or impossible to buy guns. This year, the prospect of Hillary Clinton in the White House has pushed gun-buying sprees by those worried about potential gun-control measures in the future, very similarly to the sharp rise of guns and ammo sales in 2012, when President Barack Obama was reelected. One gun store even promoted a "Pre-Hillary Sale" on assault rifles recently.
Events like the mass shooting in Orlando in June have also been linked to higher gun sales, which were already at a record pace before the tragedy. The incredibly contentious presidential campaign seems to be resulting in a surge of weapons sales as well. Leading up the election, gun sales rose 17% from September to October, and October 2016's sales were up 18% compared to the same month a year ago.
Read Next: The Biggest Financial Winners (and Losers) of the Election
For that matter, a new report from Politico notes that fear-induced sales for a wide range of apocalypse and survivalist merchandise has been soaring. And while most of the customers buying such goods are supporting Donald Trump for president, buyers assume the worst is coming no matter who wins the election.
"Most all of them expect there will be riots in either case," Lucas Cameron, a doomsday prepper business owner, told Politico. "The two people who are running for office—a lot of people are scared that he'll hit the nuclear button without even taking a breath, and that she's so wicked that I won't be surprised if she opens the floodgates of ISIS to come in and kill all Americans."