These 4 States Voted to Raise the Minimum Wage to at Least $12 an Hour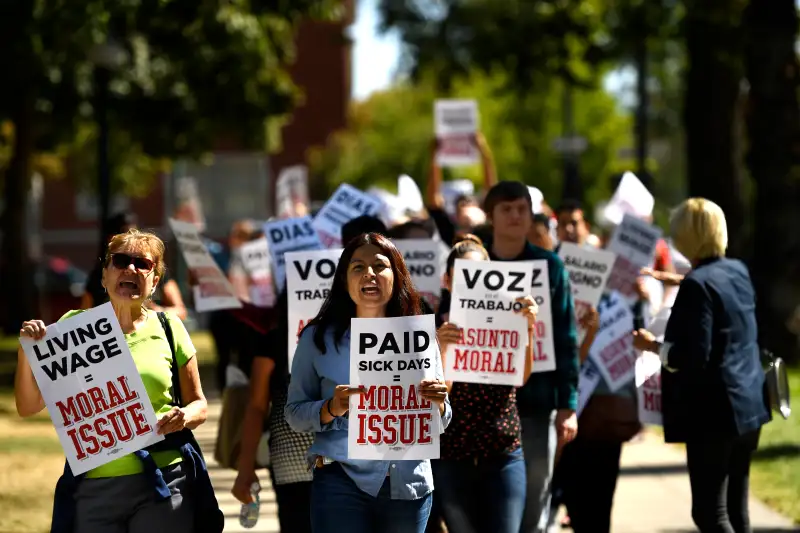 Joe Amon—Denver Post via Getty Images
While many people were disappointed by the results of Tuesday's elections, some Americans are celebrating the fact that a pay raise is finally on the horizon.
Voters in Washington, Arizona, Colorado, and Maine all approved measures to raise their state's minimum wage, Bloomberg reported.
Mainers will see the greatest pay hike, with the minimum hourly pay jumping from $7.50 to $12 by 2020, and later increasing with inflation. The minimum wage for tipped workers there will also increase to $5 an hour, with $1 increase until their earnings equal the general minimum wage by 2024. Colorado will also give workers a sizable raise, incrementally increasing the minimum wage from $8.31 to $12 by 2020.
In Washington, not only will workers receive a pay increase -- from $9.47 to $13.50 by 2020 -- but employers will now be required to provide them with one hour of paid sick leave for every 40 hours worked. Along with a pay hike from $8.05 to $12 by 2020, Arizona will also provide workers with sick leave: 40 hours annually for those at large companies, 24 hours for those at smaller businesses, and guaranteeing one hour of paid sick time for every 30 hours worked.
Read More: Why a $15-an-Hour Minimum Wage Won't Happen Any Time Soon
Still, the increases aren't as great as those seen in some major cities -- like Washington, D.C., Seattle, San Francisco and New York City -- which have passed ballot measures to raise the minimum wage to $15. However, in the wake of Donald Trump's victory last night in the presidential election, others hoping for a raise might be in luck. The president-elect told CNN in May he might be "open to doing something" about the minimum wage, though that statement reversed his earlier claims that wages were too high across the country.