These 9 Electric Cars Got Cheaper This Year — and More EV Price Cuts Are Likely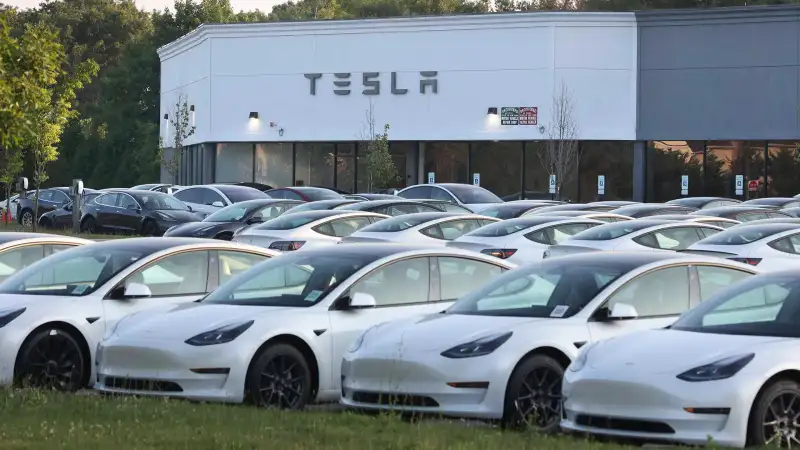 With Ford slashing the MSRP for its F-150 Lightning pickup trucks by nearly $10,000 this week, the 2023 EV price wars are truly heating up.
New electric vehicle prices are down nearly 20% overall in the past year as a growing list of manufacturers are lowering sticker prices or offering rebates or cash incentives to try to increase sales.
Recent data indicates that dealerships are becoming oversupplied with electric cars — a twist following a prolonged period when the availability of EVs was limited. As the market shifts, lower prices are in store for consumers.
Major price cuts from Tesla kicked off competition among automakers at the start of 2023. Ford just made its second big countermove, cutting prices on the Lightning truck by nearly $10,000 for some trims after previously lowering the manufacturer's suggested retail price (MSRP) for its other flagship EV model, the Mustang Mach-E SUV.
One of the top-rated vehicles of the year, the 2023 Ford Lightning now has a starting MSRP of $49,995, down from $59,974 before the price cut. Buyers can also qualify for up to $7,500 in EV tax credits on Ford Lightning models. That puts the cost of the base trim of the truck closer to the sub-$40,000 price that the company touted when it introduced the first version of the vehicle in 2022.
Ford officials said high material costs and supply constraints forced them to increase prices in 2022 and 2023. But now the company can accommodate more demand because a plant is undergoing final upgrades that will soon enable production at a pace of 150,000 units of the electric truck per year.
The Lightning price cuts likely won't be the last EV price reductions we see this year. EV experts note that automakers across the industry are getting access to cheaper batteries, which gives them room to cut sticker prices.
At the same time, they're facing more pressure to stimulate demand with competitive pricing amid high auto loan interest rates and lackluster demand for certain EVs. That means some automakers are likely going to try to sweeten the deal for customers with lower prices as EV production rises and a flurry of new models hit the market.
EVs with cheaper prices in 2023
Here are nine EVs that are cheaper halfway into the year thanks to price cuts or cash incentives:
Ford F-150 Lightning
Price: $49,994
The price of the base trim, the Pro, was lowered by nearly $10,000 on July 17 from a previous starting MSRP of $59,974. (The Pro trim is sold out for the 2023 model year.)
Ford Mustang Mach-E
Price: $42,995
At the beginning of the year, the Mustang Mach-E started at $46,895, which is $3,900 higher than the current price. Other trims got MSRP reductions of more than $6,500.
Tesla Model 3
Price: $40,240
In January, the starting MSRP for the Model 3 was $46,990. Tesla has changed the price of the electric sedan several times this year, but the current price for the base trim reflects an overall price cut of $6,750.
Tesla Model Y
Price: $47,740
The price of the long range trim of the Model Y SUV is $15,500 lower than at the beginning of the year.
Tesla Model S
The Model S luxury sedan got a $10,000 price cut in January, and the price was lowered again in March. At the start of the year, the base trim was $104,990, which is $16,500 higher than the current price of $88,490.
Tesla Model X
The Model X luxury SUV started at $120,990 in January. The base price is now $22,500 lower: $98,490.
Hyundai Ioniq 6
Price: $36,600 after rebate
In July, shoppers can get a $5,000 cash incentive on select trims of Hyundai's electric sedan. That brings the price of the base version down from the MSRP of $41,600.
Kia EV6
Price: $38,850 after cash incentive
Kia is offering a $3,750 cash incentive for its EV6 SUV, which lowers the price down from the MSRP of $42,600.
Audi e-tron GT
Price: $92,400 after purchase credit
Audi's incentives are some of the highest in the EV market, according to CarsDirect.com. Audi e-tron GT buyers can get a $12,500 purchase credit in July off the MSRP of $104,900.
How EV tax credits can lower prices
Federal EV tax credits can essentially lower the price of an electric vehicle by up to $7,500. But only certain EVs qualify, and eligibility for the tax credits depends on how and where a vehicle and its parts are made, in addition to the price.
Smaller EVs like sedans can be eligible for tax credits if they have an MSRP below $55,000, while larger vehicles like SUVs must be under $80,000. Those thresholds have motivated price decisions from automakers in 2023, with some automakers cutting MSRPs to help buyers qualify for tax credits as an extra incentive to buy.
The two highest-profile price-cutting EV makers, Tesla and Ford, both have vehicles that qualify for the full tax credits up to $7,500, including trims of the Model 3, the Model Y and the Ford Lightning. Mach-E buyers, however, can only claim half of the tax credit — $3,750.
Brands offering large incentives on EVs including Audi, Kia and Hyundai are in a bind as their vehicles don't qualify for any tax credits because of where the vehicles and their parts are made.
Cash incentives are a way for these brands to compete with tax credits on other vehicles, but most automakers aside from Tesla have thin margins (if any) on their EVs.
More from Money:
Car Dealers Have Way Too Many EVs (and That's Good for Buyers)
Money's Best Autos of 2023, From Sports Cars to SUVs
Rates are subject to change. All information provided here is accurate as of the publish date.