Money is not a client of any investment adviser featured on this page. The information provided on this page is for educational purposes only and is not intended as investment advice. Money does not offer advisory services.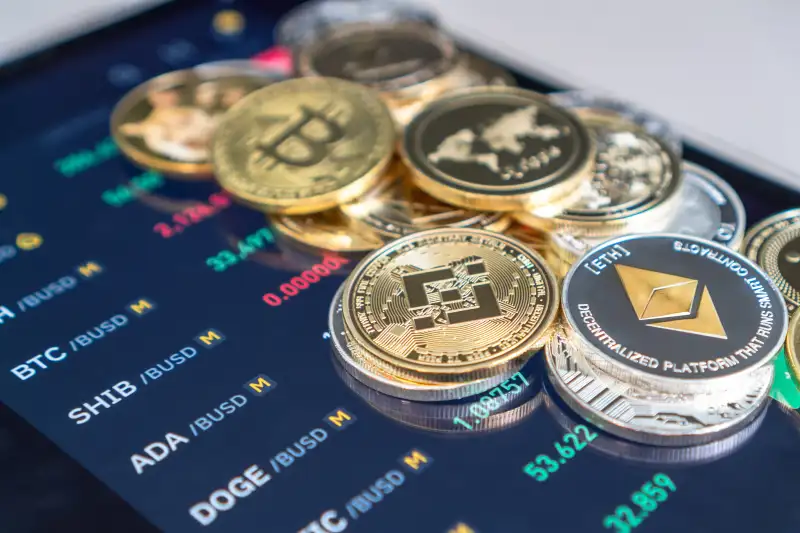 Electrum is an open-source crypto wallet that was first released in 2011. Since then, it has become one of the most popular Bitcoin wallets due to its easy setup across devices, compatibility with major hardware wallets and open-source application.
If you're looking for a cryptocurrency wallet that offers the best desktop experience and are happy trading bitcoin only, then the Electrum crypto wallet could be the best crypto wallet for you.
Read on for our review of Electrum's crypto wallet.
Best desktop Bitcoin wallet
Electrum is our pick for the best desktop Bitcoin wallet thanks to its easy setup process, compatibility with hardware wallets and open-source application structure. Electrum's desktop app also allows for a high degree of customization, making it an ideal desktop wallet for users well versed in crypto trading and who have programming experience.
The wallet does have some drawbacks, namely that it only supports Bitcoin and isn't ideal for beginners. Additionally, Electrum offers limited customer support compared to other popular wallets.
While Electrum is compatible with Windows, Mac and Linux, the mobile version is currently only available on Android devices.
Electrum crypto wallet pros and cons
Pros
Easy setup process
Hardware wallet compatible
Open source application
Cons
Supports Bitcoin only
Limited customer support
Pros explained
Easy setup process
Electrum focuses on offering a no-frills Bitcoin storage experience that is best for those looking for fast and secure Bitcoin trading. As such, setting up your Electrum Bitcoin wallet account is easy. You must download the free app from the Electrum website or the Google Play Store, set up two-factor authentication, create a new wallet and set your password.
Hardware wallet compatible
The Electrum Bitcoin wallet is compatible with several hardware wallet brands, including Ledger, Trezor and KeepKey. Using a hardware wallet allows you to store your private keys in an offline device, making it virtually impossible for them to be compromised by hackers or in a data leak. This adds yet another level of security that software wallets cannot attain on their own.
Open-source application
One of the biggest benefits of Electrum is that it's an open-source application. This means that Electrum has published its entire source code for users to inspect, evaluate and enhance. If you have some programming experience, you can modify this code to build entirely new features to suit your unique needs.
Cons explained
Supports Bitcoin only
Electrum is limited in its selection of supported cryptocurrencies. You cannot purchase Bitcoin with cash using Electrum or store any other cryptocurrency. This means you should look elsewhere for a crypto wallet that can store or exchange with other cryptocurrencies.
Limited customer support
Electrum does not offer direct customer support. Instead, it provides documentation on setting up two-factor authentication, using Electrum with the command line, and more. The official Electrum site also has a frequently asked questions page with more information about the service.
Electrum posts updates and announcements on its official Twitter page, though it does not offer support over Twitter. If you've reviewed the official and unofficial documentation and can't find an answer to your question, you may have to seek support from the Electrum community by posting to BitcoinTalkForum, Reddit or GitHub.
Electrum crypto wallet offerings
Electrum is a bitcoin-only wallet that offers security features like multisig and cold storage. That said, the wallet doesn't feature any other auxiliary services, so you'll have to look elsewhere if you're looking for a wallet that enables services like crypto staking.
Cold storage
Cold wallets store your keys or seed phrases, which give you access to your crypto on offline devices. This makes them much safer than hot wallets, which are always online. Electrum allows you to store your seeds in offline devices and make transactions without having to connect them to an online server, keeping them safe from hackers and data leaks.
Lightning Network connection
Electrum offers Lightning Network transactions as a way to bypass the traditional Bitcoin transaction process. Instead of completing the entire transaction on the Bitcoin network, the Lightning Network only opens and closes the payment channels on-network, while the rest of the transaction is executed off-network. This allows for much cheaper and faster peer-to-peer (P2P) microtransactions.
Multisig wallet
Electrum offers multisig services to enhance the security of your wallet. With a multisig wallet setup, you can require two or more private keys, or signatures, to confirm all your transactions. Similar to multi-factor authentication, enabling multisig for your wallet adds another layer of security to your Electrum wallet, keeping your transactions more secure.
Electrum crypto wallet pricing
The Electrum software wallet is free and users can download the mobile wallet from the Google Play store and the desktop wallet from the official website. There are no fees to set up your Bitcoin wallet. But, as with other crypto wallets, Bitcoin charges a variable fee for each transaction.
Electrum transaction fees are paid in satoshis per byte. One bitcoin is made up of 100 million satoshis, so a fee of 300 satoshis is equivalent to 0.00000300 bitcoin. You can choose between Static, Mempool and ETA fees.
Static fees are fixed, range between 1 and 300 satoshis per byte, and do not depend on Bitcoin network conditions.
Mempool and ETA fees will depend on the blockchain network conditions at the time.
ETA fees will adjust depending on the estimated confirmation time that you select.
Mempool fees will vary depending on the volume of pending transactions on the blockchain.
It's worth noting that none of the three pricing structures is inherently cheaper than the rest. Although ETA and Mempool fees vary depending on market conditions, users can generally slide the fee scale to the lowest price of 1 satoshi per byte. So, even though the fee you end up paying could be the same with all three structures, the transaction speed will depend on market conditions.
Electrum crypto wallet financial stability
Electrum is free, open-source software, so it is not at risk of shutting down due to financial problems. It's a decentralized wallet, so you also don't have to worry about the reliability of one central server, since transactions are shared among a large number of servers.
Electrum crypto wallet accessibility
Availability
Electrum is available for download anywhere in the world. Since Electrum doesn't take fiat currency payments in exchange for Bitcoin, there are no limitations to who can use Electrum. All you need to set up an Electrum wallet is internet access to download the software, create your account and execute your transactions.
Keep in mind that you may have some tax obligations depending on where you live, so make sure to take some time to learn more about how crypto is taxed.
The desktop version of Electrum is available as a free download for Python, Linux, Windows and MacOS. You can also download the mobile version of Electrum for Android from the Google Play Store.
Contact information
Electrum does not have a dedicated customer service department. Since Electrum is an open-source software and not a company, it doesn't handle complaints and requests like a regular business would. Instead, you have to rely on help from the user community when you run into problems. If you need to report a bug or technical problem, you can do so on Electrum's GitHub page.
User experience
Setting up Electrum on a computer and Android mobile divide is easy. However, Electrum's user interface is not apt for beginners. This wallet has been around since 2011, and its interface shows it. With outdated designs and unintuitive organization, this app can be difficult to navigate unless you have experience with other crypto wallets.
If you know your way around crypto wallets, you may appreciate Electrum's favor for functionality over design.
Electrum crypto wallet customer satisfaction
Electrum doesn't have a company profile on Better Business Bureau since it is open-source software. Thus, online customer satisfaction reviews of Electrum are limited. Electrum's Trustpilot profile has 16 customer reviews, with an average rating of 3.3 out of 5 stars.
The customers who gave Electrum a 5-star rating praise its speed, desktop app and low fees. The 1-star reviews complain about technical difficulties during setup.
Electrum crypto wallet FAQ
What's the difference between a hardware and software wallet?
Hardware wallets use a physical device to store private keys, while software wallets use a computer's hard drive to store private keys. In other words, a hardware wallet is a device — usually a thumb drive or a similar device — that you can plug into a computer to store your wallet's private keys. A software wallet, on the other hand, stores private keys within your computer's hard drive.
Generally, hardware wallets are considered more secure than software wallets since they're not connected to the internet. The biggest risk associated with hardware wallets is misplacing the physical device and thus losing access to your cryptocurrencies. Getting a hardware wallet can be a good idea if you're worried about falling victim to one of the recent
popular crypto scams
.
Who is Electrum Wallet best for?
Electrum is best for users who are only interested in holding Bitcoin, have experience trading cryptocurrencies, don't need auxiliary services like crypto staking and prefer a desktop app.
Electrum is one of the most bare-bones crypto wallets out there, with a hyper-focused target audience. This allows those with experience to trade Bitcoin quickly and inexpensively, but it's probably not the right choice for those who have never traded Bitcoin before.
Is Electrum Wallet safe?
Electrum is a safe platform for Bitcoin trading. As it's an open-source program, users are able to check Electrum's source code to detect potential problems and bugs. Additionally, Electrum is fully decentralized, meaning that its systems run on a number of servers around the world rather than in one centralized server. This makes Electrum Wallet virtually impossible to hack or for user data to be leaked.
How we evaluated the Electrum crypto wallet
We considered the following factors when evaluating Electrum Wallet:
User interface and navigation, including how this differs for beginners versus advanced users
Security features, including password authentication measures and wallet storage type
Pricing structure and transaction fees
Accessibility features, including support documentation and customer service options
User reviews from third-party platforms
Summary of Money's Electrum crypto wallet review
Electrum Wallet is an excellent choice for seasoned users looking for a no-hassle desktop wallet for Bitcoin. With many great features, like an easy setup process, compatibility with hardware wallets, an open-source software setup, and an excellent desktop app, we consider this to be the best Bitcoin wallet for desktops.
That said, Electrum can be challenging to navigate for people without prior Bitcoin trading experience. Its lack of dedicated customer support can also add a layer of difficulty for those who may need help every now and then.
Finally, Electrum is extremely limited in its supported cryptocurrencies, only offering support for Bitcoin.