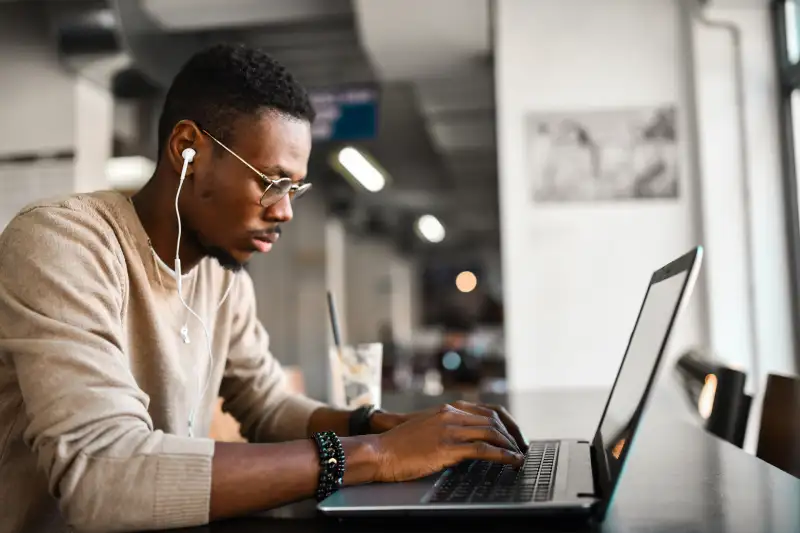 *Content includes branded mentions of our sponsor Hostinger.
If you're new to building websites or haven't had the need to dive into the details of web hosting before, you might be wondering: what is web hosting, exactly, and why do I need it? With countless services out there offering many types of packages, understanding what web hosting is and how to find the right service for your website can be tricky.
This guide will delve into the different types of web hosting options available, as well as how to choose a web hosting service, such as Hostinger.
What does web hosting mean and how does it work?
A website is made up of different files and resources, including HTML files, CSS files, JavaScript files, images and videos. Web hosting is a service that stores and serves these files, making them (and your website) accessible to users on the internet.
How does web hosting work? When you create a website, you need a place to store the files and content that make up the website. A web hosting provider offers a service wherein they rent out space on their servers to you. Some, such as Hostinger, offer several different types of hosting plans.
When a user wants to access your website, they enter your URL into their browser. The browser then sends a request to your web hosting provider's server, asking for your site content. The server responds by sending your content back to the user's browser for them to view. Without web hosting, your website would have nowhere to live and no way for people to access it.
Think of it this way: If you're running a brick-and-mortar business, you're likely renting a physical space for your store. A server works similarly by providing an online location for people to visit. You can then use your website to sell products and services, schedule appointments, advertise your brand and more.
What types of web hosting are there?
It can get complicated to purchase a web hosting plan with all the different types available. Fortunately, they aren't all that dissimilar from one another, and understanding some of their differences will help you get a clearer picture of what web hosting is.
Shared web hosting
Shared web hosting is the most popular type of hosting service. As implied by its name, this type of service uses a single server to host many websites. This helps keep the cost low for each website without sacrificing too much on quality or reliability.
This type of hosting is a solid choice for those without much technical knowledge and with no need for all the bells and whistles of a dedicated server. If you're running a small business with a modest online presence and want the most stress-free option, then a shared web hosting service is the way to go.
VPS — Virtual private server
A virtual private server (VPS) hosting system is similar to a shared web hosting system, except that it comes with dedicated space within the shared server. This means that your website files will have an added layer of security, reducing the risk of data breaches and cyberattacks.
Though the name sounds similar, you should not confuse a VPS with a virtual private network (VPN). A VPN works by hiding the IP address of a user when visiting a website, helping keep their data secure. Check out our guide to the best VPN service to add another layer of protection to your web browsing.
Cloud hosting
Cloud hosting uses a network of servers to host your website. That means that different physical servers will host different parts of your website, which work together to keep your site up and running. Using a cluster of servers rather than a single one improves the reliability of your web hosting, as your site won't be inaccessible if one server goes down.
Cloud-based web hosting can be the best option for high-traffic websites and e-commerce sites that value reliability above all else. The downside is that cloud hosting can be expensive, so make sure the high costs of hosting are worth it for your business before you choose this option.
WordPress hosting
WordPress is a popular content management system (CMS) that also offers in-house hosting services. If your website uses WordPress, then going with their proprietary hosting service can be a good option. Although you don't need to host a WordPress website on one of their servers, their hosting service is optimal for WordPress sites.
WordPress also offers domain registration services, which let you manage your domain names within its interface. While it may not be one of the best domain registrars out there, it can be a solid choice if you're looking to minimize the number of web service providers you work with.
Dedicated
Dedicated web hosting provides an entire web server system for a single website. This eliminates all the security risks associated with shared or virtual web hosting, as you no longer have to use the same server as anyone else. However, this also significantly increases the price of web hosting and its maintenance requirements. This is why dedicated hosting is the most common type of business web hosting, as it usually requires a skilled IT department.
You can have an on-site dedicated server or a remote dedicated server. For on-site servers, the business purchases or rents all the required equipment, including hardware, racks, cooling system, wiring and more. The business is also in charge of installing and maintaining the on-site servers. You should not consider on-site dedicated web hosting unless you have prior experience or a team with the expertise to handle it.
If you don't have the infrastructure to maintain or host an on-site server, you can opt for a remote dedicated server. Many hosting companies will allow you to purchase or rent a dedicated server within their facilities, allowing you to have control over your hosting while they handle the set-up and maintenance.
Here are some of the benefits you can expect from dedicated web hosting:
Fast web hosting
Enhanced security
Customizable CPU, RAM and disk space
Unique IP address to ensure privacy
What to consider when choosing a web hosting platform
Before you compare web hosting sites, you should be clear on what to look for in a service provider. Beyond speed and reliability, there are many other features to keep in mind.
A hosting control panel
A hosting control panel lets you keep an eye on the status of your web servers and change any settings as needed. Not all companies offer a dedicated hosting control panel, and finding one that provides an intuitive and easy-to-use interface can benefit those just starting with web hosting.
Some of the features of a hosting control panel let you:
Create and manage email addresses with access to the hosting server
Install applications and plugins
Manage and purchase domains
Manage root access
Add or remove files to your web server
Steady and reliable service
Reliability is one of the most important things to consider when choosing a web hosting company. A server that is frequently down may result in frustrated or lost customers, as they won't be able to access your site. This is particularly critical if your business relies on its website for sales, bookings or managing services.
A web hosting company will experience frequent downtime if its servers are low-quality or poorly maintained. Thus, high average reliability scores can be a good indication of the quality of service you can expect from a particular hosting company. Some will go as far as offering an uptime guarantee, with money-back offers if their average reliability falls below a certain threshold.
Features
Although web hosting services generally serve the same purpose, not all websites have the same requirements. Thus, you should look for a hosting company with the right features to accommodate your needs.
Some of the web hosting features you should look out for include:
Average uptime
Website speed
Cybersecurity protections
Website backups
Apps and plugins
Ease of migration
Customer support
Domain registration
Hosting control panel
Customer service
Whether you're just a beginner or highly experienced with website building, you will most likely run into service issues at some point. When that happens, having a helpful customer support team at your service can be a lifesaver.
In addition to looking at whether a company offers 24/7 customer service, you should also read some customer reviews to make sure that the service representatives provide friendly and helpful support.
Security features
A web hosting company should take cybersecurity very seriously. A cyberattack could leak customer data, disrupt your website's operation and potentially even delete your site from the server.
Some standard security features hosting companies offer include automatic backups, malware detection and prevention, advanced firewalls and password managers. If your hosting provider doesn't offer a password manager, you can go with one of the best password managers from our list.
Data transfer and bandwidth
A server's bandwidth and data transfer capacity are also critical factors to consider. Depending on the monthly volume you expect and how data-intensive your website is, you may need to look for web hosting packages that include expanded bandwidth options. Having a server with plenty of bandwidth will ensure that your users can reliably access and navigate your website without delays due to excessive traffic.
Many hosting platforms also offer add-ons and plugins that can help optimize your site to reduce the amount of data users will need to download when they visit it. For example, some hosting services offer features that won't load any images below the fold until the user scrolls down to them. This minimizes the amount of data users download from the server, which can help keep your monthly data transfer numbers as low as possible.
Customer satisfaction
Client reviews are a great indicator of the quality of service offered by a web hosting company. Since setting up a server is relatively easy, you should beware of amateurs who may attempt to pass as legitimate web hosting companies. Always look up online web hosting company reviews before looking at hosting packages.
Another place to look at customer satisfaction ratings is the Better Business Bureau (BBB). You can use the BBB's business lookup tool to see a hosting company's complaint track record and any disciplinary actions taken against it by the government.
Summary of web hosting
A hosting service provides a server that stores a website's files and data, which then uses HTTP to connect to the internet and provide a website's data to the public. The domain registrar then points a specific domain to a specific server, helping users navigate to the correct site. The most common types of web hosting are shared web hosting, VPS, cloud hosting, WordPress hosting and dedicated hosting.
Before hiring a web hosting company, you should consider factors like the hosting control panel, reliability and downtime, hosting features, customer service, security features, data and bandwidth capabilities and customer satisfaction.
If you're ready to launch your first website, take a look at our guide on how to start a business for more actionable tips on setting up your first company.