Money is not a client of any investment adviser featured on this page. The information provided on this page is for educational purposes only and is not intended as investment advice. Money does not offer advisory services.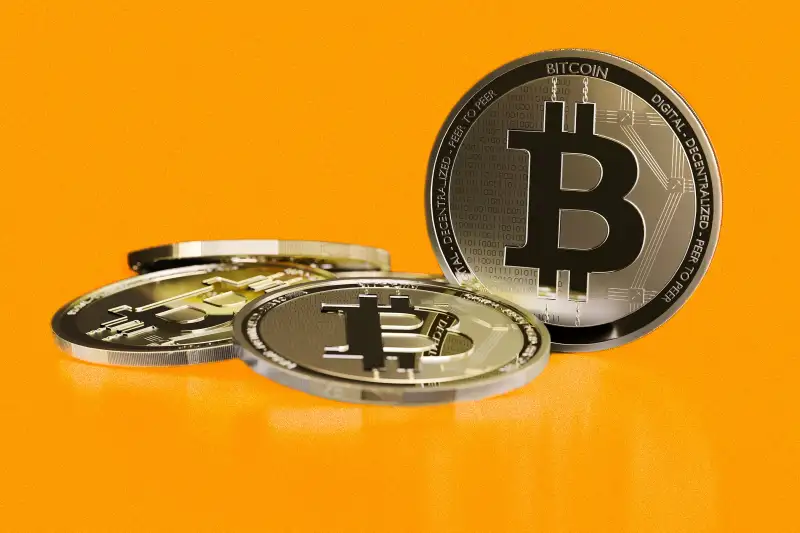 If you're a Bitcoin trader, BlueWallet is one option you may want to consider. With the ability to manage multiple crypto wallets via a straightforward user interface, plus compatibility with the Lightning Network, BlueWallet is one of the crypto world's favorite options for holding their bitcoin. However, it doesn't offer two-factor authentication and lacks educational resources.
Read on for more details on BlueWallet so you can decide if it's the right Bitcoin wallet for you.
Best mobile Bitcoin wallet
BlueWallet is our choice for the best mobile Bitcoin wallet. An appealing and intuitive mobile app makes navigating BlueWallet and completing crypto transactions easy.
As a wallet focused solely on Bitcoin, BlueWallet offers features like watch-only, MultiSig and Lightning network wallets. These features make BlueWallet one of the best crypto wallets on the market today.
BlueWallet crypto wallet pros and cons
Pros
Manage multiple wallets
Simple user interface
Support for Lightning network
Cons
No two-factor authentication feature
Lacking guidance and education resources
Only supports Bitcoin
Pros explained
Manage multiple wallets
With BlueWallet, you can import compatible wallets from other Bitcoin platforms, like Electrum and Bread and manage them directly on the BlueWallet app. Multi-wallet management can also help you access wallets that don't have an iOS app.
Simple user interface
BlueWallet is a great tool for those who believe in simplicity. Its mobile wallet is designed to be intuitive and visually appealing, giving users a sense of trust and control over their crypto.
This simplicity also shows in its service offerings. Unlike financial technology companies that attempt to sell you additional services, BlueWallet is intended to be just a wallet. By not purporting to be a one-stop shop for all financial services, BlueWallet can fine tune its app to deliver the best crypto wallet experience first and foremost.
Support for lightning network
The Lightning Network allows crypto wallets to process Bitcoin transactions off the Bitcoin network, which can drastically improve the speed of your transactions, making most peer-to-peer transactions instantaneous. BlueWallet allows you to set up an exclusive Lightning wallet to perform Bitcoin transactions in a matter of seconds.
Cons explained
No two-factor authentication feature
One of the biggest downsides to BlueWallet is that its crypto wallets lack two-factor authentication (2FA). This feature has quickly become a staple for cybersecurity in the crypto world, thus putting BlueWallet at a disadvantage regarding user security.
Lacking guidance and educational resources
While user-friendly, BlueWallet is likely not the best choice for absolute beginners. Many crypto wallets offer guides and educational resources to help new investors learn how to trade bitcoin and other cryptocurrencies. Some even offer online courses for their users. BlueWallet, however, doesn't offer any educational resources besides short setup guides.
If you're just getting started with crypto, we'd recommend going for a wallet that offers enough educational resources to get you up to speed. With the right tools and knowledge bases, you'll be able to learn about effectively trading crypto, the different types of cryptocurrencies, other digital assets like non-fungible tokens (NFTs), how crypto is taxed and more.
Only supports Bitcoin
BlueWallet doesn't currently support any other cryptocurrencies besides Bitcoin. While Bitcoin is still the largest cryptocurrency, there are other popular coins like Ethereum, Tether and USD Coin that you won't be able to safekeep or trade on BlueWallet.
It's worth noting that even if you do want to focus on bitcoin, BlueWallet isn't a crypto exchange, so you won't be able to trade other currencies for it on this platform. However, a good workaround is to use BlueWallet along with one of the best crypto exchanges.
BlueWallet crypto wallet offerings
BlueWallet offers different kinds of Bitcoin wallets, all free to create and use. We explore these in detail below.
Bitcoin wallet
BlueWallet's Bitcoin wallet is its standard crypto wallet solution. It allows you to receive and make payments in bitcoin, get transaction notifications, carry out batch transactions and more.
You can use BlueWallet with either standard or advanced settings. Standard wallet settings are for more inexperienced users, while the advanced settings allow you to do a number of additional things, like set up wallets for multiple Bitcoin address types, modify transaction fees before they're confirmed and perform coin control for greater transaction security.
Watch-only wallet
Creating a watch-only allows you to stay on top of your hardware wallets, a type of offline device that prevents access to your crypto as a result of online attacks or data leaks. With a BlueWallet watch-only wallet, you can import your offline wallet's public address without having to go online.
To create a watch-only wallet, you must first set up an offline crypto wallet. To do this, you'll need to purchase a hardware device, like a Ledger or Trezor wallet. Once you're set up, you can open your BlueWallet app and tap the "+" icon to add a new wallet. Tap on "Import wallet" and follow the steps to link your offline wallet to your BlueWallet account.
MultiSig vaults
Enabling MultiSig vaults will add another layer of security to every transaction you make. MultiSig works similarly to multifactor authentication, requiring two or more private keys to confirm any transaction. BlueWallet allows you to easily create MultiSig vaults to keep your crypto safe from the most common crypto scams.
Lightning wallet
BlueWallet offers hosted Lightning wallets and allows you to connect to your own node. This makes it easy to refill your Lightning wallet with bitcoin, send and receive payments, access the Lightning Marketplace and browse Lightning apps within BlueWallet.
Using the Lightning Network is the fastest way to trade bitcoin. What's more, Lightning transactions are generally instantaneous and cost less than on-network transactions.
You will need to create a Lightning wallet before you begin processing these transactions on BlueWallet. To do so, tap on the "+" sign on your wallets page to create a new wallet and follow the instructions to create a new Lightning wallet. Once your Lightning wallet is ready, go to "manage funds" and select a funding method. Follow the steps to fund your new Lightning wallet and complete your first transaction.
BlueWallet crypto wallet pricing
Like other online crypto wallets, downloading BlueWallet and creating your own wallet is completely free. Additionally, BlueWallet doesn't charge fees directly for executing regular on-chain transactions, making it one of the most cost-effective crypto wallets on the market.
Keep in mind that, while BlueWallet won't charge you directly for transactions, you will still need to pay a fee to crypto miners for executing the transaction. These transaction fees are calculated in real-time depending on market conditions.
Before you confirm your transaction, you can choose from one of three fees, corresponding to three different estimated transaction times: ten minutes, three hours or one day. The higher the transaction speed, the higher the fee.
BlueWallet financial stability
As opposed to other crypto wallets, BlueWallet isn't a financial technology company. Instead, it's run as open-source software through the MIT License. Its regular transactions are decentralized, meaning that they are performed by miners on the Bitcoin network rather than by BlueWallet nodes.
BlueWallet accessibility
Availability
BlueWallet is an open-source software that is available in almost every country. You can download the desktop version of the app directly from BlueWallet's website, the iOS app from the App Store and the Android app from the Google Play Store. Keep in mind that you may not be able to download BlueWallet on your mobile device if your country doesn't have a local app store or has restricted the BlueWallet app.
BlueWallet is available in over 30 languages, including English, Spanish, French, Chinese, Japanese and Russian.
Contact information
BlueWallet offers customer service, albeit to a limited extent. This makes BlueWallet more responsive than other open-source software programs, which generally have no customer service but are still less responsive than a for-profit cryptocurrency company.
You can email BlueWallet for support at bluewallet@bluewallet.io. You can also review BlueWallet's documentation, where you can access helpful guides for setting up your Bitcoin wallets, enabling cold storage and activating MultiSig vaults.
You cannot contact BlueWallet customer service by phone.
User experience
BlueWallet's exceptional user experience is why we chose it as the best mobile crypto wallet for Bitcoin.
First, BlueWallet's mobile-first design makes it extremely easy to navigate the platform on any mobile device.
Second, BlueWallet's limited scope results in a minimalist and clutter-free app. Instead of having to sort through several services, you can open the app and get straight to business since BlueWallet only works as a wallet. Your wallets are also available on desktop computers, letting you access them on your PC when it's more practical to do so.
BlueWallet customer satisfaction
BlueWallet doesn't have a Better Business Bureau profile since it is open-source software, not a company. However, the BlueWallet app has a rating of 4.3 out of 5 stars on the Apple App Store based on 24 reviews. The Android version of the app has an average rating of 4.2 out of 5 stars based on over 2,800 reviews on the Google Play Store.
Most five-star reviews praise the app for its user-friendly design. A few negative reviews mention frequent app errors and crashes.
BlueWallet crypto wallet FAQ
How does BlueWallet work?
BlueWallet is a Bitcoin wallet that allows you to receive and make payments in bitcoin. It is similar to a regular checking account, enabling you to share your account information with others to receive bitcoin deposits and make payments to peers and businesses.
When you create a BlueWallet Bitcoin wallet, you will receive a public and a private key. The public key is similar to a checking account number, as it will help others locate your wallet for payments. The private key is similar to your PIN since you will need it to verify your identity to make payments from your wallet.
How secure is BlueWallet?
BlueWallet is a decentralized open-source program. Regular transactions are executed on the Bitcoin network, making it as secure as any other Bitcoin wallet. You can enable additional layers of security to enhance the protection level of your BlueWallet crypto balance, like MultiSig vaults and linking a hardware wallet. However, BlueWallet does not offer two-factor authentication — a popular security feature that protects against phishing and hacks.
Is BlueWallet worth using?
BlueWallet can be an excellent choice if you're looking for a Bitcoin-only wallet that offers a seamless mobile experience. Its simple user interface, multi-wallet capabilities and compatibility with the Lightning network make it a great app for those who are only interested in trading or storing their bitcoin.
However, BlueWallet isn't the best option for those who are looking for a more comprehensive cryptocurrency solution. For example, many popular crypto wallets also offer access to crypto exchanges and other services like crypto staking. BlueWallet won't allow you to exchange bitcoin for other currencies or stake your bitcoin, so you'll have to rely on other exchange marketplaces and crypto-staking platforms for these services.
How we evaluated BlueWallet crypto wallet
We evaluated BlueWallet based on the following factors:
Crypto assets supported
User interface and navigation
Security features, including password authentication
Pricing structure and transaction fees
Platform stability
Accessibility, including contact methods and user interface
User reviews
Summary of Money's BlueWallet crypto wallet review
We chose BlueWallet as the best mobile crypto wallet for Bitcoin thanks to its easy navigation and mobile-first design.
BlueWallet also stands out because it has multi-wallet management capability and support for Lightning Network transactions. Where BlueWallet falls short is in not having two-factor authentication, lacking general educational resources for crypto and only supporting Bitcoin.