Elizabeth Warren's 2020 Presidential Campaign Is Underway. Here's What We Know About Her Finances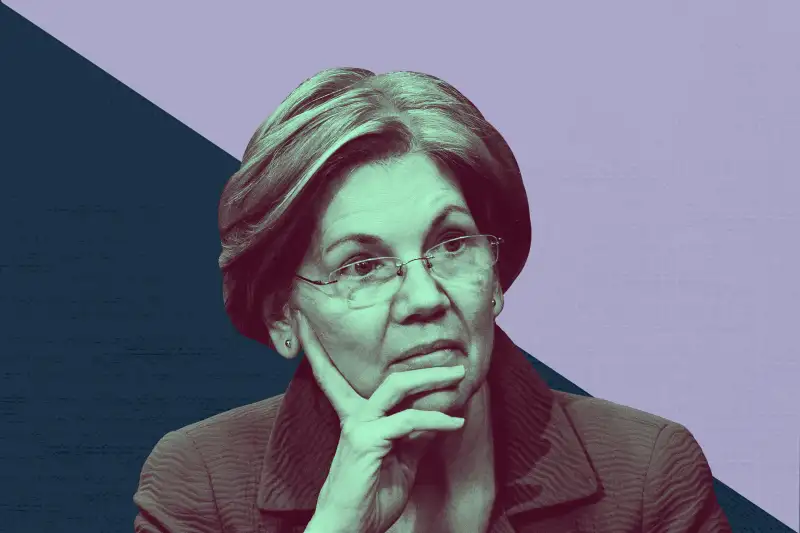 Elizabeth Warren, the U.S. Senator, former Harvard law professor, and celebrated "antagonist in chief" of President Donald Trump, is competing in a crowded field of 2020 Democratic president candidates that includes Kamala Harris, Cory Booker, Amy Klobuchar, Kirsten Gillibrand — and possibly dozens of others.
Warren is often branded as a member of the Northeast liberal elite. But the 69-year-old Senator from Massachusetts comes from a working-class family in Oklahoma, and she has spent most of her career trying to protect consumers against corporate greed and fraudulent financial products. At the same time, Elizabeth Warren herself is quite wealthy: She lives in a home estimated to be worth $2 million, and she has collected well over $1 million in book advances and royalties.
Here's what we know about 2020 presidential candidate Elizabeth Warren's money and upbringing, where she stands on key political issues like health care and taxes, and how she's been affected by the infamous "Pocahontas" and "Nevertheless, She Persisted" controversies.
Elizabeth Warren: Her Early Days and Current Net Worth
Elizabeth Warren was born and raised in Oklahoma, "on the ragged end of the middle class," she often says. Her father, a salesman and a janitor, had a heart attack when Betsy Herring (as Warren was then known) was 12, and he couldn't work for months. The family was able to save their home only after her mother got a job answering the phone for Sears and young Betsy started waiting tables at the age of 13. Her three older brothers served in the military; Elizabeth was the first member of her family to earn a college degree.
Warren credits an Oklahoma teacher named Mrs. Lee as the inspiration for the way she followed her dreams, went to college, and became a teacher herself. "No one in my family had graduated college; no one had told me I could amount to much of anything," Warren recalled at a rally for teachers in Oklahoma last fall. "But when Mrs. Lee said 'Yes, Ms. Betsy, you can be a teacher,' I never saw myself the same way again."
At the age of 19, she married her high school sweetheart, Jim Warren, a mathematician who worked for IBM and NASA over the course of his career. The young couple moved to Texas, and Elizabeth Warren earned a bachelor's degree in speech pathology and audiology from the University of Houston in 1970 — and later taught at the university's law school starting in 1978. In between their stints in Texas, the Warrens lived in New Jersey and Elizabeth Warren received her law degree from Rutgers-Newark in 1976.
The Warrens had two children before divorcing in 1978. Two years later, she was remarried to Bruce Mann, a legal historian and law professor, but Elizabeth Warren kept her last name from her first marriage.
Warren and Mann have both taught law at multiple universities around the country. Elizabeth Warren served as a law professor for more than 30 years, including periods on the faculty at Rutgers University, University of Texas-Austin, University of Pennsylvania, and Harvard. Warren became a professor at Harvard Law School in the early '90s, and was still working there when she launched her successful 2012 campaign to become a U.S. Senator representing Massachusetts. She cruised to an easy reelection as senator in 2018.
Elizabeth Warren's net worth is generally estimated at $8 million. However, Roll Call ranks Warren as the 69th wealthiest member of Congress, with a net worth of $4.7 million.
According to the New York Times, released financial statements indicate that Elizabeth Warren and her husband have combined assets and investments worth between $4 million and $11 million. They bought a 3,700-square-foot home in Cambridge, Mass., in 1995 for $447,000, and today it is worth about $2 million.
A large chunk of Elizabeth Warren's wealth comes from the millions she's made as the author of a pair of best-selling books: 2014's A Fighting Chance and 2017's This Fight Is Our Fight: The Battle to Save America's Middle Class. Warren reportedly received a whopping $1.6 million advance for A Fighting Chance, and a $300,000 advance for her more recent book.
Warren has no debt. According to her disclosures, she paid off the last of her debt — estimated in the range of $15,000 to $50,000 — to Harvard University in 2013.
Elizabeth Warren 2020
Rumors swirled that Elizabeth Warren would run for president in 2016, but she never became a candidate. That allowed former Secretary of State Hillary Clinton and U.S. Senator Bernie Sanders to emerge as the Democratic party's two main 2016 candidates. Though Warren's progressive politics largely seem more in line with the liberal Sanders, she eventually endorsed Clinton for president.
"I am ready to get in this fight and work my heart out for Hillary Clinton to become the next president of the United States — and to make sure that Donald Trump never gets anyplace close to the White House," Warren said in June 2016.
Obviously, that mission failed. But Warren has remained an outspoken critic of Trump before and after he became president. She repeatedly called Trump "a loser" during the 2016 presidential campaign, making special note of his multiple bankruptcies and failed businesses. In a memorable 2018 Twitter thread Warren described Trump as "a cowardly elitist who has never known or cared what life is like for anyone who's ever lived outside of a skyscraper in Manhattan."
For his part, President Trump has been relentless in his attacks on Elizabeth Warren, regularly referring to her as "Pocahontas" due to Warren's claim of distant Native American heritage. (Warren apologized in early 2019 for listing her race as "American Indian" on employment and state bar registration forms years ago.) He's called her a "racist" and a "fraud," despite the widespread criticism that Trump's nickname for Warren and his Native American references are themselves offensive and racist.
Assuming Trump is the 2020 Republican candidate for president and the polarized state of U.S. politics in general, the campaign is bound to be extremely acrimonious no matter who winds up as the 2020 Democratic presidential candidate. But based on their history, a Donald Trump vs. Elizabeth Warren showdown could be particularly ugly.
Warren, who prides herself in the way she's faced off against powerful forces on Wall Street, Congress, and the White House, gives all indications she's up for the battle. "Rich guys have been waging class warfare against hard-working people for decades ," Warren said in her speech announcing her candidacy for president. " I say it's time to fight back!"
As a progressive superstar candidate in a liberal state, Elizabeth Warren raised $42 million in her 2012 campaign for U.S. Senate in Massachusetts. Warren's campaign committee raised another $26 million in 2018. For her 2020 presidential run, Warren has vowed to rely on small donors and reject money from political action committees (PACs) — including her own, the Elizabeth Warren Action Fund, which representatives said was being closed in early 2019.
Elizabeth Warren on Taxes, Health Care, and Other Issues
Elizabeth Warren's political identity was partly shaped by her research on consumer bankruptcy while she was a law professor at the University of Texas-Austin in the 1980s. "If you do that kind of work, you get to recognize how many ordinary people are struggling, and how decent they are, and how the system makes life difficult for them," recalled Jack Getman, a colleague of Warren's on the UT faculty.
She went on to become one of the country's foremost authorities on consumer bankruptcy and the economic pressures facing America's middle class. In 2004, she leaped to the national spotlight as the co-author of a book on the subject, The Two-Income Trap: While Middle-Class Mothers and Fathers Are Going Broke, and as an expert guest giving everyday people financial advice on the "Dr. Phil" show.
Around this time Warren became particularly concerned about confusing mortgages and other "gotcha" financial products, and some even say Warren predicted the financial collapse of 2008. The year before, she published the landmark article "Unsafe at Any Rate," which called for the creation of a "Financial Product Safety Commission" that would protect consumers against misleading and dangerous payday loans, credit cards, mortgages, and car loans.
In the aftermath of the financial collapse, such an agency was born — it wound up being called the Consumer Financial Protection Bureau (CFPB) — and in 2010 President Barack Obama appointed Elizabeth Warren to get it up and running. Soon after, she had a meeting with Wall Street executives to listen to their concerns and explain her views on many financial products. "Where I come from, nobody calls fine print, hidden fees and surprise penalties 'negotiated contract terms' or 'innovations,'" Warren said, according to the New York Times. "On a polite day, my brothers in Oklahoma call that kind of stuff 'garbage.'"
Bankers, Wall Street leaders, and many Republicans were deeply opposed to Warren herself being in charge of the new agency, and Richard Cordray, a Warren ally and former attorney general of Ohio, wound up as the first CFPB director.
Warren's snub freed her up to run for U.S. Senate. In 2017 she became the "de facto leader of the anti-Trump resistance" — as well as a a meme and the inspiration for multiple children's books — after being chastised by Senate majority leader Mitch McConnell during the "Nevertheless, She Persisted" showdown over Trump's nomination of Jeff Sessions for U.S. Attorney General.
As a 2020 Democratic presidential candidate, Elizabeth Warren says she will rebuild the middle class and end Washington corruption. She supports universal childcare, relief for student loan debt, universal health care by way of "Medicare for All," free public college, and a wealth tax she's dubbed as the "Ultra-Millionaire Tax," which would tax the assets (not just the income) of the 0.1% of U.S. households with a net worth over $50 million.
Warren also supports more transparency and accountability from presidential candidates, and from President Trump himself. She put her past 10 years of tax returns online, and said that other 2020 candidates and Donald Trump should release their tax returns so that the public can view their financial interests — and possible conflicts of interest.