All the Experts Who Say the U.S. Will Enter a Recession by 2020 – Just as Trump Seeks Re-Election
Money is not a client of any investment adviser featured on this page. The information provided on this page is for educational purposes only and is not intended as investment advice. Money does not offer advisory services.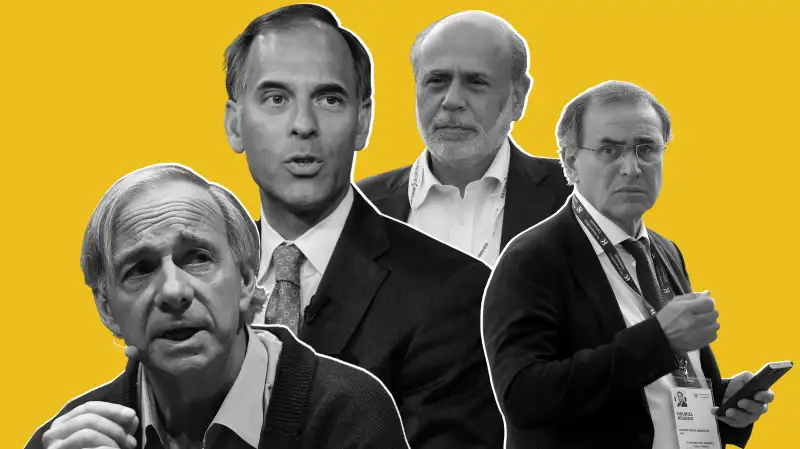 Photo illustration by Sarina Finkelstein for Money; Getty Images (5)
It's been a decade since the U.S. was in a recession. Now a growing number of economists and other experts think one could hit in the next two years. That might be bad news for President Trump's reelection campaign.
Trump, a billionaire real estate tycoon who won the White House based on his business acumen, has continually touted his stewardship of the economy.
So far, his boasts have appeared justified, with unemployment near record lows and the stock market soaring, thanks to a boost from tax cuts and deregulation. But in the last three months, things have seemed far less sure. Stocks have tumbled almost 10%, putting 2018 on track to be the market's worst year since the 2008 recession. Meanwhile, investors have become increasingly anxious about the tightening labor market and ongoing trade tensions. And now many economists are predicting the economy will head south sometime in the next 12 to 24 months.
That timing might be the worst possible for President Trump. In fact, of the 10 presidential incumbents who have sought re-election since the end of World War II, the only three to lose – Gerald Ford, Jimmy Carter, and George H. W. Bush – all went down to defeat amid periods of sluggish economic growth, according to the Brookings Institution.
Here are all the people sounding the alarm about 2020:
Billionaire Ray Dalio
Dalio, one of America's wealthiest hedge-fund managers, said earlier this year that "the probability of a recession prior to the next presidential election would be relatively high, [at] 70%." He later warned that his so-called depression gauge, which accurately predicted the 2008 financial crisis, is showing warning signs. Dalio worries the dollar could plunge as the government prints money to offset a ballooning budget deficit. The problem, he says, would inevitably be exacerbated by rising interest rates and mounting costs from pensions and healthcare.
Former Fed Chair Ben Bernanke
Earlier this summer, Bernanke, who led the Fed from 2006 to 2014, likened the U.S. economy to an episode of Looney Tunes, explaining it could soon face what's been called a "Wile E. Coyote moment" as benefits from the Trump Administration's various forms of fiscal stimulus – like the 2017 tax cuts – start to fade. "In 2020, Wile E. Coyote is going to go off the cliff," Bernanke said.
Moody's Analytics
The year "2020 is a real inflection point," Mark Zandi, chief economist at Moody's Analytics, warned earlier this year. Higher interest rates and a ballooning deficit will both put the economy at risk just in time for Trump's reelection campaign, he argued. "It's going to take some real good policy making and some luck to avoid a recession in 2020."
JPMorgan
JPMorgan's real-time recession forecast model is significantly higher than it was earlier this year. It currently places the chance of a market downturn at 70% by 2020. Strategists have tied the partially inverted yield curve – which they expect to fully invert midway through 2019 – as another reason to worry.
Economist Nouriel Roubini
Roubini, who predicted the 2008 crash, says short-term growth from fiscal stimulus is "unsustainable" and a correction will bring the current bull market to a decisive end. Citing several factors like trade disputes, high debt levels, rising inflation, and an overvalued stock market, Roubini argued that conditions will be "ripe for a financial crisis" and a global recession by 2020.
BlackRock
Chief Investment Strategist Richard Turnill warned of the rising probability for a downturn earlier this month in an interview with Fortune. He attributed much of that risk to the ongoing trade conflict with China, rising interest rates, and massive debt levels. Slowing corporate earnings growth and a weakening global economy may further stoke the flames. In addition, BlackRock's 2019 Global Investment Outlook puts the odds of a recession by the start of 2021 at more than 50%.
America's CFOs
Indeed, more than 80% of U.S. chief financial officers believe a recession will hit the economy by the end of 2020, according to a Duke University/CFO Global Business Outlook survey released Wednesday.
Trump's Own Advisers
Even the president's advisers have become increasingly alarmed, according to Politico's interviews with eight current and former administration officials. To be sure, none of them went on the record, but as one Republican close to the White House admitted, "it could be a very dangerous situation if the market volatility is hurting workers in key battleground states." The current level of concern is at DEFCON 3, the Republican said, but will definitely spike next year if no solution to the trade dispute with China emerges soon.
(An earlier version of this story misspelled the name of BlackRock executive Richard Turnill.)