Winners and Losers in the Latest Cheap Fast Food Battles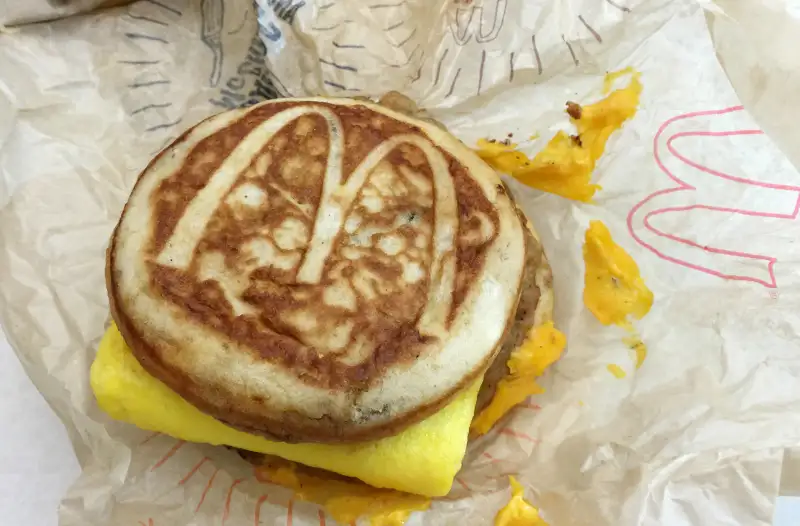 In the fast food world, the battle for customers never ends—and there always seems to be a hot new item or idea to go to war over. In the recent past, fast food giants have had heated showdowns over coffee and breakfast sandwiches, for example.
The last few months have been an especially busy period for fast food skirmishes, with high-profile changes to menus and prices and more special promotions and limited-time offers than usual. Here are some of the winners and losers, bearing in mind that coming out on top in a battle or two does not constitute victory in a war.
Winner: McDonald's
Last fall's national expansion of all-day breakfast has been an incredibly successful move for McDonald's. Consumers had been pining for 24/7 breakfast for years, not only because they're sometimes in the mood for Egg McMuffins or hot cakes after 10:30 a.m., but also because breakfast items are a cheaper alternative to the usual burger or chicken sandwich options. Same-store McDonald's sales jumped 5.7% in the fourth quarter of 2015, while analysts had projected growth of only 2.7%, and the arrival of all-day breakfast was credited as a big reason for the surge.
Loser: Dunkin' Donuts
The flip side of more fast-food fans grabbing McDonald's breakfast snacks at all hours of the day is that, apparently, fewer of them are swinging by Dunkin' Donuts for quick pick-me-ups. The donut-and-coffee chain just reported a surprise decline in same-store sales in the fourth quarter of 2015, and sales took a dip—possibly because locations jacked up prices during that period. "The launch of all-day breakfast by McDonald's Corp. in October and several limited-time offers by rivals such as Wendy's Co. and Burger King may have also hurt traffic at Dunkin' Donuts in the quarter," Reuters reported analysts as saying.
Winner: Burger King, Wendy's
Speaking of the special offers from Wendy's and Burger King, the former rolled out a 4 items for $4 deal in October, and later saw its thunder stolen by the latter, which introduced a 5 for $4 offer a few weeks ago. Burger King also recently brought back its 10 chicken nuggets for $1.49 promotion, a deal that has sparked fast food pricing wars in the past. On the one hand, Wendy's and BK win with these low-price promotions because they increase customer visits. On the other hand, the existence of such cheap deals gives customers less incentive to buy pricier items, and they push the average customer bill downward. (The same argument has been made regarding McDonald's—that all-day breakfast may boost sales in short-term but hurt them in the big picture because customers spend less per visit.) For the time being at least, these fast food players are content with the boost in customer numbers.
Loser: Subway
This week, Subway announced the arrival of a February promotion featuring all classic footlong sandwiches for $6 as a major deal. Consumers received the news a different way, however, focusing on the death of the $5 footlong rather than the value and variety of the new $6 offer. Five bucks is something of a magic price point in fast food, a nice round number that seemingly everyone can afford. Eater noted that the takeaway for Subway fans is that "their go-to weekday lunch just got 20 percent more expensive," while also pointing out that the sandwich chain launched the fabled $5 footlong way back in 2007—and restaurants' internal costs have gone up considerably since then. Regardless, when diners see the burger chains promoting 2 for $2 and 5 for $4 deals, it's hard to get excited about a $6 sandwich—especially when everyone knows that same sandwich, famously, used to be $5.
Winner: Consumers
First, consumers have come out as winners because McDonald's listened to the masses and took the popular, albeit surprisingly complicated step of serving breakfast on a 24/7 basis. Second, consumers have come out on top lately because so many fast food players have been slashing prices and rolling out special low-cost menu options to win customers over. It's nice to have suitors vying for our attention (and wallets)!
Loser: Consumers' Waistlines
Recent sales data indicates that a lot of the money we're saving thanks to cheap gas is being spent at restaurants—fast food restaurants in particular. Combine that with a wide range of temptingly cheap offers from the fast food giants, and it's easy to see how and why more people are upping their fast food consumption.