The Surprising Reason People Are Mobbing Church Pews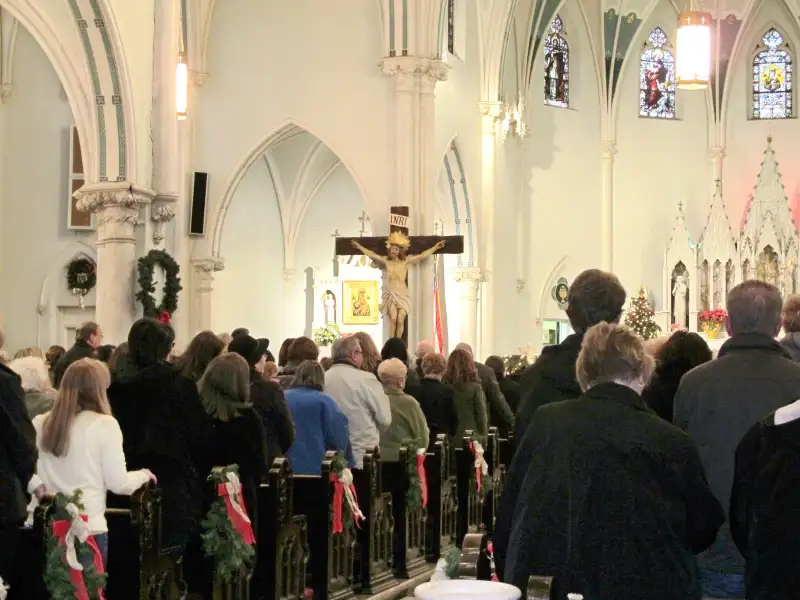 The term "flash mob" was added to the Oxford English Dictionary in 2004, defined as a group of people meeting in a public place to perform an "unusual or seemingly random act," before heading off again on their merry way, in also random fashion. While the original inventor of the flash mob came up with the idea as a way to mock hipster conformity, the concept was nonetheless broadly adopted (of course!) by the trend-following masses. Within weeks of the first flash mob, there were copycat events all over the world.
Mobs have since popped up everywhere from Target stores to Manhattan's Katz's Deli (the latter for a group re-creation of the fake orgasm scene in "When Harry Met Sally"). The movement has also been coopted by Russian political operatives, who reportedly paid people to form a flash mob in support of Vladimir Putin; by corporate brands like Oscar Mayer, BMW, Arby's, and IKEA, which are known to hire "random" flash mobs for marketing events; and even by hoodlums who conduct "flash robs," in which a group of young people floods a store and grabs as much stuff as possible before running off without paying.
In the next evolution of the flash mob, the masses have turned their attention to, well, mass. Credit for the rise of the Mass Mob goes to a group in Buffalo, which organized its first event at Saint Adalbert Basilica last November and followed that up with a handful of flash mass (in both senses of the word) attendances at other churches in the city. At a Mass Mob in January, for instance, Buffalo's Our Lady of Perpetual Help Church received a helping hand in the form of 300 parishioners, when a typical Sunday mass sees fewer than 100 churchgoers.
"Maybe it will inspire people to come a few times a year," Christopher Byrd, one of Buffalo's Mass Mob organizers, said of the group's efforts. "And it gives the church a little one-day boost, attendance-wise and in the collection basket."
The idea has proven inspirational in another way, with similar Mass Mob groups and events popping up in cities such as Cleveland, Detroit, and Pittsburgh. A recent Mass Mob at Detroit's St. Florian church, for instance, resulted in a crowd of 2,000 people for a mass that's usually attended by about 200, and the collection basket topped $19,000, also roughly 10 times the norm.