5 Amazing Strategies to Eliminate Food Waste and Feed the Hungry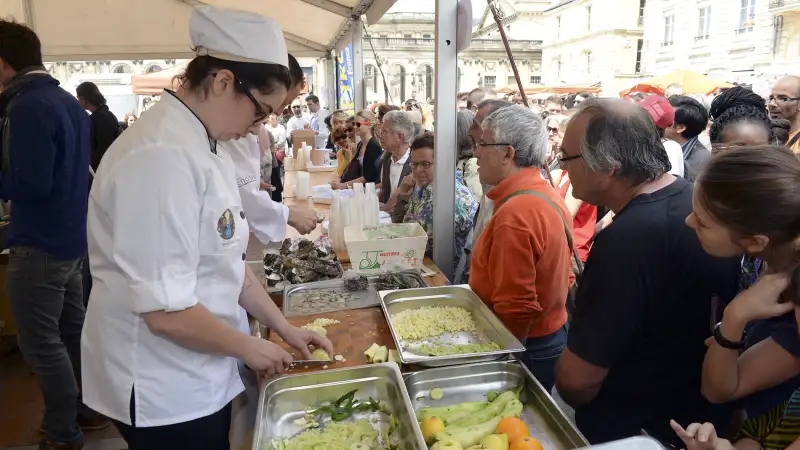 Jean-Pierre Muller—AFP/Getty Images
The modern American has evolved into an incredibly wasteful creature. "The average American consumer wastes 10 times as much food as someone in Southeast Asia, up 50 percent from Americans in the 1970s," the National Resources Defense Council explains. Approximately "40 percent of food in the United States today goes uneaten. That is more than 20 pounds of food per person every month."
The problem is hardly limited to the U.S. Some 100 million tons of food is wasted annually in the EU, and if nothing is done it's expected the amount of food waste there will hit 126 million tons each year by 2020.
But with all of this waste comes great potential for increasing efficiencies and repurposing food that too often winds up in the trash heap. Here are a handful of interesting campaigns, strategies, and entrepreneurial ventures aimed at cutting food waste, sometimes dramatically so.
Bans on Food Dumping
A recently passed law in France will make it illegal for supermarkets to throw away food that is still edible. Starting in July 2016, French supermarkets that otherwise would have tossed out foods at or near their expiration dates—and that sometimes poured bleach on them to discourage dumpster divers from salvaging them—will be obligated to give the items to charity or farms (for animal feed) or face the possibility of fines and even jail time.
Arash Derambarsh, the French politician who rallied support for the new law, said that it was "scandalous and absurd" that so much food is wasted, often purposefully, and he hopes that the legislation sets a precedent that's followed globally. As nutrition, environmental, and personal finance experts have noted, many food expiration dates are confusing, overly cautious, or both, and the result is that plenty of perfectly edible food (and money) is wasted. It's been estimated that $160 billion worth of food in the U.S. alone is never actually eaten.
Independent Supermarket Initiatives
Tesco, the largest supermarket chain in England and one of the biggest in the world, is launching a pilot program at 10 stores in the UK that will distribute 30,000 tons of perishable food annually to registered charities. In the past, Tesco had been known to prosecute people as thieves when they took food that was thrown out by its grocery stores. Two other large supermarket brands in the UK, Sainsbury's and Morrisons, have similar giveaway programs for perishable foods that would otherwise wind up in the trash.
In the U.S., meanwhile, an interesting nonprofit grocery concept called the Daily Table, created by former Trader Joe's president Doug Rauch, has just opened for business. A store in Dorchester, Mass., outside Boston, is the first location, and the goal is to expand to other urban areas with a dire need for healthy, low-price groceries. Prices are kept phenomenally low (lots of items under $1) thanks to an unusual nonprofit business model that incorporates donations as well as special bulk discounts. "We believe that food is a precious resource that should never be wasted," the Daily Table website explains. "We will secure wholesome, nutritious food that is excess or overstocked from grocery stores, food suppliers, manufacturers, restaurants and growers. We'll blend that with food that we also purchase from manufacturers, growers and distributors."
Food Rescue Programs
Universities often pride themselves on the quality and variety of food offered to students at campus cafeterias and dining halls. But because colleges "never know exactly how many people will be dining in their cafeterias every day," as NPR reported earlier this year, huge quantities of food are regularly tossed. Hence the need for a wide range of programs cited in the story, which include strategies for salvaging uneaten foods for charities and composting items that aren't safe for eating.
Food for Free, based in Cambridge, Mass., rescues and redistributes food from restaurants and supermarkets that otherwise would be thrown out, and it has an especially large presence on the college scene, gathering 2,500 pounds of untouched cooked food from Harvard and 40 to 100 pounds of food from MIT every week. In New York City, City Harvest rescues 50 million pounds of food from restaurants, bakeries, supermarkets, manufacturers, and such that would have otherwise been wasted and delivers them for free to soup kitchens and shelters.
Celebrity Chef Experiments
Early this spring, Blue Hill, the swanky Manhattan restaurant run by renowned chef Dan Barber, welcomed more than 20 celebrated guest chefs to participate in wastED. The two-week experiment featured dishes with edible ingredients that are usually wasted—salad scraps, pasta trimmings, "yesterday's oatmeal," and such—and each exquisitely prepared plate cost a total of just $15. The point was to call attention to how much food is wasted, and to inspire some of the most creative forces in cooking to come up with solutions.
Food Waste Startups
Entrepreneurs have been busy trying to cook up startup businesses that make use of food waste not only because it's a way to help the environment and the hungry poor, but because considering how much food (and money) is wasted regularly, there's potential for big profits. Many startups focus on repurposing food that's already been cooked or has been sitting in stores unsold. Others put the emphasis on "ugly" fruits and vegetables that normally never see the inside of a restaurant kitchen or grocery store because they're too small or not the most appealing color.
A nonprofit in Oregon called Food Waves, for instance, has introduced something called "Ugly Goat Kraut," which is sauerkraut made with vegetable parts that would otherwise only be consumed by goats. Another new venture, the Oakland, Calif.-based Imperfect Produce, has launched a crowdfunding campaign and expects to start delivering produce that's edible and healthy but also "cosmetically-challenged" to customers in Berkeley and Oakland in July. Prices should be 30% to 50% less than similar, non-ugly items at a standard supermarket.