All the Days During the Year When You Can Get Free Stuff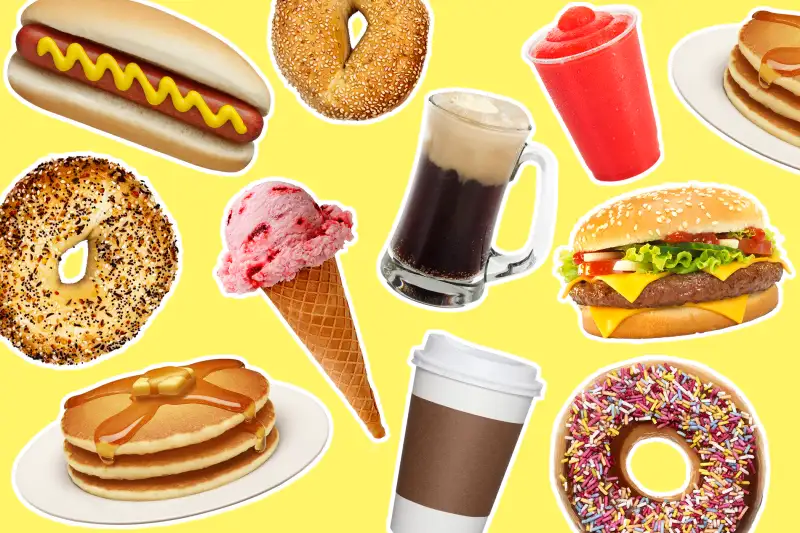 Photo illustration by Sarina Finkelstein for Money; Getty Images (9)
Many people find out about the days when donuts or 7-Eleven Slurpees are being given away only at the last minute, when word pops up in their social feeds. To truly take advantage of the full year's worth of fake marketing holidays and other days when freebies are there for the taking, we decided to gather all of the calendar's usual events featuring something given out for nothing and assemble them in one handy spot.
There are an astounding 43 such events below, and we'll add to the list of freebie days when more catch our eyes.
JULY
7-Eleven Day: July 11
It's become tradition for 7-Eleven convenience stores to give out free Slurpees every year on July 11, a.k.a. 7/11. The freebies sometimes extend beyond Slurpees, with weeklong giveaways of things like ice cream bars, Twinkies, and Big Gulps.
National Ice Cream Day: Third Sunday in July
Look for special ice cream deals and giveaways from stores like Friendly's and Baskin-Robbins on the third "Sundae" of July every year (July 17 in 2016).
National Hot Dog Day: Third Wednesday in July
The deals might include hot dogs for free, $1, or even less, or promotions like buy-one, get-one-free from convenience stores and fast food chains.
AUGUST
National Rootbeer Float Day: August 6
Naturally, A&W is the place to be on Rootbeer Float Day, when each customer gets a free rootbeer float.
Read Next: The Best Free Thing To Do in Each State (and DC)
National Bowling Day: Second Saturday in August
Bowling alleys all over the country offer free games of bowling as well as drink specials and other deals on the second Saturday of August—August 12 in 2016—celebrated annually as National Bowling Day.
National Parks Birthday: August 25
Admission is generally free to all national parks on the park system's birthday, August 25. But because 2016 is 100th anniversary of America's national parks, admission is being waived for a few extra days: Entrance is free from August 25 to 28 this summer.
SEPTEMBER
National Cheeseburger Day: September 18
Special discounts and straight-up free cheeseburgers are on the menu at select restaurants on National Cheeseburger Day, celebrated every September 18.
Talk Like a Pirate Day: September 19
Few manufactured holidays make sense, but this one takes the cake—or rather, donuts, as Krispy Kreme has made it tradition to give out a free donut to any customer who talks like a pirate on September 19. Anyone dressed up in a full pirate costume, meanwhile, has gotten a dozen free donuts in the past. The pirate-theme Long John Silver's restaurant chain also been known to play along on Talk Like a Pirate Day, with good giveaways to customers who talk or dress like scallywag scurvy dogs.
Museum Day Live: Saturday in Late September
Smithsonian magazine sponsors a day of free admission for more than 1,000 museums all over the country every year on a Saturday late in the month—September 26 in 2015 and September 24 in 2016. To take advantage, you must register with a participating museum to order a pair of free tickets, which are available for immediate download.
Read Next: 6 Easy Ways to Get Free Museum Admission
National Public Lands Day: Saturday in Late September
National Public Lands Day, held on September 24 this year, is another day in which admission is free for all national parks, as well as national forests and many state parks.
National Coffee Day: September 29
Perk up with free or heavily discounted coffee at participating donut chains, convenience stores, and coffee shops every year on National Coffee Day—which is a Thursday in 2016.
OCTOBER
Halloween: October 31
You know that candy is free, at least for kids going door-to-door in costumes. But Halloween has also become a day for scary good deals, with specials like free kids' meals, deeply discounted "boo-ritos," and free donuts, typically available only for customers wearing Halloween costumes.
NOVEMBER
Veterans Day: November 11
Veterans and active members of the military are showered with a staggering number of free food deals annually on Veterans Day, plus assorted other deals like free haircuts and free oil changes for folks with military ID. National parks admission is free for everybody on Veterans Day too.
Read Next: 60+ Restaurants and Stores That Give You Free Stuff on Your Birthday
Black Friday: Friday after Thanksgiving
In addition to doorbuster deals, Black Friday is known for occasional freebies like free coffee and donuts, and even free pet adoption. For those who want to escape the mall crowds, lots of state parks have free admission on Black Friday.
DECEMBER
Free Shipping Day: December 18
Though free shipping for online purchases isn't particularly hard to come by—L.L. Bean shoppers and Amazon Prime members get it year-round, and Best Buy and Target had free delivery throughout the holidays last year—around 1,000 online retailers offer free, no-minimum-purchase-required shipping on Free Shipping Day, with delivery guaranteed by December 24. As a bonus, many stores host special sales and discounts timed to coincide with Free Shipping Day, so the deals can truly be worthwhile.
New Year's Eve: December 31
Stay safe on the roads and take advantage of services offering free coffee for drivers and free rides home for those who shouldn't be driving on New Year's Eve.
JANUARY
Martin Luther King, Jr. Day: Third Monday of January
National parks, as well as select cultural institutions and many museums—even the Rock and Roll Hall of Fame in Cleveland—are free on the day honoring civil rights leader Martin Luther King, Jr.
FEBRUARY
National Bagel Day: February 9
Various bagel sellers are known to give out free bagels annually on February 9, and the Bruegger's Bagels chain celebrates its anniversary around this time of year, typically with free bagel offers.
National Pizza Day: February 9
Yes, on the same day that free bagels available, there is also free pizza and other pizza deals and discounts to be had at select locations.
Valentine's Day: February 14
Special deals at a variety of restaurants, including buy-one, get-one free coffees, chicken wing orders, burritos, and milkshakes, and the occasional promotion like free chips and free entrees, are available on the day dedicated to lovebirds.
Read Next: 22 Incredibly Useful Things Your Town Is Probably Giving Away for Free
Leap Day: February 29
Every four years, there's a Leap Day, and when it comes around it's celebrated with free food and deals on everything from spaghetti to margaritas—with the very best freebies reserved only for people born on February 29.
MARCH
IHOP National Pancake Day: Usually Early March
Though the date's been known to change—it was February 5 in 2013 and March 8 in 2016—IHOP's annual pancake giveaway day has remained basically the same. All customers are welcomed to a small short stack of buttermilk pancakes, with the provision that they're asked by IHOP to consider making a donation to charity.
Free Cone Day at Dairy Queen: Mid-March
On or around March 15, Dairy Queen generally hosts a Free Cone Day, with one free small vanilla cone awarded per customer.
First Day of Spring: March 20
Free Italian ices for everyone have become an annual tradition on the first day of spring at Rita's.
APRIL
Free Cone Day at Ben & Jerry's: Mid-April
Generally held on a Tuesday in mid-April, Ben & Jerry's Free Cone Day is eagerly anticipated not just because of the quality of the ice cream, but also because customers are welcomed to have more than one serving free of charge. (Almost all freebie deals are limited to one per customer.)
Wawa Day: Mid-April
The convenience store chain celebrates is anniversary annually with free coffee for everyone.
Tax Day: April 15
On this grumpiest of days, when millions of Americans are absorbed in paperwork and bill-paying, businesses spread good cheer with free cookies, free shaved ice, and a wide variety of 15% to 50% off food deals.
Earth Day: April 22
Target has gotten in the tradition of offering free samples of sustainable products each year on Earth Day, and retailers including H&M, Whole Foods, and Best Buy are known to run promotions with special discounts on earth-friendly purchases.
National Parks Week: Late April
Depending on the year, the national parks service will waive admissions fees either for the opening weekend of National Parks Week, or for the entire week like it did in 2016.
Free Cone Day at Carvel: Late April
Free Cone Day at Carvel usually takes place on a Thursday toward the end of the month, with freebies available from 3 p.m. to 8 p.m.
National Pretzel Day: April 26
Customers get a great selection of free pretzels on National Pretzel Day, with the participants usually including Auntie Anne's, Pretzelmaker, and Wetzel's Pretzels, among others.

Super Hero Day: April 28
It's best not to get caught up in why April 28 is celebrated as Super Hero Day, nor how it has anything to do with donuts. Just be happy that Krispy Kreme has gotten in the habit of hosting this special holiday and gives away a dozen free donuts with the purchase of a dozen, so that we can honor the everyday heroes in our lives.
MAY
Free Comic Book Day: First Saturday in May
Hundreds of comic book shops around the country give out a selection of free comic books every year on the first Saturday of May.
National Public Gardens Day: Friday before Mother's Day
Plenty of public gardens waive admission on National Public Gardens Day, or sometimes for the entire Mother's Day weekend, and some give away free seeds to visitors as well.
Read Next: 12 Offensive Political Items for Sale That Show Hate Is All the Rage
Mother's Day: Second Sunday of May
Moms are regularly treated to free food at more than dozen major restaurant chains on Mother's Day.
Free Cone Day at Haagen-Dazs: Early May
Haagen-Dazs generally does its annual ice cream giveaway sometime around May 8 to May 13 or so.
National Burger Day: May 28
To celebrate National Burger Day, many restaurants host burger deals that sometimes include freebies.
Memorial Day: Last Monday of May
Like Veterans Day, Memorial Day is filled with deals and freebies for retired and active members of the military. In addition to free food at restaurants, those with military ID can expect free admission for their entire families at many zoos, museums, and theme parks.
JUNE
National Donut Day: First Friday in June
Perhaps the most beloved freebie day of the year, National Donut Day is an epic day for free treats from the likes of Krispy Kreme, Dunkin' Donuts, and Entenmann's.
Free Fishing Days: First Weekend of June
Many states offer free fishing days periodically throughout the year, but the most popular day to allow people to fish in public bodies of water without a permit or fee is the first weekend of June.
National Iced Tea Day: June 10
Timed to take place just as the weather heats up and a refreshing iced beverage would really hit the spot, National Iced Tea Day is full of iced tea giveaways from chains like Starbucks and Wendy's.
Father's Day: Second Sunday in June
Just as moms score tons of freebies on their day in May, dads are thanked for all they do with free food at restaurants and free admission at museums, aquariums, and such on Father's Day.
National Flip Flop Day: Third Friday of June
Flip Flop Day has come to be a very special day at Tropical Smoothie Cafe, where locations give away free smoothies to all customers wearing flip flops. The smoothie chain also collects donations throughout the day to support Camp Sunshine, which welcomes children with serious illnesses to vacation with their families.