Game of Thrones Made This City So Popular That It's Going to Turn Tourists Away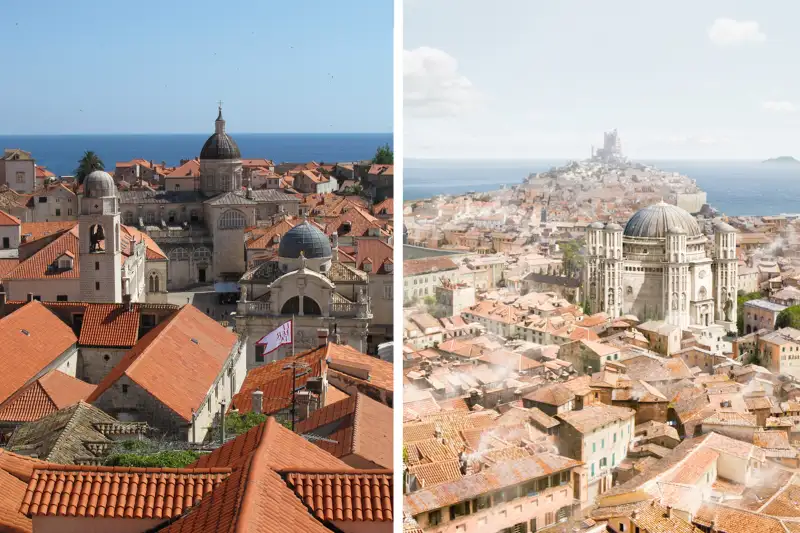 Cristina Arias—Getty Images; HBO
It was only two years ago when Game of Thrones fans watched Cersei Lannister march through the busy streets of King's Landing for her walk of atonement as Septa Unella rung a bell, yelling, "Shame! Shame! Shame!" But those streets featured in HBO's mega-hit are now similarly crowded in real life. A tourist boom has hit Dubrovnik, Croatia — so much so that the city is now trying to combat overcrowding.
Dubrovnik has been heavily featured throughout the show's seven seasons, serving as the setting of King's Landing, the capital city where the titular Iron Throne sits. The popularity of Game of Thrones was responsible for 10% of the annual growth in tourism in Dubrovnik, the city's mayor told Bloomberg in 2015. As Quartz pointed out, Thrones-inspired tourism helped pull Croatia out of a tough recession that lasted from 2009 to 2014, though its economy is still 7% smaller than it was in 2008.
"We became too popular in the last couple of years, we became a victim to our own success," Ivan Vukovic, who has led tours in the ancient city for 12 years, told Money.
It's easy to see why people are flocking to Dubrovnik: beautiful weather most of the year, a stunning coastline along the Adriatic Sea and, of course, the Thrones appeal.
"So many more Americans and Canadians come here because of the show," Vukovic said. "It is easier to learn history if you connect it to some scenes from the show as it has a lot of medieval history in common."
Circled by stone walls built in the 16th century, the pedestrian-only Old Town in Dubrovnik is one of the most popular spots for tourists. Designated a World Heritage site by the United Nations Educational, Scientific and Cultural Organization (UNESCO) in 1979, Dubrovnik — known as the Pearl of the Adriatic — has increasingly seen hotels pop up and cruise lines make stops in the scenic city. Cruises bring hoards of visitors to the small city every year, particularly in the summer months of July and August. In 2016, 799,916 people came to the city from 539 cruises, according to statistics from the Dubrovnik Port Authority. That's more than the 475 ships and 463 ships that docked at Dubrovnik in 2015 and 2014, respectively. (Though, in 2013, 553 cruise chips stopped at Dubrovnik, bringing in close to 1 million visitors.)
But while the growth in tourism may be good for the country's economy, Dubrovnik has been dealing with heavy crowds in recent years. UNESCO cites the impacts of tourism — especially cruise ship tourism — as factors putting the city at risk of losing its World Heritage status. The city's new mayor, Mato Franković, told the Telegraph he plans to cap the number of visitors to its ancient city to 4,000 per day — half of its current limit of 8,000 allowed by UNESCO — in the next two years.
Franković acknowledged that cutting down tourism will likely hurt the city's economy. "We will lose money in the next two years — a million euros maybe by cutting the number of tourists — but in the future, we will gain much more," he told the Telegraph. "We deserve to be a top-quality destination."
"I am not here to make people happy, but to make the quality of life [in this city] better," he added. "Some of the cruise lines will disagree with what I'm saying, but my main goal is to ensure quality for tourists and I cannot do it by the keeping the situation as it is."
While some are against Franković's plan, he has support from some unexpected circles, including from Vukovic, whose business has flourished in recent years because of the tourist boom. The walled-in city gets packed easily, Vukovic said, and he believes limiting the number of people who come there will be beneficial for the city as a whole.
But Vukovic doesn't think tourists should be completely banned, just dispersed out from the city center and into attractions outside of the gates — like the nearby Peljesac wine region or Elaphiti Islands.
For tourists looking to help the city's overcrowding problem or come when it's simply less busy, Vukovic suggests visiting during the fall or winter — which, in Croatia, is still a mild season with nice weather.
But interested travelers hoping to visit the city this year better do so soon. Winter is coming.