Gilmore Girls Fans Are Cashing In On the Netflix Revival With Crafty Merch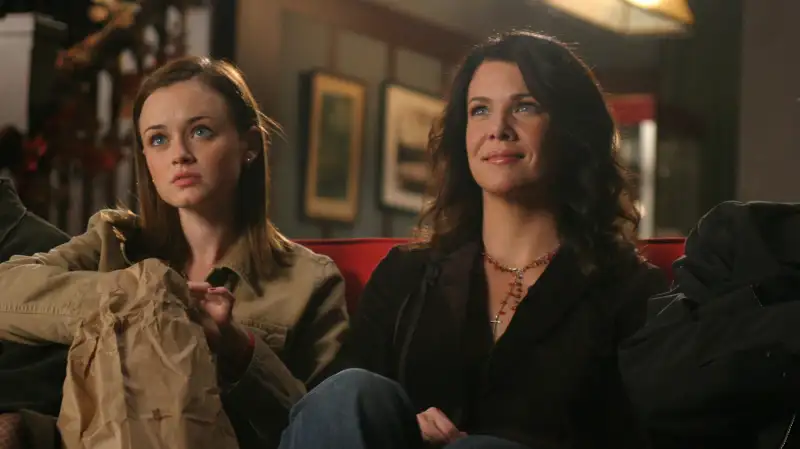 In the eight years since Gilmore Girls went off the air, something of a Gilmore economy has cropped up amongst the show's most loyal viewers. Etsy shops hawk Luke's Diner-branded mugs and socks. Live podcast events and fan gatherings sell out to huge crowds. There's even a Gilmore Girls ice cream flavor.
Now, as Netflix watchers brace themselves for the highly-anticipated revival of the show dropping Friday, some entrepreneurial fans are cashing in on the excitement.
"This past week I've had so many 'last minute' shoppers wanting to expedite and pay more for their items to arrive before they watch the revival," says Melissa Desmond, who runs two Gilmore-related Etsy shops. (Her Luke socks go for $15; a mother-daughter set of tees will cost you $50.)
Sales have been "through the roof" since the revival was announced earlier this year, Desmond said. "It also seems that rather than ordering just a mug, they'll order a mug and a candle, or an abundance of candles, or a combination of all the products," she marveled.
It's not just products. Last month, over 1,000 people paid $250 a head to attend the Gilmore Girls Fan Fest in Washington Depot, Connecticut, according to organizer Jennie Whitaker. Activities included panel discussions with show writers and tours of the show's prominent landmarks.
Ticket costs did not include travel expenses for the fans, some reportedly coming from as far away as Brazil. A night in the nearby Mayflower Grace Inn—show creator Amy Sherman-Palladino's inspiration for the Independence Inn, where Lorelai works in the first few seasons—costs $675 per night at the very least, plus a $40 daily "resort fee." A night in a Grace Suite costs over $1,500 per night.
What's more, the descent of Gilmore fans gave the local economy a kick, Whitaker said. "Washington Depot is a really small town, so we nearly doubled the population that weekend," she said. "The local business owners obviously had a lot more people than usual in their stores."
Gilmore Guys, a popular podcast that breaks down each episode of Gilmore Girls and has been instrumental in giving a voice to the fan base ahead of the revival, regularly sells out live shows across the country (and in Canada) and sells additional gear related specifically to the podcast (What do you think of this $27 tee, Gillies?).
As with any good fandom, Gilmore aficionados can also show off their dedication to the show with countless t-shirts, coffee mugs, posters, candles, and even cookbooks. Much of it is made by fans and sold on Etsy or by individual crafters like Whitaker, who sells a $28 "Meet Me at Luke's" graphic tee on her site Kindred Handricrafts.
Cashing in on Lorelai and Rory's penchant for junk food, Ample Hills Creamery, in Brooklyn, New York, created the flavor "They Scoop Gilmores, Don't They," named after (in this fan's opinion) one of the best episodes in the show's run. It became "the second most popular thing we've ever done in terms of shipping and online sales, without a doubt," after a Star Wars flavor, Brian Smith, co-founder of Ample Hills, told Campaign U.S.
For fans like Whitaker, however, embracing the Gilmore economy is about more than just making money.
"I think for me, I love what the show represents," she said. "Things get tense between the Gilmores, but in the end it's always apparent they'll support one another."