Girl Scout Cookie Prices Are Going Up Again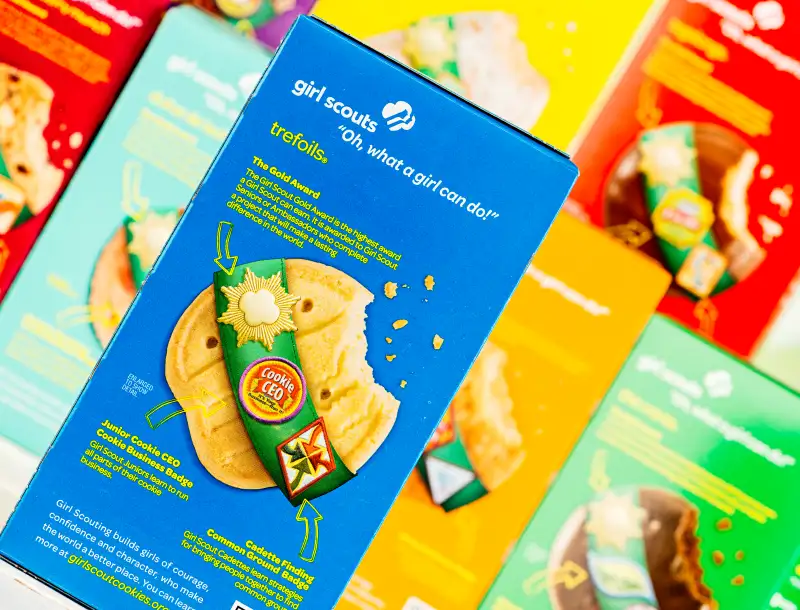 Catherine Lane—Getty Images
Better start saving up for your annual box (or boxes) of Samoas or Thin Mints. In some regions of the country, prices have soared as high as $5.
The price of the addictive cookies—famously peddled door-to-door each year by eager young girls wearing Scouting vests—has been on the rise for a while. In most areas of the country, prices rose from $3.50 to $4 in February 2015.
However, the exact cost of varies depending on which of the organization's 112 councils from which you're buying. In late 2015, councils in California and Massachusetts announced they'd hike the price of cookies up to $5. In November 2016, a council in southern Arizona also promised to raise the cost of cookies to $5, Tucson.com reported.
In Arizona, all varieties of Girl Scout Cookies—Thin Mints, Samoas, Trefoils, Savannah Smiles, Do-si-dos and Tagalongs, as well as specialty flavors like the Gluten Free Toffee Tastics—will run you $5 a box. If you want to check how much Girl Scout cookies cost in your area, search your zip code on the Girl Scouts' website.
The good news is that the 25% price increase from $4 to $5 is intended to stave off future price increases for a while. Still, if you're on a budget, it's worth noting Keebler Cookies, which are more or less the same product as Girl Scout Cookies, are significantly cheaper. The mint-and-fudge Grasshopper, similar to the Thin Mint, is sold for as low as $2.08 at Walmart.
While buying the Grasshopper won't allow you to support young girls' dreams, at least you can afford to buy more boxes of cookies.