'Goat Yoga' Classes Are Now Selling Out Across the Country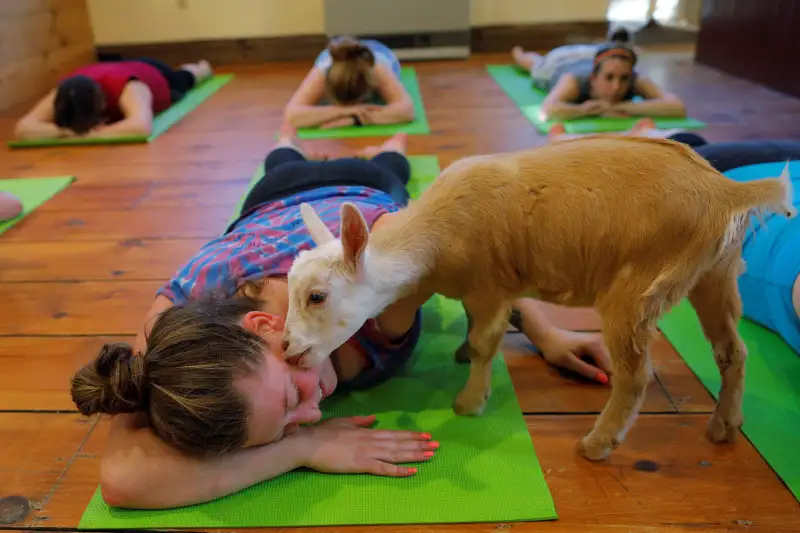 No kidding: The new goat yoga craze is selling out classes everywhere from Ohio to Arizona.
Perhaps unsurprisingly, the adorable concept—in which participants practice yoga while tiny goats amble around and sometimes cuddle with them, or hop on their backs—was born in Oregon. It was the brainchild of a freelance photographer and farm owner named Lainey Morse, who began hosting goat yoga events last summer.
"My goats are just very peaceful animals and everyone that comes over leaves stress free and happy," she explained to Modern Farmer. "When they chew their cud it's almost like they go into a meditative state and it's very soothing to watch and it's perfect to combine with yoga."
Goat yoga has since become a nationwide phenomenon, covered by the likes of the New York Times and attracting stars such as Rebecca Romijn, whose TNT show "The Librarians" is filmed in Oregon. At one point, Morse's goat yoga sessions had a 2,400-person waitlist.
Morse's Goat Yoga events are now held at farms in central Oregon at a cost of $30 for a one-hour session ($20 for students). That compares with $11 to $17 for a 90-minute regular non-goat yoga class in the area. Combo goat yoga/wine tastings book for $75 a pop. Most dates are sold out over the next few weeks, and those that are still available have only a few openings.
Entrepreneurs with access to yoga studios, dwarf goats, farmland, or some combination thereof have taken notice of Morse's success, and goat yoga sessions have been popping up across the country lately.
A farm in Arizona began offering goat yoga sessions on an acre of pasture last fall, for $10 per person. It proved popular, and class prices have been bumped up to $12. Recent goat yoga sessions at a studio in western Massachusetts sold out so quickly the organizers added more dates.
Upcoming goat yoga classes in Dallas, Texas, priced at $36, have sold out as well. A farm in New Hampshire that began offering goat yoga sessions this spring has sold out classes through early summer. There is even a goat cam that livestreams the goats as well.
The Columbus Dispatch recently provided some memorable images of a goat yoga class at an Ohio farm:
The visionary behind the trend believes that goat yoga is not merely fun, but has true therapeutic benefits. "It may sound silly, but goat yoga is really helping people," Morse said to CNN. "People come in that have anxiety, depression; they're recovering from cancer or illness."