Meet the Ex-Starbucks Manager Who Is Now the Weed Queen of Washington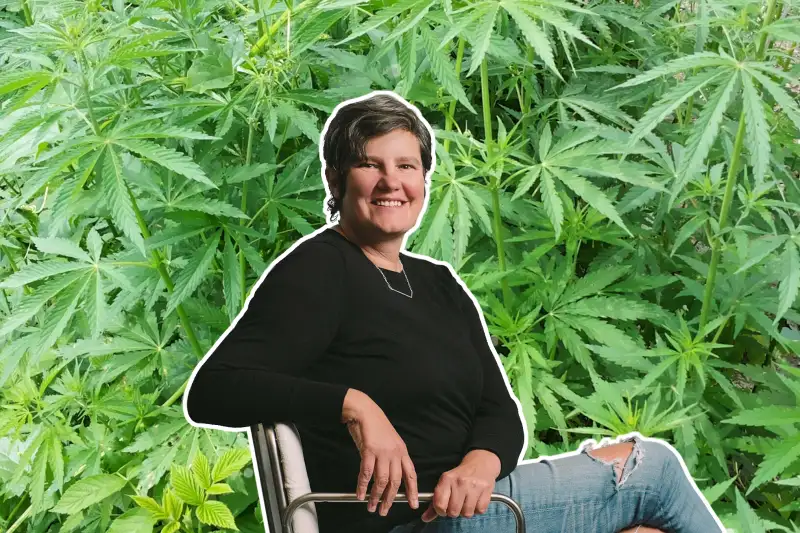 Jody Hall is smiling, holding a grapefruit jelly that's been cured for 21 days, rolled in sugar, and secured in child-resistant packaging.
"It's a French pate de fruit recipe with real grapefruit juice," she says. "We're calling them fruit jellies because people can't pronounce pate de fruit."
Even if you can pronounce it and figure out a way to get the package open, you can't try it.
Not here.
We're standing on the the Goodship factory floor, where bakers run the show and employees in hairnets navigate industrial-sized mixing bowls, conveyor belts and racks of chocolate chip cookies, double fudge brownies and peppermint pastilles that are infused with THC. Cameras oversee the entire operation, watching to make sure no one pinches a snack.
If you want a taste, you have to walk down the street and around the corner to a place like Vela, one of the 97 Washington state retailers that carry Hall's product, and fork over $12 for four Ra-Ra Raspberry Jellies or $40 for six snickerdoodles.
For the 51-year-old Hall, this is her fourth act — and her biggest venture yet, one that is potentially worth millions – and the only one at which sampling can cost her her business.
Hall's company, The Goodship, bakes and manufactures THC-infused edibles that are available in Washington state and, through a licensing deal, will be available in California later this year. Since The Goodship began operating in October 2016, the company has sold more than $600,000 worth of product, averaging between $50,000 and $60,000 in monthly sales this year, according to data provided by the Washington State Liquor and Cannabis Board. Statewide, since retailers, producers and processors began selling recreational pot in the state in 2014, they've posted $2.8 billion in sales.
Hall's banking on the idea that people around the country – whether they've ever touched a joint or not – will want more from their weed than just a high. She believes they'll want to saver the consumption of cannabis the way they do craft beer and locally-roasted espresso.
"It's not like, I just want coffee for caffeine or I want booze for getting drunk," she says. "We want the experience as well."
Hall has spent three decades packaging experience with legal enhancements.
After getting a business degree at Seattle University in 1988, she went to work crunching numbers at KeyBank in Seattle. Low on money for Christmas presents, she started moonlighting at a recently-opened coffee shop near her home in Tacoma called Starbucks.
She loved it. All of it. The people, the community, the coffee, the company. She felt isolated pushing paper in her thirty-fourth floor office at the bank. So, when she was offered a chance to manage a store in the growing chain, she took it.
"You could see when she started, her enthusiasm and curiosity to do the right thing," says Ann McEntee, a manager in Starbucks' corporate operational excellence team, and Hall's onetime boss. "So, she moved really quickly."
Soon after, Hall was hired in the corporate marketing department and helped open stores and push samples across the country. Starbucks had about 30 stores when she joined and 3,000 when she left a decade later as a marketing manager.
By then she'd sold most of her Starbucks IPO stock to help buy a house in Seattle. She tapped her home's equity in 2003 to start Cupcake Royale, a chain of six cupcake shops, where she tries to do what she did at Starbucks: build community around coffee and carbs. Like Starbucks and coffee, Hall was way ahead of the cupcake trend that became a staple in big cities over the last decade.
Hall says she saw similar opportunities in cannabis.
The legal marijuana business is attracting a wide variety of entrepreneurs, both those with underground experience with grass and those with entrepreneurialism in their blood. Hall is the later. And she's one of the players changing the perception of the marijuana trade and its product. She doesn't fit the profile of your stereotypical pot dealer, and neither does her product.
Goodship products are packaged to look more like boutique chocolate and Altoids than marijuana. If THC products are going to compete with white wine as an unwinding vehicle among the soccer mom set, as prospectors believe it one day will, they're going to be reaching for Goodship products that taste like raspberry candy, not a bong filled with White Fire Alien OG.
Like the culture of $3 coffee and boutique cupcakes that she's helped mainstream, Hall saw the marijuana industry as a chance to help bring a new experience into customers' lives.
"I wanted to build a brand that inspired profound connection again," she said. "I wanted it to be a pioneer and do things differently."
As the founder of a legal edible marijuana company, she's easily entering new territory with The Goodship. But creating community around a product that you can't legally consume in public presents a unique set of challenges. One way she's trying is by hosting a lecture series called Goodship Higher Education, where attendees come "elevated" and listen to experts talk about "heady ideas." Noted astronomer Seth Shostak, for example, gave a talk called "Where Are the Extraterrestrials?"
"I really want us to lead and be the torch bearer, the category protagonist for edibles in terms of, not just a great product," she says, "but a brand lifestyle that inspires you to connect to big ideas, to art, music and culture in a different way."
Hall says that if she hadn't cashed in her Starbucks stock, it might be worth millions today. But she doesn't regret it. It's enabled her to create two businesses and create community over cupcakes and cannabis.
"I feel like my life is just a series of fortunate accidents," she says.