New Moves by 3 Tech Giants Aim to Get a Bigger Piece of Your Wallet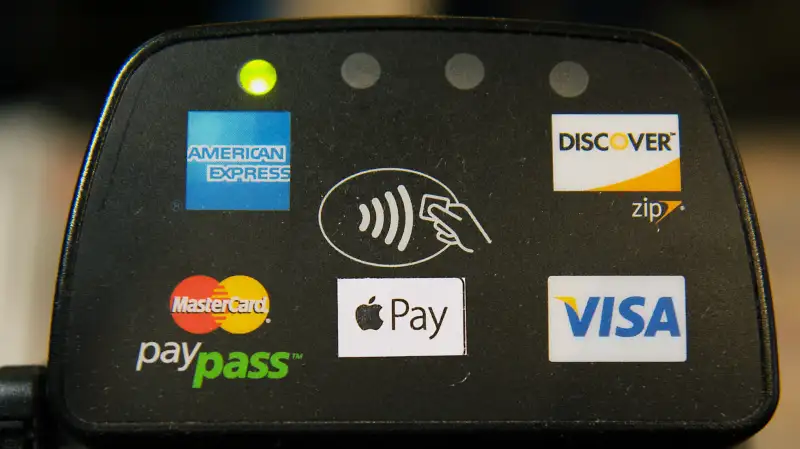 Bryan Thomas—Getty Images
Several of the world's tech giants are squaring off, thanks to new strategies and tools that have one common goal: to bring their respective companies a bigger slice of the enormous consumer spending pie.
Google vs. Amazon
This week the Wall Street Journal reported that Google is working on a "Buy" button that would allow online shoppers to make quick one-click purchases—a feature that's most often associated with Amazon, the world's largest e-retailer. Google wouldn't run factories full of merchandise, nor would it sell and ship goods like Amazon does. Instead, in theory (none of this is settled, or even confirmed by Google), consumers would be able to buy goods in a single click directly from partner retailers that show up in Google Shopping search results. Google is reportedly also considering an expedited shipping subscription service along the lines of Amazon Prime or ShopRunner, which would store the customer's billing info and shipping address.
Google dominates search in general. Yet when people are searching specifically for things to buy, far more start their online shopping expeditions at Amazon. Naturally, Google would love to have more consumers browsing for goods with its search tools. What's more, it would love to keep them within the Google sphere when actually making purchases. Right now, consumers who start shopping searches at Google are typically sent to other sites—including Amazon—when the time comes to buy. Google would much rather keep a tight hold of the eyeballs and wallets of shoppers.
Amazon vs. Ebay
Amazon recently announced the introduction of a new "Make an Offer" feature that allows customers to bid and negotiate on the price of certain merchandise—options that are in the wheelhouse of eBay, which was born as an auction site and has evolved into more of a general marketplace for sellers big and small.
For now at least, Amazon is essentially just the host site for sellers who are willing to haggle with customers. Only items falling under a few sales categories, including Fine Art and Sport and Entertainment Collectibles, are available on the "Make an Offer" basis, and it's always a third-party vendor (not Amazon) that does all the negotiating and selling. After a customer views the suggested price of an item and makes an offer, "The seller will receive the customer's lower price offer through email, at which point the seller can accept, reject or counter the offer," an Amazon.com press release explained. "The seller and customer can continue to negotiate through email until the negotiation is complete."
Consumer Reports noted of Amazon's new tool, "By adding a haggling element to its traditional fixed-price model, Amazon broadens its appeal to a wider audience of consumers motivated not simply by low prices, but by the thrill of the hunt and scoring a deal." Note that there are no open auctions, and that all haggling takes place privately between the two parties involved—not unlike the negotiations that take place between buyer and seller in a car dealership, or perhaps via a connection made on Craigslist or Priceline. Customers can "Make an Offer" on roughly 150,000 items right now at Amazon, and the e-retail giant plans on expanding the bidding option to hundreds of thousands more items in 2015.
Apple Pay vs. All Other Forms of Payment
When Apple Pay debuted in October, the mobile payment tool—allowing customers to pay for goods with a tap of an iPhone—could be used at Macy's, McDonald's, Whole Foods, and several other major chains, but overall less than 3% of U.S. merchants that take credit cards were ready to accept Apple Pay. As the New York Times reported this week, however, dozens more banks, retailers, and at least one NBA Arena (Amway Center in Orlando) have since started accepting Apple Pay, and experts increasingly are of the mind that Apple has the best chances of making smartphone payments commonplace:
Still, there's a very long way to go before a critical mass of consumers are paying for purchases regularly with iPhones, or any smartphones. Many big-name retailers, including Best Buy, Walmart, and Gap, aren't accepting Apple Pay because they're trying to create their own smartphone payment system—which may or may not be easier and more convenient to use than Apple Pay. More importantly, consumers generally still see old-fashioned debit and credit cards as a more convenient and certainly a more comfortable way to pay for stuff. For smartphone payments to be a true success, Apple Pay or other services will have to convince the masses otherwise.