Google's New 'Really Blue' Pixel Smartphone Is Already Sold Out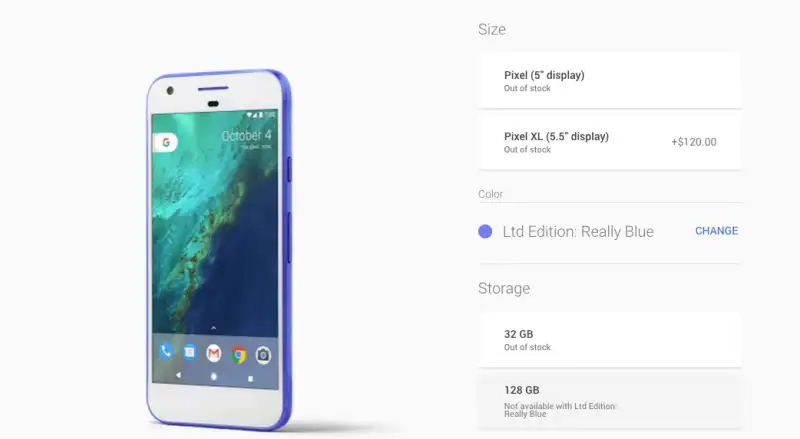 Google's new smartphones are already flying off the shelves.
Both sizes of the limited edition "Really Blue" Google Pixel phones sold out within minutes of the company's unveiling of the product Tuesday, Business Insider reported. The Pixel is Google's first smartphone in the sense that the company has taken control of the design and hardware — a shift for parent Alphabet, which usually outsources that production to brands like HTC or LG.
If you're interested in purchasing a Pixel smartphone, you're not totally out of luck. The "Very Silver" and "Quite Black" models of the versions of the phone are still in stock in the Google Store, at least at the time of publication.
You also might be able to buy the phone on the Verizon website, which says all models are still available (and will be shipped on Oct. 20). However, when Money tried to preorder a Pixel on the Verizon website, we were unable to do so and received an error message directing us to call to order.
Read More: New Google Smartphones Expected to be Unveiled Tuesday
The Pixel, which became available for preorder immediately on Google's and Verizon's websites after Tuesday's announcement, retails for $649, or $27 a month. Verizon is the exclusive carrier partner in the United States, though customers will also be able to use Google's mobile virtual network operator, Project Fi.
The Pixel will also feature a five-inch screen, while its larger counterpart, the Pixel XL, includes a 4.4-inch display. Google is advertising the Pixel's camera, which will allow users to capture multiple photos at once with a new burst mode. Users will also get free unlimited photo and video storage at full resolution via the Google Photos app.
Additionally, the phone features quick charging, a feature of Android smartphones, which will allow it to obtain seven hours of battery life after just 15 minutes of charging.