Here's How Much Money It Cost to Produce 'Grease Live' on Fox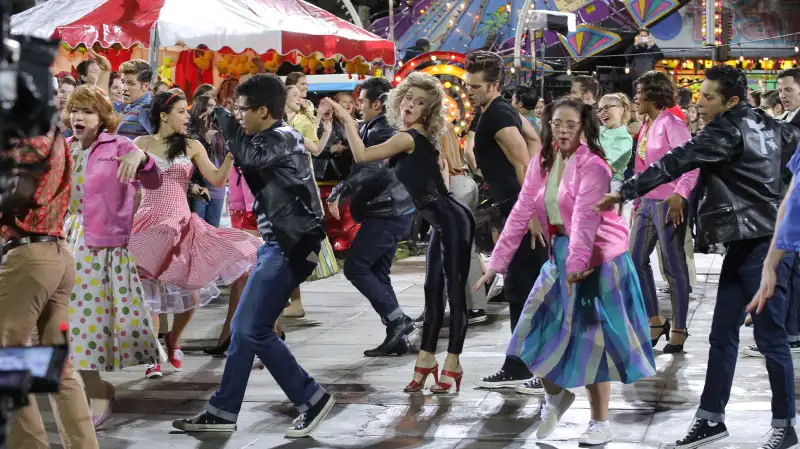 The Fox network sure didn't pinch pennies on its first foray into live TV musical production, "Grease: Live," which aired nationally on Sunday night. The show, starring Julianne Hough and Aaron Tveit and also featuring pop music stars like Carly Rae Jepsen, Nick Jonas, Jessie J, and (for the old-timers) Boys II Men, reportedly cost a whopping $16 million to make.
According to Entertainment Tonight, the production of "Grease: Live" used 21 sets on 14 stages, spread out over 20 acres. The production required roughly 650 dancers and extras, and the grand finale was filmed outdoors on a carnival set featuring a Ferris wheel and other theme park rides.
The budget and elaborate production for "Grease: Live" far surpassed that of previous musicals broadcast live on TV. The 2013 production of "The Sound of Music," which aired on NBC and featured Carrie Underwood, cost less than $9 million to make. And the consensus was that it would lose money on its first airing, though perhaps the show would turn a profit if and when it was broadcast multiple times.
At least from the perspective of most critics and buzz on social media, Fox's big bet on "Grease: Live" seems to have paid off. Many commented that the acting wasn't always great, and the comedy often failed to connect, but the consensus is that the music, energy, and terrific directorial and production value trumped all. So in this case, it looks like the $16 million was money well spent. The show was "as sweet and tasty as root beer float," Maureen Ryan, Variety's TV critic, summed up. "The ambitious $16 million production of the Rydell High School musical was as impressive as it was fun," wrote the (New York) Daily News.
Read next: The 10 Richest Women of All Time
"'Grease: Live' reconfirms all the possibilities of the live musical event as a genuine transcendent pop experience: Clever, funny, rapturously huge in a way showbiz used to only want to be," Entertainment Weekly raved.
As for everyday fans, they gushed about the musical on social media. "Twitter Is Going Crazy Over 'Grease: Live,'" People reported on Sunday night. As of Monday morning, more than one million Tweets had circulated with the #greaselive hashtag.