Fecal Contamination? Read This Before Grilling Burgers This Weekend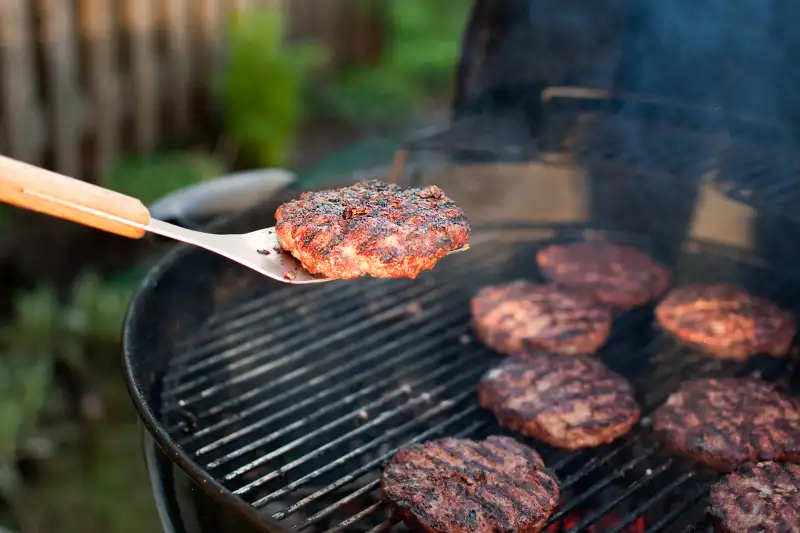 Maria Kallin—Getty Images/Flickr
Talk about buzzkill. Just before Labor Day weekend—as good a time as any to gather round the barbecue and feast on grilled meats—Consumer Reports published a disturbing study about the dangers of ground beef.
Basically, we all know that it's necessary for poultry and pork to be thoroughly cooked. But many diners (including yours truly) prefer their beef to be tender and juicy—generally meaning on the rare side, with a little pink inside, and not completely well done and hard as a hockey puck. This is especially problematic for ground beef, CR explained:
The researchers purchased 300 packages of ground beef at stores around the country. In total, they examined 458 pounds of beef, and in every case they found bacteria that indicated fecal contamination—which sounds extremely gross, and can cause blood and urinary tract infections. Roughly 1 in 5 beef packages contained another bacteria known to cause 1 million cases of food poisoning per year.
Before canceling your Labor Day cookout, take note of two simple tips for handling meat that'll help avoid illnesses:
Avoid cross-contamination. This sounds scary, but it's something we all should know about. Essentially, the advice here is what Arun Bhunia, a food science professor at Purdue University, just explained to the Indianapolis Star: "If you're handling ground beef (or) raw meat, make sure you don't touch any of the vegetables if they're not going to get cooked."
If you've touched raw meat, you should wash your hands before touching any other foods that aren't being cooked. Same goes for any utensils that come into contact with raw meat. Don't use the same knife or fork on veggies or salad that you've been using to handle meat.
Burgers, sadly, should always be well done. "Ground beef is actually pieces of meat, and the bacteria actually is present not only on the surface — you have it also inside the ground beef," Bhunia said. "That's where you really need thorough cooking."
Just because your burgers are well done does not mean that they must be as tough as a steel-belted tire. Consumer Reports' partner site Consumerist recently suggested four ways to cook a burger that's "safe to eat but doesn't taste like leather."
Read Next:
Labor Day Deals Are Expected to Be Better Than Black Friday's
Drivers Are Going to Save A Lot of Money Over Labor Day Weekend