Guns N' Roses Fans Will Pay Big Bucks for Reunion Shows in Vegas, Coachella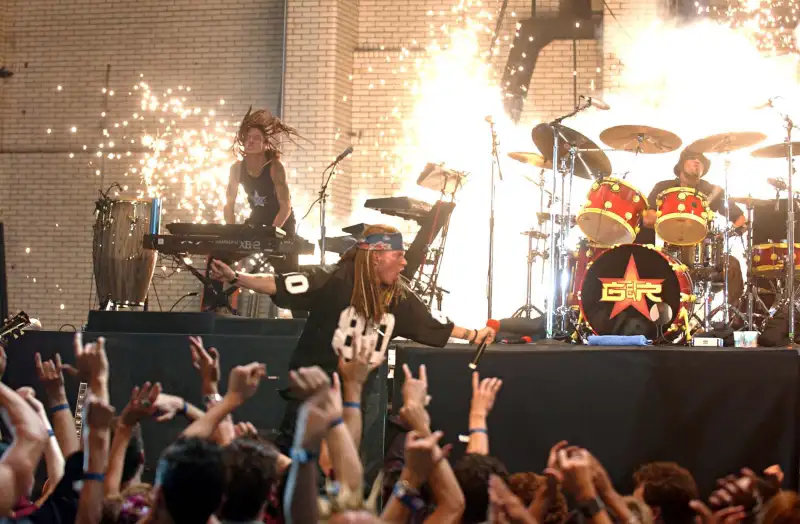 Jeff Kravitz—FilmMagic/Getty Images
Gunning to be taken away to that special place where Axl Rose and Slash will finally be reunited on stage? Don't cry—but you're going to have to shell out a lot of cash.
Welcome to the jungle that is inflated ticket prices on the resale market. Seats for the hard-rock group's four-show U.S. reunion are officially sold out, but you can still purchase them on secondary sales sites like Stubhub and Vividseats—for a premium price.
The group is booked for two gigs at T-Mobile Arena in Las Vegas on April 8 and 9, followed by two nights at the Coachella Valley Music and Arts Festival in California on April 16 and 23. On StubHub, general admission floor seats in Vegas start at $1,075 and run as high as $5,600 for the April 8 show. On Vivid Seats, you can sit in the same section for as little as $933. A suite ticket, however, will cost you nearly $15,000.
The Coachella music festival is already sold out as well. If you want to see Guns N' Roses there, you should be prepared to shell out at least $400 for resale tickets to see a lineup that also includes electronic-dance act LCD Soundsystem and DJ Calvin Harris.
If you're on a budget, though, your concert dreams don't necessarily have to live and let die: It's possible to see one of the Vegas shows for under $300 in the nosebleed sections. And, it's likely that with just a little patience, get-in prices for these shows will decrease as the performance date approaches. That's what happened last summer with another high-profile reunion tour, by the Grateful Dead--ticket prices soared when the dates were first announced, then many dipped below face value within a week or so of the shows.
There's no guarantee that prices will decrease in the case of Guns N' Roses, however, as the band is playing in arguably the most significant and least expected rock reunion in recent history. After years of feuding and silence, the tour marks the first time that singer Rose, guitarist Slash and bassist Duff McKagan have played together in concert in more than 20 years, the Wall Street Journal reported.

Guns N' Roses' brand of hard rock earned the group comparisons to the Rolling Stones and the Sex Pistols at the height of their popularity in the 1980s. Their 1987 album, "Appetite for Destruction," sold 18 million copies, making it the best-selling debut in U.D. History. Their single, "Sweet Child O' Mine," is one of the most popular songs from the decade, played more times on Spotify than Michael Jackson's "Thriller."
The real winners of the reunion might be the band members themselves, who will figuratively arrive in "Paradise City" by collectively taking home $26 million for playing four shows, the Journal reported. The novelty of a reunion is also a boon for Coachella, what with how the surprise announcement has drawn in legions of fans to the festival.