Here's How Much You Can Save Each Year by Living With Your Parents in the 15 Biggest U.S. Cities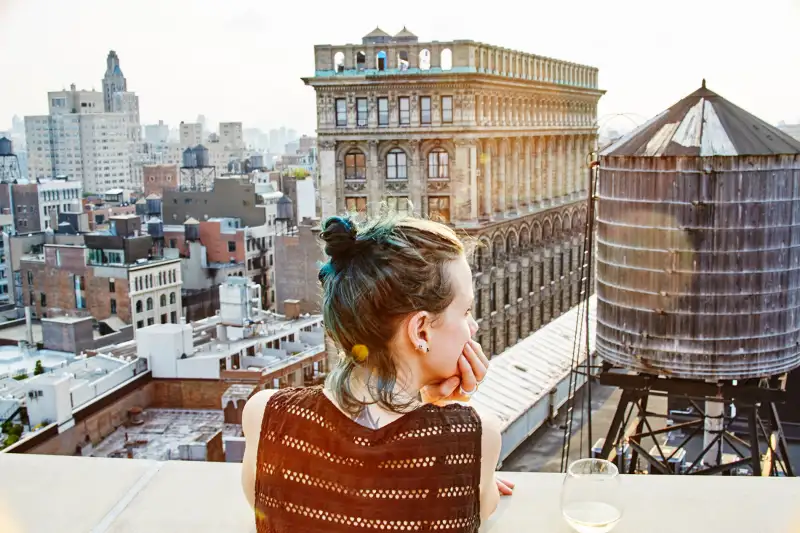 Karen E. Evans Photography—Getty Images
When Patrick Mullin graduated from college in 2016, he moved back home with no immediate plans to leave.
"I'm pretty fiscally irresponsible," he says. "But I'm cognizant of that and enjoying it while I still can. I'm very happy with my bank account balance right now."
He should be. Since then, he says he's been able to save more than $10,000 in the last year by living with his parents where he grew up in the Upper East Side of Manhattan, squirreling away hundreds per paycheck from his job as a paralegal at a multi-national law firm.
In the past, Mullin's situation may have been an anomaly, but today, a third of all 18-to-34-year-old young adults nationwide live at home with their parents rather than with a roommate, spouse, or by themselves, according to recent U.S. Census Bureau statistic. And according to data from the Pew Research Center, 15% of 25 to 35-year-old millennials are still living in their parents' home, up from 12% in 2010. This number is 5% higher than Generation Xers who lived at home in 2000 when they were the same age.
Why the uptick? Tough job markets, high costs of rent, rising student-loan debt as well as an increased level of normality felt for moving back home have all been contributing factors.
"Social stigma around [moving back home] is evaporating," says J.J. Kinahan, chief market strategist at TD Ameritrade. "Millennials still want to buy homes and live the American dream, but they are choosing to do it later, and living at home gives them the chance to do so."
So how much money could your average 20-something save if they chose to live at home instead of on their own?
Using available government data from the U.S. Department of Agriculture and Bureau of Labour Statistics, as well as recent cost of living estimates from Numbeo, Money calculated how much millennials can save while living under their parents' roof for a year in the 15 biggest U.S. cities, excluding metro areas. (The complete methodology is at the bottom of this story.)
If you're looking to live in San Francisco, you could yield more than $30,000 per year if you lived at home. San Francisco has the highest average rent price out of any major U.S. cities, at almost $2,200 per month. With similarly high rates for an apartment, New York and San Jose came in second and third, where you can save up to $28,725 and $19,547, respectively.
Out of the top ten cities in which millennials can save the most, several were located in California – along with list-topper San Francisco, Los Angeles and San Diego came in fourth and seventh, with potential savings of $18,309 and $16,099, per year respectively.
Texas cities like Austin, Houston, Dallas, and San Antonio are also favorable to young people just starting out, with average savings of $13,611 per year. In the midwest, Chicago, with its high rent prices of around $1000 per month, has savings up to $17,329, and Philadelphia, with its above-average utilities ($143.48) and Internet ($60.79) costs, can yield savings of up to $15,863.
Here's the full list of how much you can save while living with your parents in these 15 major cities, listed in order of which you can save the most in. To get our numbers, we included average rent prices, basic utilities costs, average rates for Internet, and calculated grocery prices for a young adult, on the assumption they are not chipping in at home.
1. San Francisco, CA
Potential Savings: $31,390
Population: 870,887
Average Rent: $2,181.48
Average Utilities: $114.28
Average Internet: $52.75
Average Groceries: $268.93
---
2. New York, NY
Potential Savings: $28,725
Population: 8,537,673
Average Rent: $1,964.08
Average Utilities: $128.48
Average Internet: $58.92
Average Groceries: $241.84
---
3. San Jose, CA
Potential Savings: $19,547
Population: 1,025,350
Average Rent: $1,244.35
Average Utilities: $115.55
Average Internet: $57.33
Average Groceries: $208.47
---
4. Los Angeles, CA
Potential Savings: $18,309
Population: 3,976,322
Average Rent: $1,152.61
Average Utilities: $130.86
Average Internet: $51.20
Average Groceries: $191.85
---
5. Chicago, IL
Potential Savings: $17,329
Population: 2,704,958
Average Rent: $1,056.08
Average Utilities: $134.86
Average Internet: $50.98
Average Groceries: $199.11
---
6. Austin, TX
Potential Savings: $16,120
Population: 947,890
Average Rent: $954.31
Average Utilities: $155.50
Average Internet: $48.98
Average Groceries: $187.57
---
7. San Diego, CA
Potential Savings: $16,099
Population: 1,406,630
Average Rent: $984.22
Average Utilities: $105.77
Average Internet: $53.89
Average Groceries: $192.75
---
8. Philadelphia, PA
Potential Savings: $15,863
Population: 1,567,872
Average Rent: $907.70
Average Utilities: $126.87
Average Internet: $63.24
Average Groceries: $209.92
---
9. Houston, TX
Potential Savings: $14,104
Population: 2,303,482
Average Rent: $795.71
Average Utilities: $143.11
Average Internet: $54.73
Average Groceries: $184.91
---
10. Dallas, TX
Potential Savings: $12,590
Population: 1,317,929
Average Rent: $702.99
Average Utilities: $138.60
Average Internet: $50.30
Average Groceries: $160.80
---
11. Columbus, OH
Potential Savings: $12,199
Population: 860,090
Average Rent: $642.22
Average Utilities: $164.41
Average Internet: $42.33
Average Groceries: $168.18
---
12. San Antonio, TX
Potential Savings: $11,630
Population: 1,492,510
Average Rent: $629.41
Average Utilities: $143.59
Average Internet: $54.23
Average Groceries: $148.76
---
13. Jacksonville, FL
Potential Savings: $11,492
Population: 880,619
Average Rent: $526.74
Average Utilities: $173.48
Average Internet: $64.37
Average Groceries: $201.24
---
14. Indianapolis, IN
Potential Savings: $11,115
Population: 855,164
Average Rent: $522.22
Average Utilities: $146.15
Average Internet: $51.54
Average Groceries: $205.39
---
15. Phoenix, AZ
Potential Savings: $10,978
Population: 1,615,017
Average Rent: $517.60
Average Utilities: $182.70
Average Internet: $54.70
Average Groceries: $158.77
---
Methodology: we first utilized the newest U.S. Census Bureau city population estimates, which analyze growth as of July 1, 2016. We also took into account such factors as cost of living across the major urban centers in the U.S. Average rent rates were calculated by narrowing down the parameters to three-bedroom apartments located in the city center, with statistics sourced from Numbeo on June 16, 2016. Monthly rent prices were divided by three in order to account for the assumption that young adults are more likely to have roommates than live by themselves. The cost of basic utilities and Internet were likewise sourced from Numbeo and incorporated into our evaluations. The average monthly price for groceries was calculated by using Numbeo's Groceries Cost Index and comparing it to the most recent USDA Cost of Food report, from May 2017. Our final savings estimates for each city describe the amount that a millennial can save up to while living at home with their parents for a full year.