Home Depot and Lowe's Are Having Huge Sales This Weekend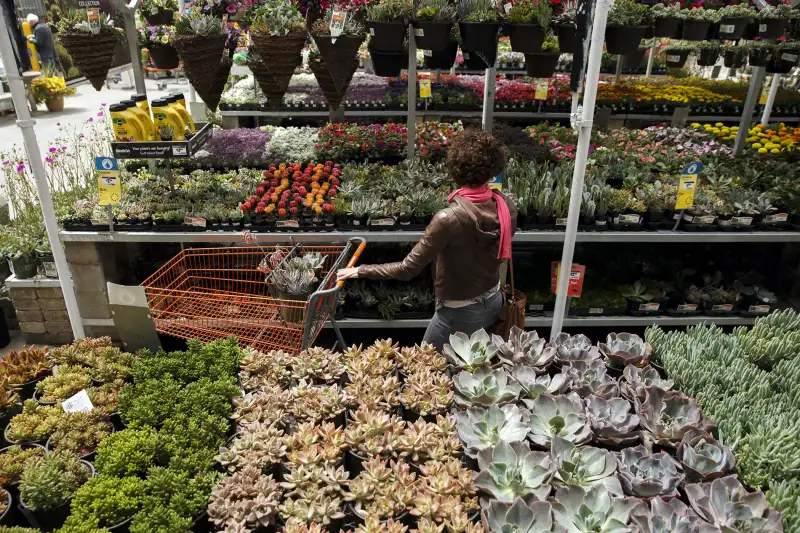 Patrick T. Fallon—Bloomberg via Getty Images
Timed perfectly for anyone keen on spring cleaning or preparing for a busy summer of gardening and barbecuing, home improvement giants Home Depot and Lowe's are both hosting big springtime "Black Friday" sales this weekend. Shoppers can find discounts on seeds, mulch, patio sets, charcoal, and more during the sales, which last through Sunday, April 9, at Home Depot, and Monday, April 10, at Lowe's.
Before hitting the stores or loading up your online shopping cart, however, take note that the sales are a mixed bag. Retailers know that the phrase "Black Friday" is like catnip for shoppers. So stores are known to roll out early Black Friday sales well before Thanksgiving, as well as BF promotions in the summer and spring.
Like the "real" day, faux Black Friday deals are generally a mishmash of genuine bargains and meh sales. So shoppers should approach them warily, and do some comparison-pricing to verify if advertised prices are actually decent. The promotions below jumped out at us as solid deals.
Patio Sets for 30% Off
The best time to buy patio furniture is probably late summer and early fall, when stores are eager to unload whatever inventory they have left over from the peak sales season. But let's face it: Most people aren't game to buy patio sets, even at clearance sale prices, when they'll have to put them in storage for months before actually using them.
The second-best time to find deals on patio furniture is probably right now, when sales are decent and there's a good chance you'll be enjoying your purchase very soon. Home Depot has a wide variety of patio furniture deals this weekend, including the Hampton Bay Pembrey 7-piece patio dining set for $629, or 30% off the usual price ($899).
Mulch from $2 a Bag
Mulch can be a loss-leader type of item for home improvement stores. Homeowners who care about their yards have an endless need for mulch, and stores sometimes drop prices to levels so low that they're probably not profitable simply to entice shoppers to come inside—where, retailers hope, they'll buy other goods that aren't necessarily on sale.
Both Home Depot and Lowe's are advertising super cheap prices on mulch this weekend, and the savings can add up if you're loading up with dozens of bags. Lowe's is selling two-cubic-foot bags of mulch in brown, black, and red at $2.50 apiece, down from $3.33 normally. Home Depot has sales on several kinds of mulch, including bags of Vigoro wood mulch for $2 a bag (normally $3) and Scotts Earthgro for $2.50 per bag (normally $3.67).
One-Day Air Filter Sale
Friday only, Home Depot's "Special Buy of the Day" features big discounts on multi-packs of Honeywell air filters, which come in handy because they're supposed to be replaced on air-conditioners every three months or so. For instance, a 16" x 16" Honeywell air filter that usually sells for $10.97 each is being sold online on Friday only at the special price of $22.99 for a set of four, down from $37.29.
Big Charcoal Discounts
If you don't have a gas grill but love to barbecue, you know you'll probably burn through a ton of charcoal in the months to come. By loading up on charcoal during this weekend's sale from Lowe's, you'll save some cash and save yourself from having to run to the store on some Saturday in the near future. A two-pack of Kingsford charcoal briquettes is priced at $12.99 now through Monday, April 10, or 35% off the normal price of $19.99 at Lowe's (and $19.87 at Home Depot).
We've included affiliate links into this article. Click here to learn what those are.