14 Million Homeowners Took Advantage of This Smart Move During the Pandemic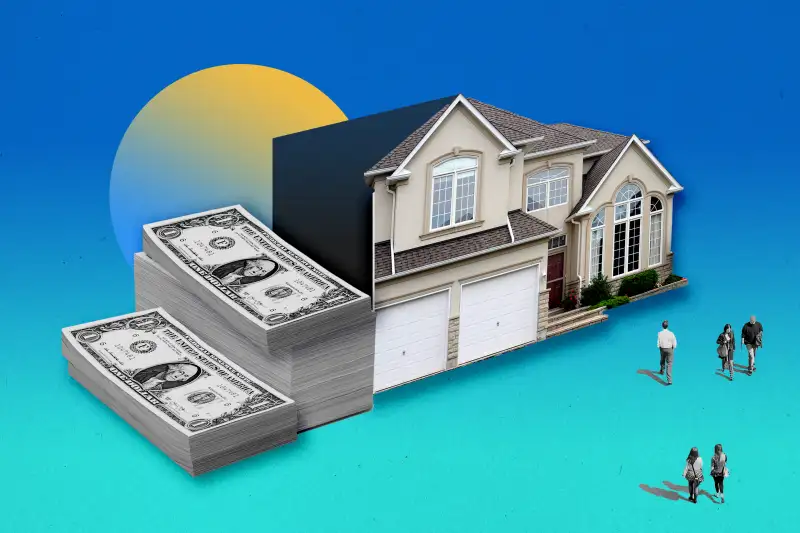 Eddie Lee / Money; Getty images
Historically low mortgage rates during the pandemic meant homebuyers could afford larger and more expensive houses without necessarily spending more money. But many homeowners who opted to stay put during the housing boom also benefited from record-low interest rates: Mortgage refinancing was one of the smartest financial moves in recent years, translating into significant monthly savings.
About 14 million homeowners opted to refinance their home loans during the seven-month period between spring 2020 and the end of 2021, according to a recent analysis by the New York Federal Reserve. This represents about one-third of all outstanding mortgage balances at the time.
Record low mortgage rates spurred homeowners to refinance
Homeowners were drawn to refinancing by the significant drop in mortgage rates that started in March 2020. The average rate on a 30-year fixed-rate mortgage reached a new record low 17 times between the start of the pandemic and January 7, 2021, when rates bottomed out at 2.65%.
Even though rates began increasing in 2021, the 30-year rate still ended the year at 3.11%, well below the average rate prior to 2020.
Many homeowners were able to lock in a refinance rate in the high 2% to low 3% range during that time, with some lucky and extremely well-qualified borrowers snagging rates that started with the number 1.
Refinancing led to monthly savings and extra cash
Almost two-thirds, or about 9 million, of all homeowners who decided to refinance in 2020 and 2021 did what is called a "rate and term" refi. In this case, a new mortgage with a lower interest rate and/or shorter loan term replaces an older loan with a higher rate or longer term.
The New York Fed study shows that homeowners who swapped into a lower rate were able to reduce their monthly mortgage payments by an average of $220, or $2,640 per year.
Another 5 million borrowers opted for what's called a "cash out" refi, choosing to take advantage of the equity gained from rising home values to get a lump sum of money they could use to either shore up their finances or take care of expenses.
According to the New York Fed report, homeowners cashed out an average of $82,000, although doing so led to an increase of $150 in the monthly payment, on average.
During 2021 alone, borrowers collectively gained over $3 trillion in equity, according to real estate data firm CoreLogic. (That number climbed even higher in 2022, with homeowners averaging a record high of $300,000 in equity in September.)
Homeowners most likely to refinance mortgages
At the start of the pandemic, there were an estimated 20 million homeowners who would have benefited from a mortgage refinance, according to data analytics firm Black Knight. Yet not everyone chose to refinance.
Nearly a third of the mortgages originated in 2015 or later were refinanced, compared to about 17% of loans originated between 2010 and 2014 and less than 9% of loans originated before 2010.
Homeowners holding older loans may have decided to skip a refi for a number of reasons. If the loan had a low outstanding balance, the cost of refinancing could outweigh any benefit gained from lower monthly payments.
Refinancing would also restart the clock on the loan, extending the term and increasing the number of monthly payments. A homeowner who had already paid 10 or more years' worth of loan might not be interested in extending the payment window any further.
The age of the loan wasn't the only factor for homeowners in deciding whether to refinance or not. How much homeowners still owed on their mortgages seemed to matter a lot too. Almost half the loans refinanced between 2020 and 2021 had outstanding balances between $400,000 and $500,000.
From refi boom to refi bust
The difference a year makes is startling. Starting in 2022, mortgage rates climbed sharply upward, bringing an end to the refinancing boom.
At the end of 2021, when rates were still in the low 3% range, refinance applications made up a little over 60% of all mortgage applications, according to the Mortgage Bankers Association. Today, despite a recent uptick, refinances make up less than 30% of all applications.
The reason is simple. Between January 2022 and now, rates have nearly doubled, going from 3.22% to a current mortgage rate of 6.35%.
Now, with mortgage rates so much higher, refinancing is a much less attractive option. Plus, millions of homeowners have already refinanced in the recent past, and they're not going to beat the rates they've already locked in.
More from Money:
Best Mortgage Refinance Companies of May 2023
Half of Homes on the Market Are Selling within 2 Weeks — Despite High Mortgage Rates
10 Cities Where the Housing Costs Are Cooling Off Fast