How do Staffing Agencies Work?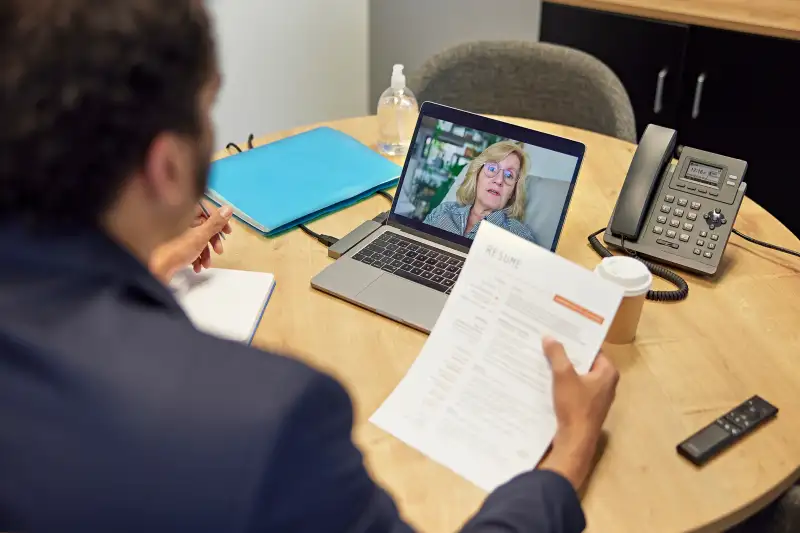 *Content includes branded mentions of our sponsor ZipRecruiter.
Leaders and managers of businesses and other organizations often struggle to fill certain positions. Applicants who did well during the application process can turn out to be the wrong fit for the job, or you may not have the time or resources to fill a role properly. If you're facing recruitment challenges in this job seeker's market, you might need the help of a staffing agency.
This article will explain what a staffing agency is, how it works and how using one can help you find the people you need. You'll also get some insights on how to find the best staffing companies.
What is a staffing agency?
A hiring or staffing agency helps recruit employees to fill a company's vacancies. It acts as the middleman between an employer and a prospective employee and does the work of finding suitable candidates for positions that need filling. They do this by screening, interviewing, vetting and endorsing people with the right skills, work history and qualifications.
Some staffing agencies offer a variety of services, while others specialize in just one type of service. Staffing agencies may advertise themselves as one of the following:
Temp staffing agency — A temp staffing agency helps companies fill positions that are only available for a short period of time. These positions are usually seasonal, but they may be project-specific. Organizations may also need temporary workers to replace employees on extended leave.
Remote staffing agency – A remote staffing agency provides companies with online workers. As the name implies, these agencies link remote workers with companies that allow and support a remote-friendly environment. The most common roles sought by remote staffing agencies are customer service representatives, marketing assistants, administrative assistants, recruiters or accounting assistants.
Skilled trade staffing agency — A skilled trade staffing agency helps connect companies with employees who have very specific trade skills. They may have workers on their roster for manufacturing, construction, engineering and marine jobs, to name just a few.
Executive staffing agency — This type of staffing agency helps companies find people to fill high-level positions. C-suite executives rarely go job hunting, so these staffing agencies usually entice such individuals to leave their current careers to transfer to other companies.
Traditional staffing agency — This is a professional staffing agency that provides companies with more general staffing needs. Whether the business needs managers, temp workers, remote employees or skilled workers, these agencies can provide them all. They typically have a broader pool of candidates to choose from. Businesses that need employees with a more general knowledge and skillset, such as administrative staff, benefit most from this type of agency.
Why use a staffing agency
There are many reasons why companies choose to work with staffing agencies. Here are some of the major benefits of using agency staffing for your business.
It saves time — Finding the right people for your open permanent positions can take a long time, particularly if these roles require a specific set of unique or rare skills. When you're working with a staffing agency, you can shorten the amount of time it takes to find the people you need.
It gives you easy access to qualified candidates — Your company doesn't have to worry about how to hire employees that fit your set criteria. This is because most staffing agencies already have a roster of qualified individuals with the skills you need. The staffing agency will also conduct the initial interviews and vetting process, after which they will send you the list of possible candidates for the post.
It saves money — Using a staffing agency can save your company money on things like pre-employment testing and background checks. With an agency, you can reduce your cost per hire. You also don't need to hire a recruiter to conduct interviews or screen candidates. The workers that staffing agencies recommend to your business are already pre-qualified, vetted and even onboarded.
It increases your reach — Another benefit you get when you hire a dependable staffing agency is the expanded reach you have. Since agencies are focused on vetting people and pooling candidates for various positions, they already have lots of quality options to choose from. The agency can contact headhunters and other recruiters to locate the people you need if they don't have enough candidates for you on their lists.
Why not to use a staffing agency
Using a staffing solution agency may seem easy. These agencies are specialists and know how to hire employees that will fit your needs. Nonetheless, it's not without risks and disadvantages. Here are some of the cons associated with working with a staffing agency:
Cultural gaps may occur — Hiring someone who's been interviewed by an external agency may result in a perfect match in terms of skills and work background. It doesn't, however, guarantee that they'll fit well into your company's culture. As the agency is an outsider of your organization, its staff may not be able to articulate your culture to the new candidate in the best way. This may result in a mismatch between the new employee and your existing team, which can lead to unwanted friction.
It limits your ability to brand your company — When you hire for jobs, attracting quality talent sometimes relies on your branding. When you work with a staffing agency, candidates see the agency's branding over yours, which may reduce the likelihood of drawing in the candidates with the best fit.
How the staffing agency process works
Now that you know the pros and cons of working with a staffing agency, it's time to understand how staffing agencies work. Here are the steps they take to get you the people you need.
Employers discuss vacant positions with the staffing agency
The first step you will take with a staffing agency is to discuss your employment needs with them. This will include providing job descriptions, salary expectations and other pertinent information associated with the job.
Recruiters create job postings to attract talent
The next step in this hiring process is to create and post job openings on various job boards, such as ZipRecruiter, and even on social media. While you may be adept at writing job postings yourself, these agencies know how to write a job posting that will get the attention of the people you need.
Candidates apply and recruiters review the applications
Once the post about the open position gets attention and applicants send in their resumes, the staffing agency will start the interview process. The agency will then check resumes for compatibility with your needs and schedule interviews with those its staffers deem a good fit for your business. Oftentimes, these agencies use some of the best recruiting software around to expedite the review process.
Interviews are conducted
Once the agency schedules the interviews and the selected applicants respond to their respective invites, the interviews begin. This can consist of a few rounds that start with the staffing agency conducting the initial talks, followed by a few more interviews with your company directly, depending on your requirements. Once you and the staffing agency shortlist a candidate, the hiring manager from your company and a representative from the agency will conduct a final interview.
New hires are chosen and the paperwork begins
After you've chosen a candidate to hire, the staffing company then sends them an offer letter and contract. Onboarding will begin after you and the agency do all the paperwork involving the employment of the candidate.
Who pays employees — the staffing agency or the employer?
There's a lot of confusion when it comes to who pays the employee hired through a staffing agency. This is often because people don't understand the difference between a recruitment agency versus a staffing agency. Recruitment agencies find employees for a company and once they're hired, they're no longer involved in the day-to-day activities of the person.
Staffing agencies, however, stand as the employer of the candidate, and as such, they end up on the agency's payroll for the length of the contract. If the contract is permanent, then the company takes over and is responsible for paying the employee.
This means that staffing agencies essentially pay the candidates they hire for your company with the money that you pay the agencies.
How much does a staffing agency charge on average?
The amount that staffing agencies charge is dependent on how much you and a staffing agency agree upon. Some factors that could affect the fees are:
The number of roles you want filled.
The completeness of the service. For example, do you want the agency to do the onboarding or only the pre-screening interviews?
Typically, your company pays the agency a monthly or annual fee on top of the monthly salary for the employee. The industry standard is at around 10% to 20% of the employee's salary. However, if the position is difficult to fill and their skills are highly specialized, expect to pay up to 75% of the employee's salary in agency fees.
Note that some agencies charge other additional fees for helping you find who you need. These can include a finder's fee and a headhunter's fee.
Best practices for working with a staffing agency
How do you find the right staffing agency to work with? Whether you choose to work with a well-known international staffing company or a smaller local one, the same rules apply when you decide to work with them. Here are some of the main ones.
Choose a reputable staffing company
Before partnering with a staffing agency, be sure to find one that you can trust. A reputable staffing company is usually a member of ASA, or the American Staffing Association. This association makes sure that the agency follows professional, ethical and legal practices when it comes to staffing. Being part of ASA ensures that the agency is trustworthy and up to date with the recruiting best practices.
Clearly communicate what you need
Make sure that your chosen staffing agency understands exactly what you need and who you're looking for. Do you need temporary employees or someone who can stay with your company for a long time? What skills do they need to have? Do they need to report to an office, or can they work remotely?
Communicating what you need concisely and clearly will help your chosen agency find who you require quickly and efficiently. Incomplete and unclear instructions on who and what you want can result in delays or even hiring someone that doesn't fit your need.
Ensure you remain in compliance with employment laws
When you hire an individual via a staffing agency, you're essentially engaging in what's called co-employment. This means you share some employment responsibilities with the agency.
With direct hiring, the employee reports directly to you as the employer, but not necessarily in co-employment. Knowing the laws and risks associated with co-employment will help you avoid problems in the long run.
Summary: How to decide if your business needs staffing services
There are some key considerations you should make before deciding whether working with a staffing agency is the right move for you. While a staffing agency can help you save some time and money in your recruiting processes, direct hiring could be more beneficial if you already have a strong recruiting process in place. Weigh whether the staffing agencies you look into have qualifications and resources that your company doesn't necessarily have.
The decision to work with a staffing agency ultimately depends on your own needs and resources. It's best to speak with the staffing agencies you're interested in before partnering with them so you can ensure they will connect you with quality candidates that meet your expectations.