How to Document Proper Trainings for New Employees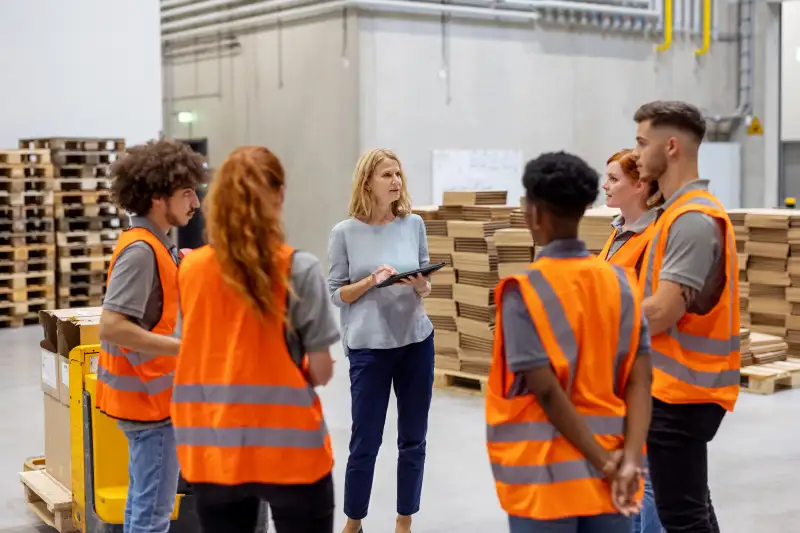 *Content includes branded mentions of our sponsor ZipRecruiter.
ZipRecruiter can help companies of all sizes find the best candidates for their job openings. But after the hiring process, training new employees is a critical step for any business and can often be the difference between success and failure. Documenting and keeping track of these training sessions is an important step but one that many employers often overlook.
Having comprehensive records of the training materials and topics you've gone over with your new hires ensures they have access to all the information they need while also helping you stay organized as an employer. Read on to explore why documenting employee training is essential, how to train a new employee, and tips on ensuring nothing gets lost in the shuffle.
What does a good training process look like?
A good training process should provide new hires with the tools and resources they need to do their job effectively while allowing them to get to know the company culture and build relationships with colleagues. The aim is to ensure new hires feel comfortable and confident in their role.
Training processes for new hires could include several phases:
Orientation: Introducing the employee to the company's mission and values
Instruction: Providing the trainee with direction on how to complete tasks and do the work
Practice: Letting trainees hone their skills by using the knowledge provided during the previous training phases
Assessment: Making sure the new hire has understood the information provided and can perform in their role
But training new staff should be more than just a one-time experience. It should include ongoing support and development, such as check-ins, mentorship opportunities and regular feedback loops.
Why does proper training matter?
Proper training matters because it:
Helps new hires hit the ground running by giving them the skills and knowledge to do their job
Creates a positive working environment and helps build relationships with colleagues
Increases employee engagement and productivity
Sets the foundation for professional development and career growth for new hires
Creates a sense of loyalty and commitment to the organization
Reduces the cost of hiring and retraining new staff
Ensures employees are up to date with company policies and procedures
Fosters a positive company culture and reinforces company values
For all these reasons, organizations with strong training and onboarding processes could see an increase in employee performance compared to companies without effective training.
Why is documenting trainings important?
While proper training is essential for staff to properly fulfill their duties, documenting this training also has many benefits, such as:
Keeps a company-wide record of the training process for future reference
Helps employers monitor employee progress and ensure they are meeting training goals
Provides an accurate record of the topics and materials covered during the training, allowing new staff to refer back to these materials if needed
In the event of a dispute, it can provide evidence of what the training covered
Helps employers analyze and improve their training processes
Ensures all staff receive the same high-quality training and that new staff members can quickly become productive team players
Helps shape a company's culture by promoting an understanding of the shared values and goals of the organization
Provides a reference point for compliance with external regulations
Documenting training is a fundamental part of the onboarding and employee development processes, guaranteeing consistency and quality in each step.
How do you correctly document new hire training?
A job posting site such as ZipRecruiter can connect you with many top candidates ready to join your company. But, once you have hired a new staff member, it is important to document their training experience.
Documentation involves representing an accurate record of the process, allowing you to track their progress and make sure they have been properly trained. It can also include setting performance standards for staff members to meet upon completion of the training. Here are some tips to help you document new hire training effectively.
Create a training plan
Whether you are onboarding a new employee or cross-training current staff, creating an effective training plan can ensure that employees have the skills and knowledge to succeed in their roles. A successful plan should include the following:
Clear and measurable goals
An assessment of current skill levels
A timetable for completion
A schedule of activities
An evaluation process
A training plan should include necessary information regarding company policies, procedures and safety protocols. Some Factors to consider when creating a training plan include:
Employees experience
Learning styles
Level of difficulty in the training topics
Length of the training session
Type of assessment
Considering these factors in your plan help to tailor the training for the individual employee and their learning needs. The plan also allows you to set expectations and objectives so that you can track the learning progress. The training plan also sets the format of the session, whether it's online, hands-on, in-person or classroom training.
Create appropriate training documents
Training documents provide a reference point for the employee to refer back to, clarifying any points they may not have understood. Create documents such as slides and handouts that are clear, easy to understand and short. The training documents should be in both hard copy and digital formats.
Examples of training documents include:
Employee handbook
Job sheets
Training manuals
Standard operating procedures
Safety policies
Creating appropriate documents makes the new hire training program more efficient and effective. New staff can easily refer to the documents provided for skills assessment or clarification.
Take attendance
Taking attendance is important for any new employee training because it serves as evidence that the employee was present and took part in the sessions. Furthermore, attendance records also keep track of employee progress and foster accountability among new staff members.
The attendance should indicate the name and job title of the new employee, as well as a signature. There should be an attendance sheet for every training session held.
Have new hires sign the documents you've created
As a way to record that the new hire has received the training and understood it, have them sign all documents. Signed training documents become part of the new hire's record and are important for resolving disputes, verifying the completion of tasks and providing evidence of adequate training.
Test them on their skills
By testing new hires to assess how well they understood the training, you will be able to identify areas where additional training is needed. Testing employees also helps gauge the quality of the training materials and refine the training process. Testing can involve:
Written tests
Oral interviews
Role playing
On-the-job training
Once testing is complete, you can use the results to assess your new staff member's level of understanding. The tests should be graded correctly and uniformly and stored as part of the employee's records. These results can also be used in creating an individualized training plan tailored specifically to the new hire's needs.
Additional tips for employee training methods:
In addition to proper documentation, establishing effective employee training methods is paramount to provide your new hires with the knowledge required to fulfill their duties. Here are some tips for creating an effective employee training program:
Be prepared for training
For a new employee's training experience to be successful, employers need to prepare thoroughly. This includes understanding how to effectively train a new employee, having all the necessary training materials and resources, and familiarizing themselves with any new technology or processes used during the training.
Adequate preparation makes the experience comfortable for new employees and helps create a positive first impression..
Know what you're talking about
A solid grasp of the material you're teaching and being well-versed in your teaching topics is important in creating a successful training method. This can mean hands-on training and classroom instruction, but also having the confidence to answer questions and provide meaningful feedback whether online or in-person. A well-thought-out and effective training program is the cornerstone of any successful onboarding plan.
Make documents easy to understand
When creating training documents, it is essential to communicate complex ideas in a way that is easy to understand for the intended audience. Use simple language and avoid jargon; break long sentences into shorter phrases; use visuals such as images, diagrams, and videos; create helpful headings and summaries; and use consistent formatting.
The goal is for the reader to easily and quickly grasp the relevant information. This will help impart knowledge more effectively so your training materials have the desired impact.
Make it easily digestible in small chunks
As the average attention span of people decreases, it is becoming increasingly important to deliver training materials in small chunks or bite-sized pieces. This can help keep staff engaged and make it easier for them to absorb the material quickly.
Use activities, quizzes, and role-playing scenarios to break up longer lessons and keep the material interesting. During the training, new employees should get regular breaks to give their brains a chance to rest and process all the new information.
Breaking down content into small chunks allows you to assess how your new employee is understanding the information and shows them their own progress as they advance through their training.
Bite-sized training further makes it easy for you to contextualize the training materials so that your new hire can quickly apply what they have learned. This provides an optimal learning experience and maximizes the success of their onboarding experience.
Use helpful resources and tools
Various resources are available online to supplement your training materials and help you stay up to date on the latest developments and best practices. These tools can help you get the most out of your learning experience, from online tutorials and webinars to industry-specific blogs and podcasts.
However, it's important to go through all external resources and tools to confirm they align with your training materials and organization goals. That way you are providing the best, most consistent and accurate information to your employees.
Create a successful employee training program
New staff hiring is a key part of how to start a business, but it can be tricky and time-consuming. If it's not done properly, it can cause even more problems down the road. By taking the time to document each step of the training process, you can make sure that your new hires are up to speed and ready to contribute as soon as possible.
Documenting training further helps standardize the onboarding process and gives new employees a sense of security and confidence. With the right preparation, effective training methods and helpful resources, you can create a successful program that benefits both employer and employee.