How to Resolve Employee Conflict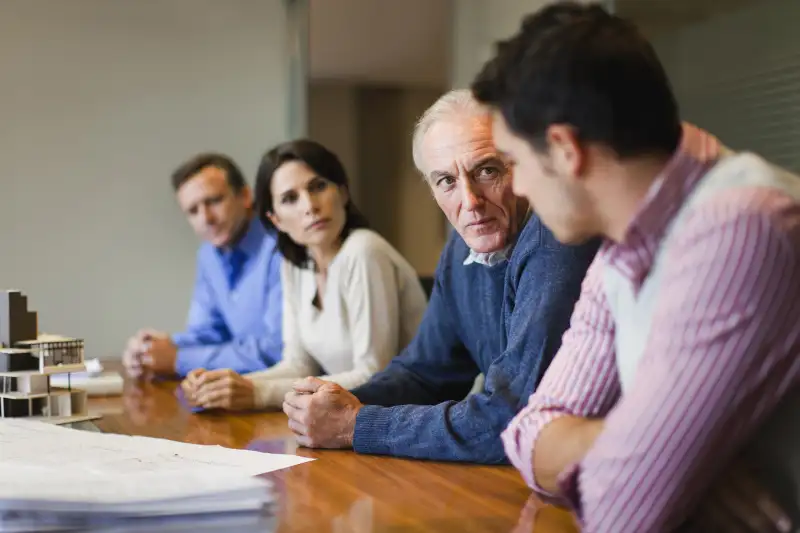 *Content includes branded mentions of our sponsor ZipRecruiter.
Conflict between coworkers can happen in any workplace. It can cause stress, distractions and reduced productivity for everyone involved. Fortunately, there are ways to resolve employee conflicts and create a more positive working environment.
By taking the time to understand how to hire employees (perhaps through a platform such as ZipRecruiter), communicate effectively, handle disputes and create a conflict resolution plan, businesses can improve the morale of their workforce and ensure everyone is working together toward a common goal.
Read on to learn how to recognize friction and how to resolve employee conflict quickly and efficiently.
What is considered employee conflict?
Employee conflict is when two or more workers disagree to the point that it impacts their ability to work together and interferes with productivity. This conflict can range from minor personality clashes to more serious issues, such as bullying and harassment.
Having some conflict between employees is normal, and it acts as a healthy outlet for different views and ideas. However, if left unchecked or unresolved, conflict can be a reason for leaving a job and can result in a decrease in team performance.
Employers should be proactive in managing conflict in the workplace and addressing it as soon as possible. Otherwise, it may cause irreparable damage to morale and lead to costly turnover down the line.
Common causes of conflict in the workplace
Many factors can contribute to employee conflict. Some of the most common causes include:
Poor communication: Miscommunication can lead to misunderstandings and disagreements between employees. When there is a lack of clear communication or expectations, it can become difficult for employees to work effectively together.
Differences in personalities: Different personalities can lead to disagreements, as some employees may be more vocal or direct than others. In addition, clashing values or beliefs can also create tension between coworkers.
Unclear roles: When team members don't understand their own responsibilities or the responsibilities of their colleagues, confusion and conflict can arise.
Toxic work environment: A toxic work environment tolerates harassment, bullying and other forms of mistreatment. This type of environment can quickly lead to an unhealthy dynamic between employees and negatively affect morale.
Low job satisfaction: Employees who are unhappy with their job or feel they are not valued or recognized may become frustrated and have difficulty getting along with their colleagues. Low job satisfaction can also result in missed days of work, tardiness and a failure to complete tasks.
Examples of workplace conflict
Workplace conflict can take many forms and vary in severity. Here are some examples of workplace conflict:
Disagreements between coworkers on how to handle a project
Disrespectful language or behavior toward colleagues
Gossiping or harassment
Unreasonable demands from supervisors
Unhealthy competition between coworkers
9 employee conflict resolution strategies to follow
While it's impossible to completely eliminate conflict, there are ways to help employers manage and resolve conflicts in the workplace. Here are nine employee conflict resolution strategies to follow:
1. Identify the underlying issues of the conflict
The first step to resolving conflict is to understand the root cause of the issue. Is it a personality clash? Miscommunication of expectations? A lack of clarity around roles? Ask questions to better understand how the conflict began and evolved. When asking questions, ensure the environment is open and non-judgmental.
HR involvement should be a priority from the beginning as they can provide an objective view and identify potential risks, such as discrimination or legal action, that could arise from the conflict.
Knowing the underlying cause of the conflict is essential in order to move forward with an effective resolution. It's important to choose an appropriate course of action that reflects the severity of the underlying issue. For example, if two employees simply need to clear up a misunderstanding then mediation and a neutral space may be a suitable option.
However, if the conflict is related to harassment or discrimination, then a more formal process — including legal measures — may need to be taken. The decision to take action must be based on a clear assessment of the root cause.
2. Give each participant a chance to be heard
As an employer, active listening skills are key to any employee conflict resolution strategy. Asking open-ended questions can further the conversation by encouraging active listening and understanding each person's point of view. Employers should also strive to ask questions that are both neutral and non-judgmental.
Choosing the right time and place is also important to ensure the conversation is productive. Setting up a private space away from other employees can help create an environment of trust and respect, where all parties can feel comfortable speaking openly. Scheduling a time when all parties involved can be present is also essential for effective conflict resolution.
Managers can employ a variety of techniques during difficult conversations to ensure productive discourse. These include:
Active listening
Paraphrasing to ensure understanding
Open-ended questions
Separating people from problems
Searching for options for mutual gain
Using objective criteria
3. Make sure all incidents are well-documented
You'll want to establish a documentation policy to assess and address conflict. Not only will documentation serve as a record for their internal team, but it can be used as evidence in the event that a conflict escalates to legal proceedings. Furthermore, documentation ensures consistency in handling disputes and discipline enforcement. The documentation should include:
Date, time, and location of the incident
Names of all parties involved
Witnesses
A detailed description of the incident
Any evidence or relevant supporting documents
When deciding whether a conflict should be documented or not, it is important to assess the severity of the issue. If the conflict is causing disruption in the work environment or putting individuals at risk, it should be documented. Minor issues, such as disagreements over a project's timeline, however, can often be resolved without recording them. Frequently occurring conflicts that tend to resurface and lead to further issues should also be documented, as this will help create a clearer view of the root causes and potential solutions.
You should also have your employees sign any documents related to the incident as a confirmation that they are aware of their rights and responsibilities. By signing the documents, employees acknowledge that the information is accurate and that they have been made aware of the implications of their actions. This serves to protect your company against any legal issues in the future. Signatures also help to create a paper trail that can be used as evidence in any legal proceedings.
4. Encourage self-resolution
Encouraging self-resolution is an employee conflict resolution strategy that emphasizes employee autonomy and allows for a more equitable and peaceful approach to solving disputes. Employees take ownership of the situation and use their own interpersonal skills to resolve disagreements.
There are several benefits to encouraging self-resolution:
It allows employees to foster strong relationships and build trust.
It can be a more cost-effective and efficient approach to employee conflict resolution since it avoids the need for a third-party mediator, reduces the amount of time spent dealing with the issue and decreases financial costs associated with external resolution methods.
It fosters a productive, positive work environment and helps create a mutually respectful work culture.
When encouraging self-resolution, make sure your employees have the skills and support needed to effectively communicate and negotiate. Some of the skills include:
Empathy
Active listening
Emotional intelligence
Patience
Impartiality
Where necessary, provide resources and guidance to help employees successfully resolve conflicts. This could include:
Establishing clear policies and expectations for resolving conflicts
Providing tools and resources such as training sessions to help employees engage in healthy conflict resolution
Offering access to professional mediators or counselors
5. Provide tips for amicable and effective communication
Poor communication can be a major cause of employee conflict. To help facilitate amicable and effective communication, your managers should encourage employees to:
Listen actively to each other without interrupting or having any preconceived ideas
Speak openly, honestly and with respect for others
Ask clarifying questions to ensure both parties understand the conversation
Offer alternative perspectives and solutions by brainstorming together
Acknowledge each other's views, and strive for win-win solutions
Agree to disagree, when necessary, with respect and understanding
Respect each other's opinions and maintain a civil working environment
These tips can help ensure that any employee conflict is collaboratively and respectfully addressed. By setting a strong foundation for effective communication in the workplace, you can help prevent future conflicts from escalating. This encourages employees to voice their opinions and concerns appropriately, while maintaining a positive work environment.
6. Refer back to the employee handbook
When dealing with employee conflict, it can be helpful to refer back to the workplace policies and procedures outlined in your employee handbook. This helps remind employees of the company's expectations and provides guidance on how to navigate the situation. Additionally, it keeps workplace conflict management strategies consistent and fair for all employees.
For example, the employee handbook may suggest a workplace mediation process to be followed when resolving workplace disputes. This is a useful way to establish that all workplace participants are fairly treated in the resolution process, and allows all involved to have their voices heard. Additionally, workplace mediators can help guide conversations toward finding a mutually beneficial resolution.
7. Don't underestimate the severity of the situation
It is important for team leaders and managers to take workplace conflict seriously. Even seemingly minor issues can have a detrimental impact on team productivity and morale if left unresolved. A team leader should not underestimate the severity of a situation, but instead take proactive steps to address any potential conflict before it can escalate.
This is achievable through effective communication, cooperation and collaboration with team members, as well as productive resolution techniques such as mediation or conflict coaching. Taking swift, decisive action to resolve workplace conflict can help prevent it from worsening.
8. Set a good example for your team
As a manager, it is important to set a good example for your employees.
Show them how to work together in harmony by demonstrating strong communication and conflict resolution skills.
Be a role model for the team and demonstrate how to handle difficult conversations in a mature and productive manner.
Show leadership by working out disagreements and resolving conflicts without blame or personal attacks.
Encourage positive behavior and respect to create a pleasant, healthy work environment.
Be willing to take responsibility for your own actions, and show your team how to do the same.
All of the above will help set a standard of professionalism and collaboration that all employees can aspire to, and it will create an atmosphere of trust and respect. A solution-oriented mindset can also help reduce the likelihood of future conflict, as it encourages employees to take ownership and work together to find resolutions.
9. Foster a positive, healthy work environment
Creating a positive and healthy work environment can go a long way in resolving employee conflicts. Fostering an atmosphere where employees are fully respected, heard and valued is the key to avoiding toxic environments. According to a study by MIT's Sloan School of Management, toxic work environments are one of the leading reasons employees leave their jobs.
To ensure a positive work environment, consider implementing open-door policies to allow employees to freely share their ideas and concerns with supervisors without feeling intimidated. Additionally, hosting regular one-on-one meetings and conducting employee satisfaction surveys can provide your leaders with an effective way of understanding team needs.
The importance of workplace conflict management
Workplace conflict management is essential for a productive and healthy working environment. It helps ensure that disagreements between employees are identified early on and dealt with in a constructive and timely manner. The benefits of conflict management in the workplace include:
Improved communication: Conflict results in a breakdown of communication, leading to decreased productivity and morale. By resolving conflicts quickly, employees are more likely to communicate openly and effectively, creating an environment of trust and collaboration.
Increased productivity: Employees who aren't focused on conflict with their coworkers are able to devote more attention to their work, improving productivity.
Reduced stress: Conflict can be stressful for employees and managers alike, leading to increased absenteeism and decreased job satisfaction. Conflict resolution can reduce stress levels and increase job satisfaction. Reducing stress also helps address issues timely and avoid long-term resentments.
Improved decision-making: Resolving conflict between coworkers helps create an atmosphere where decisions are based on the best interest of the company instead of personal issues. This leads to better decisions that benefit the entire organization, helping it reach its goals more effectively.
Better morale: Resolving conflicts in the workplace fosters trust and respect between colleagues, leading to improved morale. It also reduces tensions and promotes healthy dialogue and understanding between employees.
Higher employee retention: A positive working environment is essential to keep employees engaged and motivated. Conflict resolution can help reduce turnover and increase employee loyalty.
Improved relationships: Resolving conflicts in the workplace can help build strong and productive relationships between colleagues, resulting in better team dynamics and improved collaboration.
For businesses to stay competitive and productive, it is important to have a clear and effective strategy for managing employee conflict.
Resolving employee conflict just got easier
Employee conflict resolution is possible with the right strategies and tools. Managers can effectively reduce the impact of disagreements by taking the time to understand the root causes of conflict, actively listening to each participant and fostering a respectful workplace environment.
With these strategies in place, you can create a workplace environment of trust, respect and collaboration. In the long run, it is vital to learn how to find employees with the right skills and attitude for workplace conflict resolution. Sites like ZipRecruiter can be a crucial tool in doing so, allowing you to set keywords, key phrases and filters to better target your desired candidates.