How to Get Dental Insurance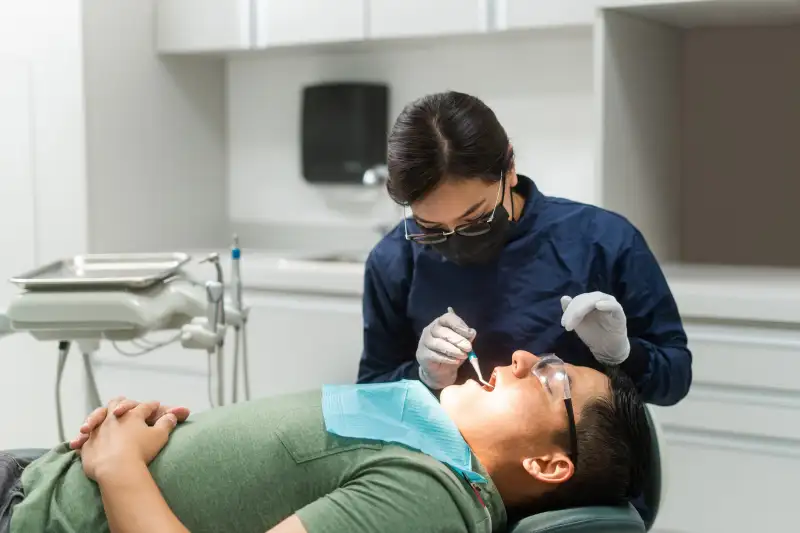 Regular visits to the dentist can be costly. Dental insurance helps cover some of the costs to help you protect your oral health. In this article, we explain how to get dental insurance and everything you need to know to find the coverage that will keep you smiling.
Steps to get dental insurance
You may be interested in getting dental insurance, but it's hard to know where to start if your employer doesn't include it in your employee benefits. Follow the steps below to find the best option.
1. Understand how dental insurance works
Dental insurance helps cover some of the costs associated with maintaining your oral health: You pay a monthly premium and the insurance company will pay for part of your dental care expenses. In addition, dental insurance grants you access to a network of dentists who might have negotiated lower rates with the insurance provider.
Most dental insurance plans cover the total cost of cleanings and checkups, but when it comes to complicated procedures like root canals, most providers only cover a fraction of the cost.
Understanding the following terms can help you find the dental insurance plan that best fits your needs.
Premiums
Premiums are fixed payments made to your insurance provider in exchange for coverage. You can pay monthly, quarterly or annually, depending on the policy.
Premiums are calculated based on your age, where you live and the cost of dental care in your area. The level of coverage you select also influences your monthly payment.
Annual maximum
An annual maximum is the maximum amount the insurance company will pay out to cover your dental care over one year. Policyholders are responsible for the total cost of dental treatments or services for that year if they max out the policy's annual limit.
Deductible
A deductible is the amount you must pay out-of-pocket before insurance coverage kicks in and begins to cover costs. Deductibles typically range from $50 to $150 depending on the policy and whether it's a family or individual plan.
Copayment or copay
A copayment or copay is the fixed, out-of-pocket cost for a specific treatment or service. You must pay the copay for a covered service each time you visit your dental care provider. This payment structure is typical of dental health maintenance organization (DHMO) dental insurance plans.
Coinsurance
The coinsurance is what you must pay for a dental procedure after you meet your deductible. Unlike the copayment, the coinsurance is a percentage of the total cost of your dental service, not a fixed amount. You'll pay a portion of the treatment and the insurance company will cover the rest.
Coinsurance percentages range from 10% to 50%, depending on the service and your policy's benefits.
Waiting periods
A waiting period is the time you must wait until you receive full coverage for certain dental procedures. Preventative services usually don't have a waiting period, and you can schedule a checkup or cleaning immediately. Basic care services, on the other hand, have a three-to-six-month waiting period, and major procedures may require up to two years of waiting before you can receive full coverage.
2. Research which dental insurance coverage you need
Before purchasing a dental plan, you'll want to familiarize yourself with your coverage options. Dental care plans typically split coverage options into three categories: preventive, basic and major restorative care. Your plan may also include orthodontic treatment, but it isn't as common.
However, coverage varies depending on your policy. Plans will often cover 100% of preventative care costs, 80% to 100% of basic care costs and around 50% to 80% of major restorative care costs.
Preventative services
Most dental insurance plans prioritize preventative services and cover 100% of the services in this category. Preventative care aims to improve your overall oral health and stop more expensive problems from taking place.
Preventative care coverage includes checkups, cleanings, fluoride treatments, X-rays and sealant treatments. Your coverage will determine how many visits and treatments you can have annually. Most plans cover at least two trips to the dentist each year.
Basic services
If you experience minor oral health problems like a cavity or toothache, your basic care insurance will cover some or all of the costs.
Basic services remedy issues that haven't yet become serious enough to be considered major restorative problems. Some services in this category include fillings, tooth extractions, root canals and gum disease treatments. If any of these problems evolve into a more severe problem, they will likely go under your major restorative care coverage, requiring you to pay more.
Major restorative services
Major restorative services cover a broad range of more complicated and extensive procedures. If you need to undergo a complex operation, you'll likely need to contribute much more to the overall cost than a basic procedure. Many services fall under the umbrella of major restorative care, but some of the more common dental work includes crowns, dentures, bridges, oral surgery and implants.
Orthodontic treatment
Orthodontic treatment aims to adjust, align and straighten your teeth using various appliances. This correction benefits your long-term oral health by improving the functionality of your teeth, jaw and gums, enhancing your appearance. Some plans cover orthodontic treatment but most carriers leave it off of individual and family plans.
If you opt for orthodontic treatment, an orthodontist will fit you with appliances to help improve your smile. Some of these appliances include:
Braces
Headgear
Retainers
Bands
Bite plates
Lingual arches
Palatal expanders
Some plans will cover a set percentage of the cost of orthodontic work up to a lifetime maximum. The lifetime maximum limits the total amount the provider will contribute to any orthodontic work. Orthodontic treatment coverage may also come with age restrictions limiting services to policyholders who are 18 years old or younger.
Notable exclusions
You will most likely pay for cosmetic services such as teeth whitening and gum contouring. Other aesthetic choices like composite and tooth-colored fillings probably won't be covered either, as amalgam fillings, though not as visually appealing, will get the job done.
Many dental insurance plans treat pre-existing conditions differently than medical insurance policies and implement pre-existing condition clauses. This is because you can prevent many oral health issues by regularly brushing and flossing your teeth. If you have a pre-existing oral health condition, expect to cover the cost yourself.
3. Consider the different ways you can get dental insurance
There are multiple ways to get dental insurance. Your employer may already include dental insurance in your benefits package. If your employer doesn't offer dental benefits, you can buy a stand-alone plan or supplemental dental coverage through the health care marketplace or directly with a private insurance company.
Employee benefits
The law doesn't require employers to provide dental coverage, but many companies do. An employer-sponsored dental plan often gives you the most comprehensive coverage option for the lowest price. However, it's still wise to review the out-of-pocket costs such as copays, coinsurance and deductibles. You can always purchase an independent or supplemental dental plan if you aren't happy with your employer's coverage.
For the most part, dental insurance in the health care marketplace is available as long as you purchase it along with a health plan. Health care marketplaces are services that help you shop for Affordable Care Act health plans. You can use a marketplace to search, compare and find a health care plan that suits your needs. Sometimes, you can buy health and dental coverage from separate plans but will need to pay two premiums.
Consider the details of the deductibles, payments, copayments and services each dental plan offers. You will typically have two options to choose from. Higher deductibles and copayments will lower your premium payments, while a higher monthly premium means lower copayments and deductibles.
Individually-purchased dental insurance plans
People who are unemployed, self-employed or who don't have employer-provided dental insurance can purchase an individual dental plan. Most dental insurance providers offer both individual and family plans with different policies and costs.
You can compare multiple plans and buy coverage directly from an insurance provider. The two most common individual dental plans are from dental health maintenance organizations (DHMOs) and dental preferred provider organizations (DPPOs). There are benefits to each one.
Dental health maintenance organizations (DHMO)
A DHMO plan requires you to select a primary care dentist from a list of providers. You will need to consult this primary dentist for any dental procedures you need. For example, if you need to see a specialist, you must get a referral from your primary dentist. The DHMO network is smaller than the DPPO network, and finding a primary dentist near your home may be difficult. The upside is that you won't have to worry about annual maximum or deductibles, and will most likely pay less out-of-pocket overall.
Dental preferred provider organizations (DPPO)
A DPPO plan has a larger network of providers and you don't need to go through a primary care dentist. You can also visit out-of-network dentists, but you'l probably need to pay more. While these are significant advantages, DPPO plans are more expensive than DHMO plans and have annual maximums, which will limit your annual coverage.
4. Identify how much dental insurance coverage you can afford
You'll need to figure out what you can afford before enrolling in the dental plan of your choice. Once you know how much you can spend, you'll be better able to assess your choices.
How much does dental insurance cost?
Monthly premiums for dental insurance plans range from $17 to $96. You'll also need to factor in additional costs such as deductibles, copays, coinsurance and annual maximums.
Take excellent care of your oral health and you might be able to get away with a policy with low monthly premiums and high out-of-pocket expenses. You'll likely only visit the dentist for preventive services, which are fully covered by insurance. On the other hand, declining to brush and floss regularly may result in some costly operations that will balloon your overall dental expenses.
5. Compare dental insurance plan providers
It's never a good idea to choose the first dental insurance provider that you come across. You'll want to find multiple providers and plans to compare before making a decision. Consider the following when comparing plans:
Preventative, basic and major restorative care coverage options
Orthodontic treatment
Premiums
Annual maximums
Deductibles
Copayments
Coinsurance
Waiting periods
Size of the networks
Summary of Money's guide on how to get dental insurance
Dental insurance is an excellent way to ensure good oral health. Providers typically offer full coverage for preventive services and partial coverage for more complex dental procedures. You can find stand-alone dental plans in the health care marketplace or by visiting the insurer's website if your employer doesn't offer dental coverage benefits.
To get the best dental plan for your needs, start by identifying what you want out of your dental coverage. Then review the different types of dental plans and learn how each works. Finally, compare quotes and coverage options from the best dental insurance plans and providers. And most importantly, keep up with your oral health by regularly brushing and flossing.