Want to Help the Standing Rock Sioux? Here's Where to Donate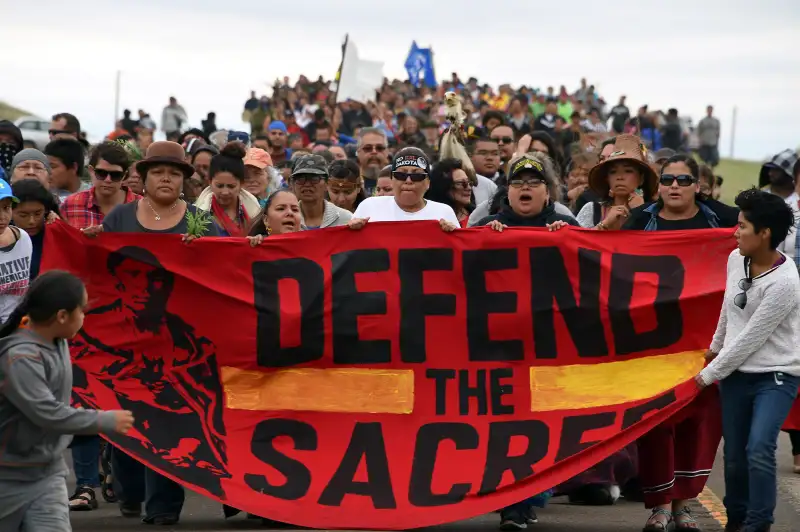 Robyn Beck—AFP/Getty Images
After weeks of controversy, demonstrations against the Dakota Access pipeline—which would send oil from the Dakotas to Illinois while passing perilously close to tribal land of the Standing Rock Sioux—show no signs of slowing. Critics say the pipeline could endanger a primary source of drinking water for the tribe, which is already economically and politically disadvantaged, as well as perpetuate the country's dependence on fossil fuels.
Here's how to help—beyond checking in at the reservation on Facebook.
Protestors at the Camp of the Sacred Stones, an encampment, are preparing to remain there throughout the winter, meaning they need supplies. They've put together an Amazon Wish List as well as a donation portal, and are also soliciting funds for legal fees. A FundRazr has collected over $900,000.
A GoFundMe set up by protester Ho Waste Wakiya Wicasa has raised more than $1 million, which will be used for the camp's operating expenses. "The money goes as quickly as it comes, but without it having been as much as it is, we certainly wouldn't have been able to be as productive as we have been in the fight," Wicasa told Fox News. The funds raised have been used for groceries, yurts, toilets, a medical area, a generator, and bail for those arrested.
Read Next: The Dakota Pipeline Could Devastate Some of the Poorest People in America
Typically, Money does not advise donating to Kickstarters, GoFundMes, or other crowdfunding sites because they are difficult to authenticate. And as Sacred Stones' FundRazr points out, a direct donation saves them the processing fees. You can donate directly to the Standing Rock Sioux via their website.
There are also non-monetary ways to help. The tribe is asking supporters to call and write letters to the Obama Administration, and to North Dakota Gov. Jack Dalrymple to remove the National Guard. A petition has been launched on whitehouse.gov.