How to Watch the Alabama vs. Georgia SEC Championship Game for Free Online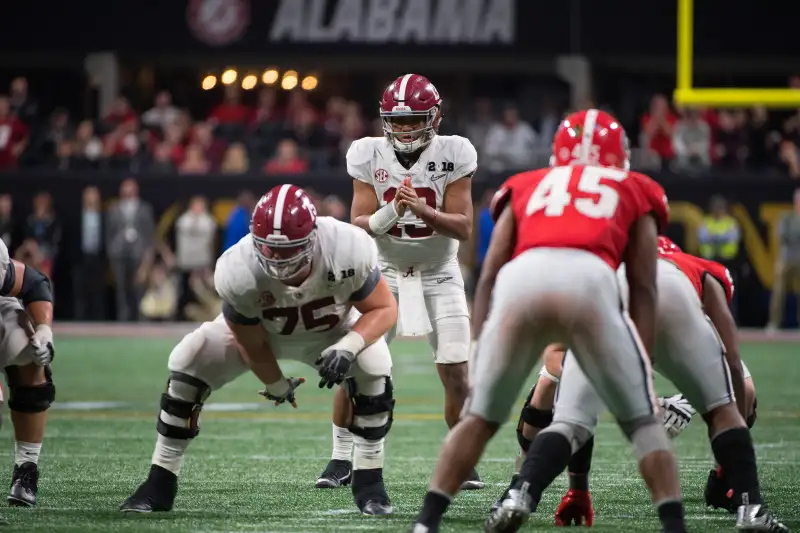 Jamie Schwaberow—Getty Images
Each product we feature has been independently selected and reviewed by our editorial team. If you make a purchase using the links included, we may earn commission.
College football conference championship weekend is upon us. And the nation's top-ranked college football teams have more than just conference title bragging rights on the line: The results of the Alabama vs. Georgia SEC championship game today in particular will help determine which teams are selected to the college football playoffs, consisting of a pair of December 29 semifinals and a January 7 championship game.
As for the Alabama vs. Georgia betting odds, the University of Alabama Crimson Tide is the heavy favorite to win over the University of Georgia Bulldogs: The point spread is nearly two touchdowns (13.5 points).
That's not the only college football game today, though. The big college football conference championship games today are the following: Oklahoma vs. Texas (Big 12 championship), Alabama vs. Georgia (SEC championship), Clemson vs. Pittsburgh (ACC championship), and Ohio State vs. Northwestern (Big Ten championship).
Luckily for sports fans, all of these college football games are being broadcast nationally on free, over-the-air networks. In other words, you can watch college football for free today even if you don't have cable. There are also ways to live stream the college football conference championship games for free, if you'd rather watch online. Here are all the details.
What College Football Games Are on TV Today?
Here's the college football game schedule today (Saturday, December 1) for the major conference championships, and what channels the games are on:
• Texas vs. Oklahoma, 12 p.m. ET on ABC
• Alabama vs. Georgia, 4 p.m. ET on CBS
• Clemson vs. Pittsburgh, 7 p.m. ET on ABC
• Northwestern vs. Ohio State, 8 p.m. on Fox
Because major networks have all of these broadcasts, you can watch the college football games above for free even if you don't have cable. In most of the country, all you need to watch Alabama vs. Georgia for free (alongside other games) is a digital antenna.
You can buy a digital antenna for about $25 or less, and it's a great investment if you're a cord-cutter who doesn't want to pay a monthly cable bill. Once you hook the antenna up to your TV, you'll be able to watch live and unlimited local broadcasts of free, over-the-air networks, including ABC, CBS, Fox, and NBC.
How to Live Stream College Football Games for Free Today
If you don't have a TV or want to watch college football today online for whatever reason, there are a few options — and some are "free," though you are generally required to subscribe to some kind of pay TV or streaming service.
In many parts of the country, fans can live stream the Texas vs. Oklahoma game (and later, Clemson vs. Pittsburgh) with the ABC Live Stream or the ABC app. Similarly, you can stream the Northwestern vs. Ohio State game at fox.com/live or the Fox Go app, and you can live stream the Alabama vs. Georgia game using the CBS live stream.
To use any of these live streams, however, you are required to log in with a satellite or cable TV subscription account and password. There's also another live streaming option for CBS and the Alabama-Georgia SEC Championship game: CBS All Access is a stand-alone service that lets you live stream CBS content, and though it normally costs $5.99 per month, you can try it out free during a one-week trial period.
Yet another way to live stream college football games today for free is by signing up for a free trial of a streaming TV service that includes local broadcast channels in its packages. In much of the country, subscribers to Fubo TV, Hulu Live, DirecTV Now, PlayStation Vue, or YouTube TV get CBS, ABC, Fox, and other local channels included with their bundles. And they all offer free trials lasting about a week to new subscribers. So you could register today and watch college football free online, and then have the rest of the week to try out the service before being charged.
Just remember to cancel in time if you don't want to become a paying subscriber. Basic packages for the streaming TV services above cost $40 to $45 per month, after the free trial is over.
We've included affiliate links into this article. Click here to learn what those are.