How to Watch NFL Games Online for Free Today — Live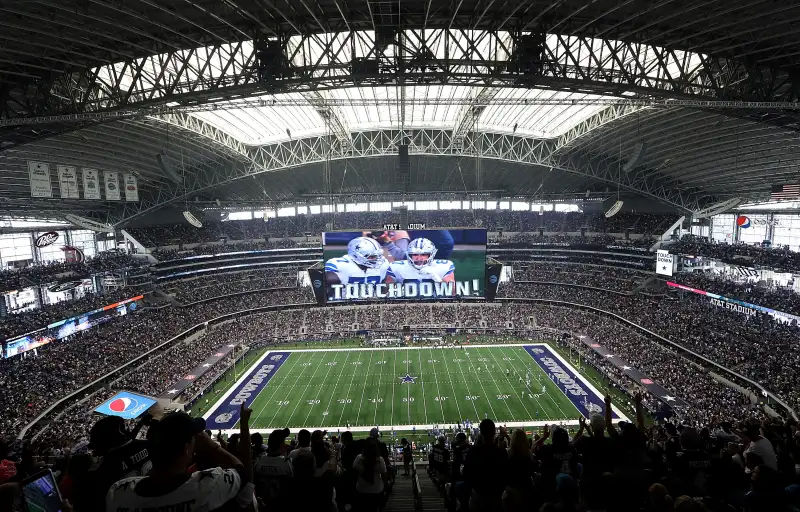 Ronald Martinez—Getty Images
On the schedule of NFL games today are heavily anticipated Sunday afternoon matchups like the Jacksonville Jaguars vs. Kansas City Chiefs, Minnesota Vikings vs. Philadelphia Eagles, and the Los Angeles Rams vs. Seattle Seahawks.
This week's "Sunday Night Football" game, which will be broadcast on NBC, is an all-Texas battle: Dallas Cowboys vs. Houston Texans. Other NFL games today are airing on CBS and Fox, with the exact broadcast schedule dependent on where you live and when the local teams are playing.
If you don't have cable TV or another package that includes the major networks, you can use a digital antenna to watch today's NFL games for free — assuming they're being broadcast on your local CBS, Fox, and NBC stations. A decent digital antenna costs about $25 and will let you watch unlimited, free over-the-air networks like CBS, Fox, ABC, and PBS totally for free in most of the country, all in hi-def.
If you instead hope to watch NFL games today online for free, that's possible too. Here are all the options.
How to Live Stream NFL Games for Free Today
Download the Yahoo Sports app or NFL App and you'll be able to live stream many NFL games for free on your phone. Specifically, the apps have free live streams for all NFL games broadcast on TV in your area — including your local team's games — plus all the nationally televised primetime games, including "Sunday Night Football" on NBC, "Monday Night Football" on ESPN, and "Thursday Night Football" on Fox or the NFL Network.
The apps only allow live streams on mobile phones; they can't be used for watching the NFL online on a laptop, tablet, or connected TV. If that's what you were hoping, consider signing up for a streaming TV service like Fubo TV, Hulu Live, DirecTV Now, PlayStation Vue, or YouTube TV.
Packages from these services include dozens of channels, and in most of the country also have streams of broadcast networks like Fox, CBS, and NBC at no extra charge. Each service gives new subscribers free trials lasting five to seven days, so you can register and watch the NFL games online for free today — and then have a few more days to try out the service before deciding if you want to become a paying subscriber.
Look closely at the channels and policies included before deciding which streaming TV service is best for you. Sports fans should note that Fubo TV is loaded with sports channels, but does not have ESPN, which broadcasts "Monday Night Football" every week.
How to Watch Any NFL Game You Want
While there are many ways to watch NFL games for free — online and on TV — fans are limited by the games they get to see in their local market. If you're not satisfied with the local broadcasts and want to watch any NFL game, you'll have to pay up.
The NFL Sunday Ticket package from DirecTV lets you watch (or stream) many out-of-market games starting at around $300 for the 2018 season. (You have to subscribe to DirecTV to sign up for such a package, and that will cost you more each month.)
A less expensive option is possible for fans who hope to watch out-of-market games and don't need to tune in live. The NFL Game Pass allows you to watch any NFL game — the full broadcast or condensed versions without commercials. Note that the broadcasts are only available after games are over.
Game Pass prices start at $99.99 for the 2018 NFL season, and you can check out the package with a free seven-day trial period.
We've included affiliate links into this article. Click here to learn what those are.