Why Hybrid and Electric Cars Have Lost Their Spark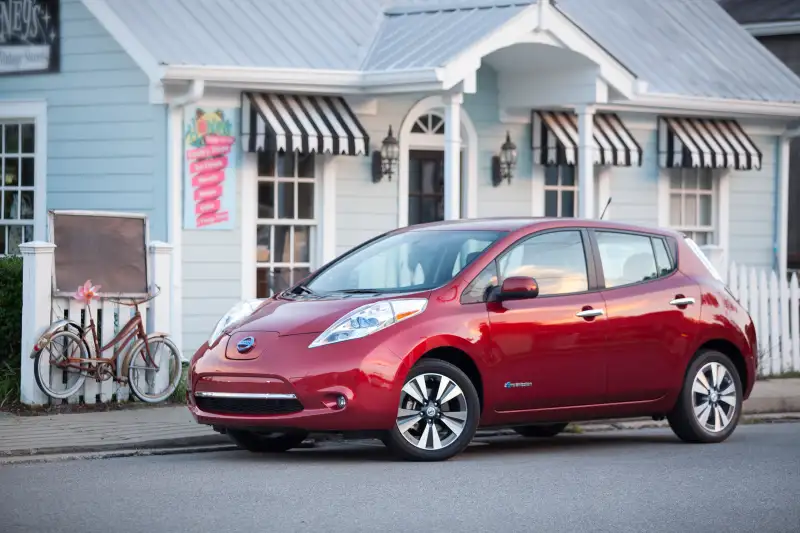 At first glance, the electric car market appears to be pretty darn electrified. Tesla just chose Nevada as the site for its $5 billion "gigafactory" to produce batteries needed for EVs, and Tesla shares hit an all-time high this week after the company was praised by analysts. What's more, Nissan reported that August was the best ever month for sales of its plug-in Leaf, with 3,186 units sold. Sales of BMW's new plug-in, the i3 were also strong in August—1,025 sold, which just about matches the total of the previous three months combined.
At the same time, however, the overall electrified car market appears to be flat, even in a bit of a slump. Auto sales are booming in general through 2014, and last month reached the highest sales pace since before the Great Recession. Yet hybrids and fully electrified plug-ins haven't kept pace with the rest of the field. "The whole automobile market has grown," Edmunds.com analyst Jessica Caldwell explained to the Los Angeles Times. "We're not seeing electric vehicles as part of that growth."
According to Edmunds data, through August 2014 hybrids and electric vehicles captured 3.6% of all auto sales this year. For the same period a year ago, hybrid and EV sales represented 3.7% of the overall market. That wouldn't seem like a big deal except for the fact that for years analysts have been forecasting that hybrid and EV sales would rise steadily, more or less indefinitely—reaching 7% of global auto sales by around 2020.
How can all of this be explained? First off, the increase in sales of the Nissan Leaf is mostly an anomaly. Nissan launched a free charging promotion this past spring, promising new buyers access to public charging stations at no cost for two years as an incentive for the purchase of a Leaf. Local subsidies in states such as Georgia, which provides a $4,000 tax credit for EV purchases and boasts inexpensive electricity to boot, have helped juice sales. (Federal tax credits for plug-in purchases amounting to up to $7,500 off are still around as well.)
Even in Atlanta, however, which has become the #2 urban market for electric cars (after San Francisco), EVs account for only 2.15% of new car registrations. Nationally, EVs constitute only 0.38% of new car registrations. Hybrid vehicles, which are more practical because they run on gas as well as battery power, have regularly sold in far higher numbers than pure electric-powered plug-ins. And sales of many hybrids and non-Leaf EVs aren't faring well in 2014. MarketWatch reported that through August, sales of the Chevy Volt, Toyota's plug-in and hybrid Prius, and Honda's lineup of hybrids and plug-ins were all down at least 10% compared to the same period in 2013. Tesla doesn't provide sales data, but according to estimates from InsideEVs.com, sales of the Model S totaled approximately 500 and 600 in July and August, respectively, after hitting 1,000 or more monthly from February to June.
What's been holding sales of hybrid and electric cars back? Reasonably flat, reasonably inexpensive gas prices have certainly played a role. A survey from a couple of years ago indicated that the majority of Americans wouldn't alter their lifestyles until gas hit $5 per gallon. Not only are we still far off the $5 mark, but prices at the pump have actually been on the decline, recently dipping to the lowest Labor Day gas prices in years.
Edmunds.com's Caldwell also told MarketWatch that sales of EVs and hybrids may be down because they're no longer new and novel in the marketplace, and the fascination with owning one is quickly diminishing. "Stable gas prices have a lot to do with it, but there's also a possibility that the prestige of owning an electric vehicle or hybrid has died down," she said. "This year may not be able to top last year, which is kind of sad given how well the overall market is performing."
With the novelty of owning an electrified vehicle disappearing, consumers are left considering the issue as a purer matter of dollars and cents. Hybrids and EVs generally have higher sticker prices than their gas-powered counterparts, so the hurdle electrified cars must clear is convincing drivers that they're worth the extra money. Lower gas prices obviously mean lower potential cost savings from owning a car that runs on electricity, so the state of gas prices is a strike against EV sales. Traditional gas-powered vehicles have made great strides increasing their fuel economy, which again hurts the argument for opting for an electric-powered car for the purpose of saving money.
Even the improvement in the economy seems to be hurting sales of EVs and hybrids. As the Associated Press noted, consumer demand for SUVs and crossovers has been particularly strong, at least partly because buyers have felt comfortable enough financially to afford larger, pricier vehicles. (The rise in subprime car loans is surely a factor too.) Because so many drivers are interested in SUVs, automakers and car dealerships have felt forced to offer larger-than-usual discounts and incentives on compact and midsize vehicles to convince customers to bite.
And when a gas-powered compact with excellent mileage and no need to ever worry about running out of battery power or finding a recharging station is available at an especially cheap walk-away price, that's one more reason that many consumer are finding that the math isn't adding up for the purchase of an electric car.