If You Hate Haggling, This Is the Week to Buy a Car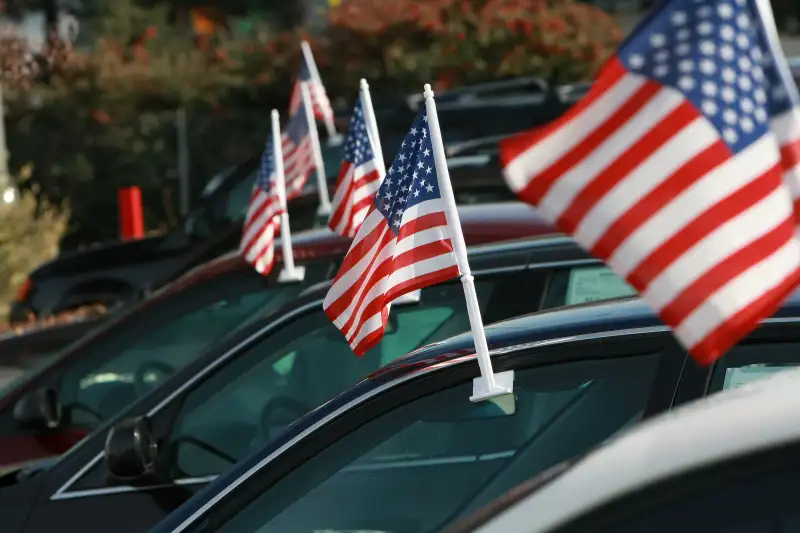 Justin Sullivan—Getty Images
Most consumers hate haggling over car purchases. Millennials, raised in an era of heightened transparency and speedy, easy one-click online purchasing, hate the stressful time suck that is haggling more than most. In a recent survey conducted for Edmunds.com, 91% of millennials said they'd prefer to avoid haggling during the car-buying process, compared to 78% of Baby Boomers and 83% of consumers overall.
Seeking to explore the exact extent of haggle hate in the marketplace, pollsters also inquired as to how many respondents would give up sex for a month, have no use of their smartphone for a weekend, or voluntarily be shut out of Facebook (for a month) in exchange for the right to skip the usual negotiations at the car dealership. Plenty of people said yes, absolutely, sign me up—21%, 29%, and 44%, respectively. To spell that out, 1 in 5 buyers would give up sex for a month if it meant they didn't have to haggle for a few minutes (OK, maybe a few hours) to get a fair price from a car salesperson.
Edmunds didn't asked these questions simply out of curiosity, but to pump up the utility of the haggle-elimination service it introduced last summer called Price Promise, and to set the stage for the first-ever Car Week, which takes place June 9 to June 15.
Car Week is modeled on the concept of Restaurant Week. Only instead of the enticement of cheaper prix fixe meal pricing at a fancy restaurant, consumers are being wooed by the promise of (hopefully cheaper) pre-negotiated pricing at car dealerships. "The goal is to make car shopping as easy as it can be," Michelle Denogean, chief marketing officer at Edmunds.com, said over the phone. "Consumers think that car buying today is still too hard. It's still too stressful."
(Side note: Many restaurants hate Restaurant Week for a variety of reasons, and it wouldn't be surprising if many auto dealerships aren't fans of Car Week either. We'll have to see how this one plays out.)
The Price Promise tool—which allows shoppers to get guaranteed no-haggle prices from dealerships instantly via Edmunds.com—and the advent of Car Week are being presented as solutions to the problems. For this year at least, only consumers in the New York and Los Angeles metropolitan areas can take advantage of Car Week. Hundreds of dealerships featuring virtually every auto brand in these cities are participating. "They're all offering up-front pricing, no haggling required," said Denogean. "Buyers will save thousands off the sticker price. They'll save time too."
At participating dealers, every new car this week will have a special tag showing on a no-haggle price on par with what you'd find via the Edmunds.com Price Promise tool online. Edmunds sent us some sample pricing. For example, at one Los Angeles dealership, a 2014 Audi A8 Sedan with a manufacturer's suggested retail price of $96,050 will show a no-haggle price of $86,064 this week, or nearly $10,000 off the sticker price. Another L.A. dealership will be selling a 2014 Chevrolet Silverado 1500 Crew Cab with a MSRP of $49,045 for a final price of $45,813, or $3,232 off. In New York, the no-haggle offers include a 2014 Acura TL Sedan for $36,478, a $4,177 savings off the sticker price of $40,655.
While these prices are guaranteed, there's no guarantee they're the lowest prices possible. "We're not saying that this is the absolute rock-bottom price," Denogean explained of Car Week pricing. "There's a small subset of shoppers who want to grind and grind to get the lowest price. They'll go to multiple dealers, they'll wait for the end of the month," when dealers are eager to meet sales quotas and sales staffers are more likely to cut car prices in negotiations.
The point of Car Week, though, is to eliminate the need for negotiations, while promising buyers they'll get a decent—but not necessarily bargain-basement—price. If nothing else, before pulling the trigger buyers should at least see how the upfront prices during Car Week compare to the average transaction price for the same car. Sites such as TrueCar, Kelley Blue Book, and of course Edmunds readily provide such information. Yes, the need for such as step represents a bit of hassle. But hey, this is car buying we're talking about. God forbid it would be completely hassle-free, even during Car Week.
For that matter, consumers should also be ready to deal with the usual dealership hassles and upsells that usually come toward the end of buying process, when you're worn down and antsy to escape, including the value of your trade-in, as well as extended warranties, service plans, rust proofing, fabric protection, and whatnot. "Those are areas we're looking at for the future," said Denogean of Edmunds.com, which would love to make these parts of the equation easier and less stressful for buyers as well. "For now, we're focused on price, which is by far the biggest stress point."