How to Invest Your Way to $1 Million
Money is not a client of any investment adviser featured on this page. The information provided on this page is for educational purposes only and is not intended as investment advice. Money does not offer advisory services.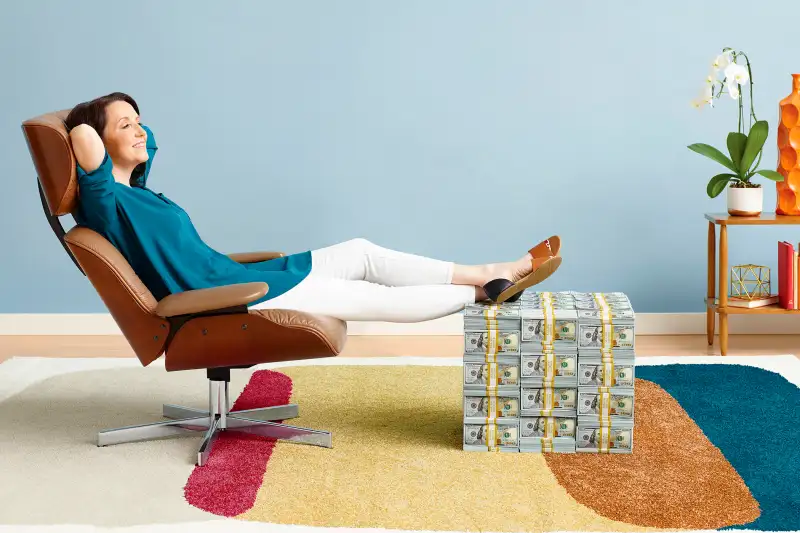 When you think of millionaires, words like "privilege" and "opulence" often come to mind. What about "comfort"? That's a term more commonly associated with the middle class. But while most American families enjoy creature comforts, they yearn for a more enduring variant—the peace of mind that comes from knowing you have the financial freedom to pursue whatever life you want.
That sense of comfort is more attainable than you might think. Contrary to popular belief, inheritance played a small role in the success of most of the seven-figure club's 10 million members. More than 80% of their wealth was earned through their jobs, small businesses, and investments. And the vast majority of millionaires attribute their investment success not to exotic instruments like hedge funds or private equity, but to tried-and-true buy-and-hold investing of basic stocks and bonds.
Here's are some key strategies for your portfolio:
Get your head in the game
Building wealth isn't just about strategy; it's about having the right mind-set. Sarah Fallaw, founder of DataPoints, a behavioral finance research firm that analyzes wealth potential, says the four key traits to making money are frugality, confidence, responsibility, and social indifference—that is, the strength to avoid fads.
"These behaviors are linked to greater wealth potential for people of all ages and incomes," says Fallaw, advancing the work of her father, Thomas Stanley, co- author of The Millionaire Next Door. Among 30-year-olds worth at least $100,000, Data Points found that people with "high wealth potential" based on those traits had a median net worth of $300,000, vs. $200,000 for those with "medium potential."
Here's how to apply these qualities to your portfolio.
Be a cheapskate. Say you have $150,000 and are paying 1% in investment fees, which is typical for actively managed funds. If you cut costs by just three-quarters of a percentage point, you'll save $1,125 in fees a year.
Great, right? But this understates the real impact. "It's not just 1% of assets, but of your potential return," which is then compounded over time, says investing expert Charles Ellis, author of The Index Revolution. "When you look at it that way, a 1% fee is enormous." If you earn 7% in the market but pay a 1% fee, you'll lose nearly 15% of your return. Given those costs, over 30 years $150,000 will grow to $862,000. Cut those expenses to 0.25%, and you'll have $1.1 million.
Lowering costs by three-quarters of a percentage point isn't that hard with index funds and ETFs. In fact, the median annual expense ratio for passively managed portfolios in the Money 50, our recommended list of mutual and exchange-traded funds is just 0.20%.
Ignore the crowds. There are always big trends on Wall Street, like the recent rise of "liquid alternative" funds, which bring hedge-fund-like tactics to the masses. Yet the path to $1 million involves being disciplined enough to go against the tide.
Just ask millionaires themselves. Contrary to popular belief, the wealthy don't rely on trendy forms of investing—in fact, only 15% own hedge funds. By contrast, nearly 90% say their biggest success is due to buying and holding basic stocks and bonds, a U.S. Trust survey found.
Take Our Quiz: Do You Have What It Takes To Be a Millionaire
You don't need to resort to investment exotica, either, to find ways to boost returns while reducing risk in your portfolio. Plus, history shows that faddish investments typically don't pay off in the long term—at least not as much as core holdings.
Consider this: Over the past 15 years—a period marked by extreme highs and extreme lows—a plain-vanilla basket of blue-chip U.S. stocks gained 5.8% annually. By comparison, hedge-fund-like "long-short" funds, which are supposed to thrive in such times, gained 3.2 percentage points less. A $500,000 portfolio earning 5.8% a year would grow to $2 million in 25 years. The same portfolio earning three points less wouldn't even get to $1 million.
Stick to the plan. Confident investors "make decisions without second-guessing or quickly changing their minds," says Fallaw. This is important because that self-assurance can prevent you from being whipsawed.
Successful investors also have the composure to hang on to—and even buy—"out-of-flavor asset classes with poor prior performance," says financial adviser William Bernstein, author of The Four Pillars of Investing. That is also critical, as Bernstein notes that asset classes "with below-average past returns tend to have higher-than-average future returns."
Case in point: foreign stocks. After outpacing U.S. stocks from 2000 to 2009, European emerging-market shares have struggled, mired by everything from China's slowdown to Brexit to the Zika virus.
Over the next 10 years, though, foreign equities are expected to outperform U.S. shares by an average of five percentage points a year or more after taxes and inflation, according to Research Affiliates. That's largely owing to being undervalued for so long.
Own up to your mistakes. There are going to be times when you make the wrong decision. The key is accepting responsibility and moving on appropriately. "Investors too often have difficulty acknowledging their mistakes," says Meir Statman, a finance professor at Santa Clara University. In stock picking, this can lead to hanging on to laggards out of pride rather than cutting losses.
Emotions can also creep in when you fall short of a goal. Say you're 45 with $200,000 saved and you're socking away $10,000 a year. Maybe you were hoping to hit $1 million by 65 by earning 7% a year. But what if you wind up gaining just 5.5% annually?
Read: Don't Screw Up Index Investing by Making These 3 Mistakes
You could try to make up for this shortfall by ramping up risk. But a more rational response is to boost your annual savings by about $2,500, which will get you back on track for seven figures with far more certainty.
---
Lose Less
Risk is the most important factor in investing, according to millionaires surveyed by the Spectrem Group. Well, here's one way to think about it: "If you lose less on the way down, you have less to make up when the market recovers," says Sam Stovall, U.S. equity strategist at S&P Global Market Intelligence.
Seek stability wisely. Stovall calculated returns for a portfolio with 60% in global stocks that tend to gyrate less than the broad market, and 40% in U.S. bonds. Had you invested $10,000 nearly 20 years ago, it would have grown to $39,670 by the end of 2015. The same 60%/40% portfolio without a low-volatility focus would have grown to $32,660. This is in line with other research showing that "low-vol" strategies have beaten the market by about 1.5% annually in the long run.
Calculator:
With so much anxiety about the market lately, though, low-vol shares have been bid up, trading at an average price/earnings ratio of nearly 22 today, vs. 18 for the S&P 500. The solution: Focus on value funds with a long record of stability but whose holdings are less frothy. American Century Equity Income isn't as rocky as many low-vol funds and has lost 40% less than the market in down months. That has helped the fund beat 98% of its peers for the past 15 years.
Don't forget dividend growers. Not only do shares of companies that boost their payouts beat non-dividend-paying stocks in the long run, but they outperform non-payers by 0.8 percentage point in months when volatility spikes, according to a recent study by Nuveen. Among the best is T. Rowe Price Dividend Growth, which has beaten the S&P 500 by nearly one point a year for the past 15 years.
Read next: Is Vanguard 500 Index Fund Still Worth Owning?
---
Diversify More
Historically a 60% U.S. stock/40% U.S. bond strategy was diversified enough. But with equities at record highs and investors flocking to Treasury bonds, these basic assets are frothy. So much so that over the next decade, a 60% large U.S. stock/40% U.S. bond portfolio is likely to return just 4.3% annually—1.3% after inflation—says Chris Brightman, chief investment officer of Research Affiliates. This requires more diversification, not less.
Expand your mix of stocks and bonds. Don't add exotic alternative assets to the mix, but rather the type of assets you'll find in a target-date retirement fund. In the stock portion of your portfolio, that means allocating 5% to 10% in foreign shares, emerging-markets stocks, real estate investment trusts, and commodities to go with U.S. blue chips. Add similar doses in global bonds, emerging market debt, inflation-protected Treasuries, high-yield debt, and bank loan funds to round out your bonds.
By doing this, your more elaborate 60% stock/40% bond portfolio is likely to return about 6% a year—or 3% after inflation—for the next decade. And that's with no increase in volatility. With a $500,000 portfolio, that would bring you nearly $134,000 closer to your goals in the next 10 years.
---
Actively pick your passive funds
While the average actively managed stock fund charges 1.3% in annual fees, the typical equity index fund's expense ratio is 0.7%, according to Morningstar. If you had $250,000 to invest for 20 years and earned 6% in the market before fees, cutting costs by indexing would amount to more than $75,000 in savings.
Bargain hunt. Yet even 0.7% is high. While index funds are cheap vs. actively managed portfolios, you must still compare their fees. This is especially true when it comes to funds that mirror broad benchmarks such as the S&P 500. "Those funds are substantially similar," says Ben Johnson, director of global ETF research at Morningstar, "so pick the one with the lowest fees." Schwab S&P 500 Index (SWPPX), which is in the Money 50, charges just 0.09% annually. On that same $250,000, you could save another $86,000 over 20 years by switching.
Read next: How Being a Boring Investor Can Make You Rich
---
Be hands-on with real estate
A PNC survey found that only one in five millionaires says real estate accounts for most of his or her wealth. Yet tangible assets such as investment properties do play a role in the strategies of nearly half of the wealthy, the U.S. Trust survey found.
One appeal: Physical real estate is financed with debt, which can amplify gains you'll enjoy on the underlying home value. But owning investment properties "is not passive, like buying a mutual fund," says Ben Gurwitz, a financial planner in San Antonio. "It needs a lot of TLC to be successful" and to squeeze out savings.
Manage it yourself. Property managers save you the worry of dealing with a leaky faucet, but they also charge about 5% to 10% of the monthly rent, plus a onetime fee when finding new tenants. By doing the work yourself on a rental that fetches $2,000 a month, you'll net as much as $2,400 a year in savings, which if invested at 5% gains could grow to nearly $120,000 in 25 years.
Double down with a duplex. Save on costs with a duplex or a home with a rental unit, says financial planner Jason Dahl. Since the rental is part of your primary home, you can qualify for a mortgage with a lower rate—on average 3.6% for a 30-year fixed-rate loan today, vs. as much as a percentage point more for an investment property. Plus, you won't have to come up with a second down payment, and you'll minimize maintenance costs.
The Best Reader Advice on How to Reach $1 Million