The Companies That Could Be Tech's Next Apple
Money is not a client of any investment adviser featured on this page. The information provided on this page is for educational purposes only and is not intended as investment advice. Money does not offer advisory services.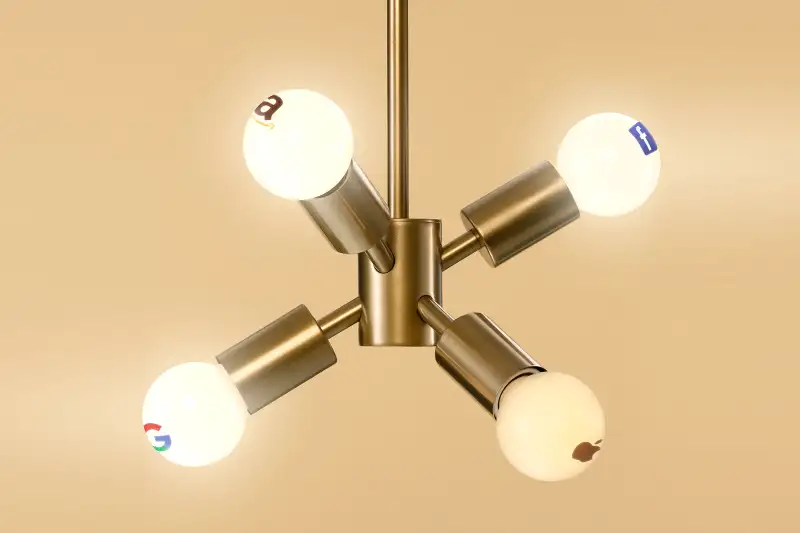 Tech investors are always wondering what the next big thing will be. But there's usually little doubt about who the sector's leading lights are in the here and now. A generation ago, it was the original Four Horsemen of Tech: Cisco Systems, Dell, Intel, and Microsoft. Today most tech portfolios are illuminated by a different quartet: Alphabet (a.k.a. Google), Amazon.com, Apple, and Facebook.
Lately, though, Apple's membership in this group has been called into question. In April the tech giant reported a drop in quarterly revenue for the first time in 13 years as a result of dwindling iPhone sales. Fewer folks upgraded to the 6s, in part because of a lack of compelling new features—a sign the maturing company may be losing its innovative edge. Meanwhile, new products like the Apple Watch haven't picked up the slack, leading to a sharp slowdown in profit growth.
At a modest P/E of 11, Apple shares are still a good value, even if the company is no longer a highflier. But who can replace Apple as a leading driver of growth alongside Alphabet, Amazon, and Facebook, each of which is forecast to boost earnings at least 15% annually over the next five years?
Money spoke with a wide range of analysts and strategists to identify giant innovators in information, industrial, and financial tech with the potential for sizable earnings growth in the coming years. The following four firms show great potential. But each comes with its own risks that you must understand.
Salesforce.com
The case: Cloud computing, which allows data and software to be accessed via the Internet, is one of the fastest-growing areas in tech. Sales of web-based software are expected to rise nearly 70%, to $53.5 billion, by 2018, according to research firm Gartner. And Salesforce has been a pioneer in licensing cloud-based software to businesses.
Admittedly, the cloud is getting crowded with heavy hitters such as IBM and Amazon. But Salesforce, now worth $55 billion, is the leader in customer-relationship management software, which firms use to oversee their sales, marketing, and customer service. Salesforce commands about 20% of this growing IT market, which is also benefiting from the rise of the so-called Internet of things, in which even mundane objects and machines are connected and controlled online. "It has become the de facto standard in the industry and stands head and shoulders above competitors," which include Oracle and Microsoft, says Josh Spencer, manager of the T. Rowe Price Global Technology Fund. No wonder sales rose 27% last quarter vs. the same period a year ago.
• The risks: Growth has not come cheaply. Salesforce has made a number of acquisitions, most recently Demandware, an e-commerce application it bought for $2.8 billion in June. Meanwhile, the stock trades at a price/earnings ratio of 74, based on projected profits. That's compared with Amazon's 95.
Still, Brean Capital analyst Yun Kim thinks Salesforce should be able to command a high valuation as the company continues to grow sales more than 20% a year. Profits are also expected to rise nearly 25% annually over the next five years. Says Spencer: "Salesforce has pure, unadulterated growth."
• Odds of joining the club: Great.
Tesla Motors
• The case: Just as Apple shook up cell phones, Tesla is disrupting cars with long-range electric vehicles and self-driving technology. (One of its cars, while being driven on autopilot, was involved in a traffic fatality in May.) U.S. News & World Report named Tesla's 2016 Model S the best large luxury car of the year.
Now on to phase 2: Tesla is taking orders on the new Model 3. With a base price of $35,000—half the cost of its predecessors—the Model 3 will make Teslas available to the general public. The company has nearly 400,000 advance orders, and CEO Elon Musk aims to reach 500,000 in annual sales by 2018.
• The risks: Building cars is capital-intensive, which is why Tesla isn't expected to turn profitable until later this year. (It's also why the stock sports a projected P/E of nearly 80.) Meanwhile, traditional automakers GM and Ford are investing billions in their own electric vehicles, while tech companies such as Alphabet and Apple are entering the fray. "The electric autonomous car will be a category changer," says Varun Singh, a portfolio manager at Westwood Holdings Group. "The biggest question, though, is whether Tesla will be the winner."
• Odds of joining the club: Modest.
Visa and Mastercard
• The case: Credit card processors used to be financial firms. But with the digitization of payments "these companies are very un-bank-like," says Tim Cunningham of Thornburg Investment Management. At the Olympics, for example, Visa will be testing a new ring that lets you make payments with a flick of the finger. And MasterCard already offers MasterPass, a digital wallet.
Visa alone processed $7.4 trillion in transactions last year—PayPal did only 4% as much. "You can't replicate Visa's and MasterCard's networks," Cunningham says. Only about 20% of global transactions are made with plastic (the rest are done in cash or checks), so the growth opportunities are astounding.
• The risk: While payment processing is being disrupted by the likes of Alphabet, Apple, and PayPal, Visa and MasterCard have benefited so far, as Apple Pay and Android Pay transactions still involve their networks. Moreover, the success of these digital wallets quashed CurrentC, a mobile-payment platform that was started by retailers and would have cut out the card processors.
Both stocks have P/Es in the mid-20s. But Edward Jones analyst Josh Olson thinks Visa is a better buy now given its market-share lead and slightly faster growth rate.
• Odds of joining the club: Good.