Is It Better to Rent or Buy a House?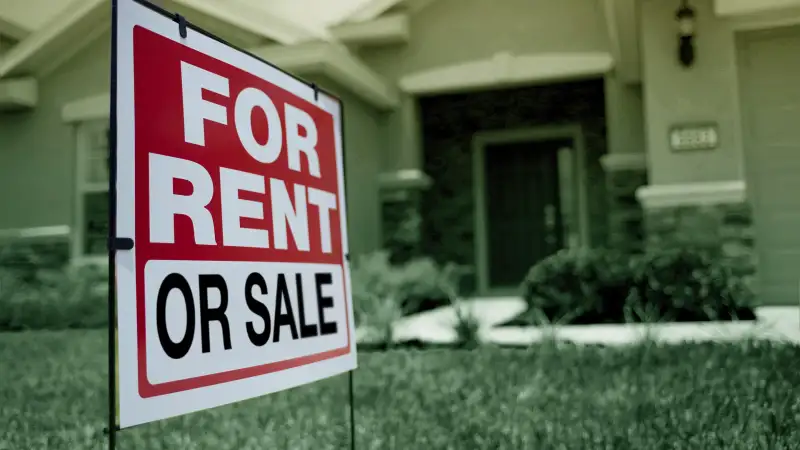 Whether it's better to rent or buy a home depends on your personal finance circumstances. To answer this question, you should consider several factors, like your budget, your lifestyle and where you live. We'll break down the pros and cons of both renting and buying to help you decide what's best.
Table of Content
Should I Rent or Own a Home?
Understanding the benefits and drawbacks of each option will help you analyze your choices and settle on the one that makes sense for you. Once you know more about owning a home vs. renting a home, then you can confidently move forward with your decision.
Buying a home
Unless you've got enough cash on hand to pay for a property outright, buying a home means that you'll have to qualify for a mortgage loan. This means you should have the following:
money saved for a down payment
enough income to afford monthly mortgage payments
enough annual cash flow to cover your home's maintenance costs and repair needs
The requirements for homeownership discussed above may seem daunting. But if you meet them, you're in for some pretty neat benefits that come with owning a home.
If you've locked in a fixed-rate mortgage, you can count on your monthly payment staying consistent for the loan term (typically 30 years). Your property taxes and homeowners insurance may increase depending on where you live, but your payments toward your loans principal and interest will remain the same, providing a cushion against inflation.
Another benefit of homeownership is building equity, or an ownership stake, as you make monthly payments on your mortgage. You'll also gain equity as your home increases in value, either by market appreciation or improvements made to your home. This means you'll get money if you sell.
You can also borrow against your home's equity with a cash-out refinance, a home equity loan or a home equity line of credit. Having access to this equity can help you meet larger financial goals like making home improvements, investing in more real estate or consolidating high-interest debt.
There are also tax benefits that come with homeownership. The interest you pay each year may be tax deductible if you have a mortgage on your home. Plus, if you sell your home for profit, the net proceeds could be tax-exempt, up to $250,000 for individuals and $500,000 for married couples. Also, homestead exemptions for owner-occupied properties could lower your annual property tax bill in many states.
Renting a house
Renting can seem less expensive in the short run, but the monthly rent you pay won't build equity. This means you won't own the property or benefit from any appreciation over time. Moreover, there are generally restrictions on what changes you can make to a rented home: if you want to fully customize your house, then buying a home may be a better option.
The main advantage of renting are as follows:
Fixed expenses. Though your rent can increase when your lease is up, you will only be paying a fixed amount every month of your rental agreement. While this is true of fixed rate mortgages as well, adjustable rate mortgages can fluctuate considerably.
Renting means less responsibility for maintenance and repair. If something in the property doesn't work, your landlord is responsible for the cost of repairs, not you. Renters insurance is typically much less than homeowners insurance, as well.
Flexibility. Moving out of your rental is typically much easier to do than selling a home.
No real estate taxes. Homeowners must pay property taxes, and depending on your location, these can run you several thousand dollars a year.
A nicer apartment complex could include amenities in your rent, such as pools and gyms.
Renting vs. buying a house
Renting a home may be ideal in certain situations. For instance, it's better to rent if you don't have plans to stay in an area for a long time.
You could also end up with extra cash if you choose to save or invest the money you are saving by renting instead of paying a mortgage. After all, if you don't have to worry about the additional costs that come with homeownership, such as homeowners insurance, property taxes and repair bills, you may be in a much better position to ramp up your savings and investments.
Pros
All in, often less expensive than owning a home
The landlord covers maintenance, repairs, property taxes and property insurance.
Some rentals may have additional amenities like a pool, clubhouse or gym.
Cons
You don't build equity in an asset as a renter.
Your rent could increase every year.
You generally can't do renovations to your dwelling since you don't own it.
Buying a home works if you are in the right financial position to do so. It can be a long-term play to force savings by building up equity you can use later on. If you plan to stay put for a longer period, you will reap the benefits of market appreciation and caring for your home.
Pros
The opportunity to build equity in an asset that you can convert to cash at some point
Tax advantages
The ability to improve the property and increase the property's value
Cons
Must meet lending requirements for credit scores, debt-to-income (DTI) ratio and down payment to qualify for a mortgage
Requires additional cash reserves for maintenance, repairs and replacement
Risk of losing property and equity if you are unable to make payments or pay property taxes
Less flexibility if there's a need to move
Buying a Home in 2023
We are currently experiencing unique economic conditions that may impact your decision to buy a home. With current mortgage rates rising and rent prices falling in some major cities, it might seem like you should wait and "time the market" regarding your home purchase. However, timing the housing market could be difficult, because we just don't know what will happen.
Some people are waiting on the sidelines due to soaring mortgage rates. Others are hoping that the increase in home sales falling through may eventually decrease the price of homes nationwide. Though it's likely that mortgage rates and home prices could drop, there's also a chance that they can continue to increase.
The best mortgage lenders and experienced real estate professionals can help you analyze your options in this volatile market. For instance, you can negotiate seller concessions, like an interest rate buydown, a home warranty or help with closing costs. There are still smart ways to become a homeowner in today's economic conditions, but it will require some creativity and adjustments to your expectations.
Rent or Buy FAQ
Is it better to buy or rent?
Whether it's better to buy or rent, depends on your financial situation and goals. Renting offers less responsibility and more flexibility, but you don't build equity in an asset like you could as a homeowner. Buying a home allows you to build equity while also getting some tax advantages, but it requires a larger financial commitment and responsibility for maintenance.
Should I buy a home in 2023?
You can't always time the market when buying a home. If you really need a house and are qualified to buy one, there are smart ways to become a homeowner despite higher
mortgage rates
and housing prices. Working with a knowledgeable real estate agent and an experienced lender can help you find affordable ways to become a first-time homebuyer.
Is buying a house a good investment?
Buying a house can be a good investment, but this will depend on a number of factors, including your financial situation, when you bought the home, and where it's located. Purchasing a home can save you on rent, lead to more financial stability, and offer some tax deductions. Buying a home could also work as a hedge against
inflation costs
because your mortgage costs are generally fixed. On the other hand, if your timing is off and you buy in a seller's market, you may end up with a higher mortgage and a home that may depreciate in value.
Is a mortgage cheaper than rent?
It depends on the market, mortgage interest rates and other factors. Generally speaking, mortgage payments tend to be cheaper than or on par with rent in many areas. However, you must factor in taxes, closing costs, insurance, ongoing repairs and upkeep to get a sense of the total cost of homeownership vs. the cost of renting.
Summary of Money's Is it Better to Rent or Buy a House?
Deciding whether to rent or buy a home should be based on the pros and cons of both options. By considering your current financial situation, lifestyle needs and long-term goals, you can make the best decision for your unique circumstances.