It's a Buyer's Market. So Why Aren't More People Buying Homes Right Now?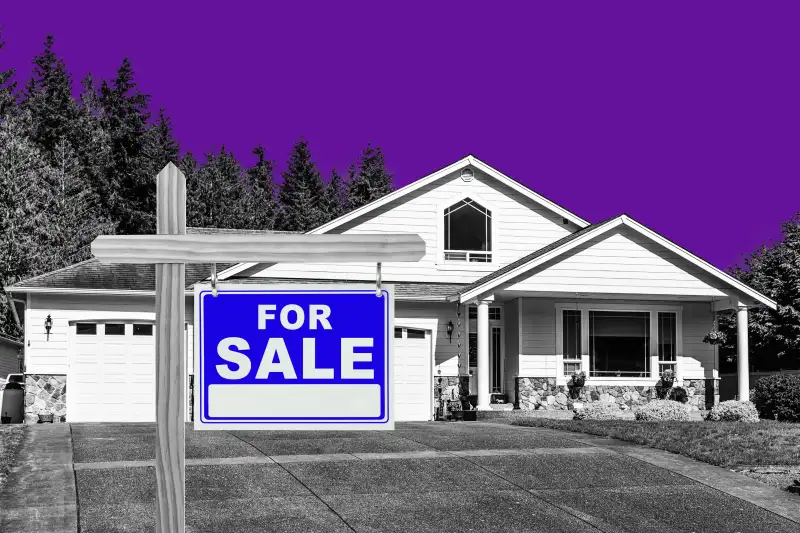 The housing market is coming out of its slumber, at least a little. But plenty of would-be buyers who can afford a home are still opting to hit the snooze button on buying – or skipping the idea for good.

Pending home sales, a forward-looking sales indicator, ticked up by 3% in January and is 28% higher than back in November, according to the brokerage Redfin. The uptick followed a series of interest rate cuts in late 2022 and early 2023.
With rates now hovering around the low 6%s, the population of would-be homebuyers has widened. About 15 million potential buyers can currently afford a mortgage of $400,000 — the median home price in the U.S. — according to recent research conducted by Freddie Mac. That's about 3 million more than could afford such a mortgage just three months ago, when rates topped 7%.
Obviously, some of those people are snapping up homes, including those who need to buy or sell a home because of life changes, says Angelica Olmsted, a realtor with RE/MAX Professionals in Denver, Colorado. But many others who should be motivated by lower rates to shop for a new home aren't doing so, she adds.
A lot of "[p]eople in the 'want' [to buy] category..are taking their time," Olmsted observes.
Here's a look at some reasons for that hesitancy. If you, too, are on the fence about a home purchase this year, these factors might be useful as you wrestle with whether to be in or out of the market.
Rates are lower, but still not low
Rates have dropped lately, but they remain well above the levels that helped superheat the housing market in 2021 and early 2022. And that's created an affordability gap compared with those go-go days.
The loss of buying power over the past year is significant. A buyer who qualifies for a $400,000 loan at today's 6%-or-so rates would have been able to buy a $516,000 home back when rates were hovering around 3% at the end of 2021.
Further rate relief may close that gap somewhat. Many experts are forecasting rates to fall below 6% by the second half of 2023 or early in 2024 with some predicting rates as low as 5.5%. But almost no-one is predicting a return to record-low 3% rates, at least anytime soon.
Buyers are waiting for home prices to cool further
As with the cost of borrowing, the cost of homes themselves are no longer rising as they once were. But neither are prices dropping, at least consistently. Overall, home prices are up by 42% over the past three years according to the NAR.
There is a slowing in how much home prices are increasing – and that's prompting some potential buyers to pause their plans, in case prices actually drop. The cost of a single family home saw a year-over-year increase of 4% nationwide during the fourth quarter of 2022. That's less than half of the whopping 8.6% price growth during the third quarter of last year. And analysts predict such "price deceleration" will continue throughout 2023.
That trend is why Chad Gray and his wife, who live in Raleigh, North Carolina, are holding off on a home purchase for now. They are interested in purchasing a new home and moving, but they don't have to at this point. Instead, they're keeping an eye on the market, after seeing it shift from a hot sellers' market in 2022 to more of a buyers' one in 2023.
Although the Grays are not expecting their local market to crash, they do predict further price drops. "I have a high degree of confidence that I can purchase that same property 12 months from now at a 10% to 20% discount compared to where prices stand today," Chad says.
Experts say such buyers' predictions may be overly rosy. For instance, Lawrence Yun, chief economist at NAR, doesn't see prices dropping significantly this year. More likely, Yun says, is that they'll eventually stabilize, and then remain relatively flat.
Home listings remain scarce
A lack of inventory was a key driver for the bidding wars and skyrocketing home prices of the pandemic years. There were too many buyers and not enough homes for sale.
Now, demand has slowed, and inventory levels seem to be making a modest comeback. The number of homes available for sale rose by 70% during the first week of February compared to the same week last year, according to Realtor.com.
However, buyers shouldn't rejoice too much about that number. It's elevated in part by homes that didn't attract immediate buyer attention and have been sitting on the market for a while, thus bumping up the inventory. New listings are actually down 11% during the same time period.
"With housing supply at historic lows, buyers don't have the number of options available to them that they expect," says Klaus Honche, real estate advisor and principal at KG Group with Compass in South Florida. "This has caused many to lose their excitement about buying a home."
The buzz – and the number of listings – may pick up soon, though. Experts expect more homeowners to list during the upcoming spring buying season, which will help to ease the lack of supply somewhat.
The economy and work arrangements remain uncertain

One of the most common concerns among mortgage-ready buyers is with the state of the economy, according to Josh Wilson, owner of Shark Tooth Realty in Venice, Florida. Wilson had a couple that was preapproved for a mortgage at 6.25%, but who decided not to buy a home because they were concerned about job security.
"With the economy in a state of uncertainty, [my clients] felt it was not the right time to make such a large financial commitment," Wilson says.
Greater ease of working from home has also slowed some buyers' plans to move cities, Wilson says, since it's reduced the requirement that they live where their jobs are based. He cites one of his clients who was preapproved for a mortgage at 6.5%, but instead opted to travel to and explore a number of cities before deciding on where best to settle.
For others, like Melissa Mesku, a writer and software engineer based in LA and Seattle, the last three years of working from home has led to a sense of isolation and prompted a rethink of her lifestyle.
A home purchase, she decided, would just continue that feeling of being disconnected from others. Mesku is planning on joining a housing cooperative, where she hopes to find an in-built community of like-minded people.
"Finding more fulfilling ways to live, around people who are similarly aligned, sounds a lot more appealing to me," adds Mesku.
Renting is cheaper than it was
There has also been a shift in the rental market. Price growth has slowed, including in some cities where rents are actually lower than they were a year ago. Many experts predict that rents will continue to decline this year.
The trend is encouraging some qualified buyers who haven't found the right house to take their time, and rent for a while before deciding whether to buy.
This is what Lauren Levy O'Brien and her husband are opting to do. The couple is well qualified to buy a house, even in the notoriously expensive San Francisco Bay area and at today's 6%-plus mortgage rates.
But most of the available homes within the O'Brien's $3 million budget don't fit the family's lifestyle or require repair before they're compatible with the couple's modern taste. So they're renting for now, as they watch and wait for the right house.
"I'd much rather just rent until we can afford something that I'm proud to spend our life savings on," O'Brien added.
How much, if at all, any of these factors weigh into your 2023 housing strategy will depend on your personal circumstances, patience and more. Those who decide to wade into buying fray will have to be more active in their home search, says realtor Gonche, due to the still-depressed inventory of available properties.
But the right home at the right price may still be out there now, says Gonche. That's especially true if buyers shop around and use their leverage in the more placid market to negotiate concessions with the seller to make the purchase more affordable.
More from Money:
Workers Are Moving to These 5 U.S. Cities More Than Anywhere Else
5 Cities Where Home Prices Dropped the Most From Their 2022 Peak
The 10 Cities Where It's Easiest to Find a Home Under $200,000