Meet the Televangelist Who's Asking His Followers to Help Fund a $54 Million Private Jet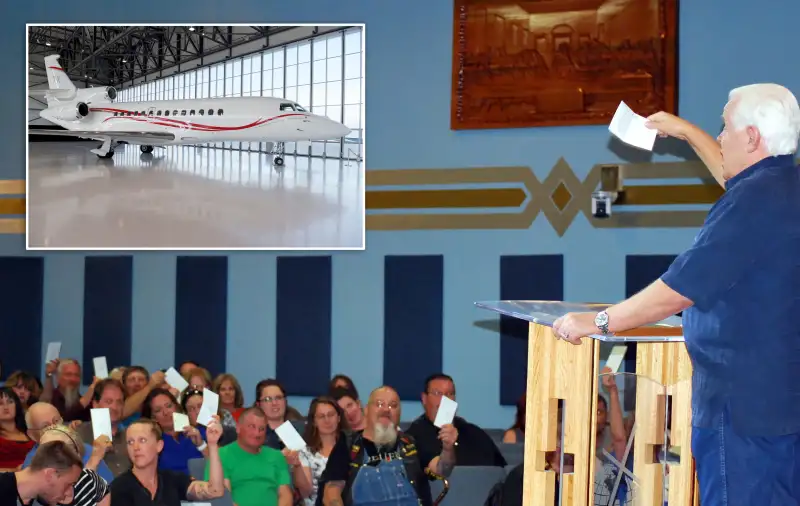 (minister) Oscar Williams—Alamy; (jet) Getty Images
A Louisiana preacher is making headlines for asking his followers to help fund an extravagant purchase: a $54 million private jet.
Jesse Duplantis, a 68-year-old prosperity gospel preacher, says a new Dassault Falcon 7X would allow him to spread his teachings more effectively.
"Now some people believe that preachers shouldn't have jets. I really believe that preachers ought to go on every available voice, every available outlet, to get this gospel preached to the world," Duplantis said in a video posted online last week, according to The Christian Post.
It wouldn't be the first jet Duplantis has owned. In the video, Duplantis looked over a wall full of photos showing his other private planes and said they have helped him preach the word of God. "You know I've owned three different jets in my life and used them and used them and just burning them up for the Lord," he said.
Duplantis reportedly lives in a 35,000-square-foot plantation home built in the late '00s at a cost of $3 million. His net worth has been estimated at $50 million.
Born and raised in New Orleans, Duplantis performed in the 1970s under the stage name Jerry Jaxon with the rock band Summer Wine. "I drank a fifth of whisky a day, smoked a little dope a week, snorted cocaine, PCP, crystal meth, took trips and never left my house," Duplantis said in one interview.
In 1974, as Duplantis explains it, he saw the Reverend Billy Graham on TV and felt compelled to go to church and be saved. Duplantis says he preached his first sermon in 1976, launched his ministry full-time in 1978, and released his first religious music album in 1979. According to his IMDB page, Duplantis has been appearing in various faith-based TV programs since the early 1990s. He is the author of dozens of books and audio CDs, with titles such as Keep Your Foot on the Devil's Neck, One More Night With the Frogs, Living at the Top: How to Prosper God's Way and Avoid the Pitfalls of Success, and Jambalaya for the Soul: Humorous Stories and Cajun Recipes from the Bayou.
Duplantis said his most recent private plane purchase was in 2006, but the new Falcon 7X would enable him to travel further without refueling. With the new jet, "we can go anywhere in the world in one stop," Duplantis said in the video, making it easier to preach to more people. "I want you to believe in me for a Falcon 7X."
"I really believe that if the Lord Jesus Christ was physically on the Earth today, he wouldn't be riding a donkey," Duplantis said. "He'd be in an airplane flying all over the world."
A column at the conservative Christian site Faithwire.com criticized the fundraising effort. "Jesus walked amongst the poorest of the poor, and never did anything to elevate himself over others," it read in part.
Duplantis is not the only televangelist who has asked for donations to cover the costs of a private jet—and who vehemently defend the concept. In 2015, the Georgia-based televangelist Creflo Dollar launched a crowdfunding campaign to help his ministry purchase a $65 million jet. The campaign was shut down amid widespread criticism, but Dollar wound up purchasing the jet anyway.
That same year, Duplantis appeared on Kenneth Copeland's TV show, where both televangelists said their private jets were essential for their missions. Beyond the convenience of private jet travel, they said their luxury jets allowed them to stand up on the plane and talk out loud to God—which would be frowned upon or banned on a regular commercial airline.
"You just can't manage that today, in this dope-filled world," Copeland said. "You get in a long tube with a bunch of demons, and it's deadly."
On the Jesse Duplantis Ministries website, donations are referred to as "seed" that helps the preacher reach the masses: "We value every seed and consider it a holy, precious thing. Not only is your seed destined to produce harvest for you, it will also enable us to spread the Gospel through anointed television broadcasts, web shows, products, magazines, podcasts, social media, Internet outreaches, and evangelistic meetings held throughout the world."
According to the Jesse Duplantis Facebook page, Duplantis is scheduled to travel to New York, Tennessee, Michigan, Washington, Montana, California, and Alberta over the next month, with trips back to Louisiana in between.