JetBlue Was One of the Last Airlines to Offer Free Checked Bags. Now It's Leading the Way in Raising Fees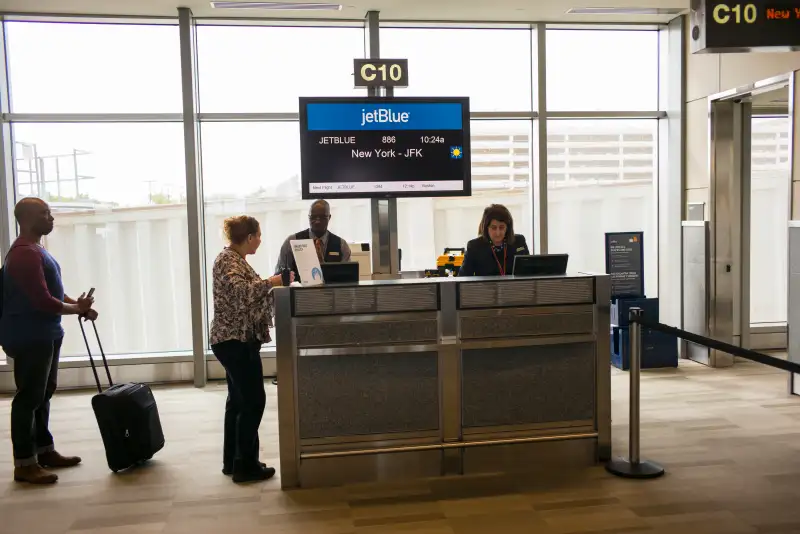 Robert Nickelsberg—Getty Images
Checking a bag with an airline — which was free with the purchase of a ticket not long ago — just got more expensive.
JetBlue, once the industry upstart beloved for combining low airfare prices and abundant free amenities, just raised the price of checked baggage from $25 to $30 for your first piece of luggage, and from $35 to $40 for a second bag. If you want to bring a third bag on your flight, that's especially costly: The fee just went from $100 to $150.
Travelers have grown depressingly familiar over the years with airlines increasing fees and finding ways to add new charges. For decades, it was standard for airline passengers to be allowed two free checked bags on virtually any flight. Then, 10 years ago, so-called legacy airlines like American and Delta began charging fees for checked bags to match the policies of "no frills" carriers like Spirit Airlines, whose business model mixed low airfare prices with high fees for anything beyond basic transportation.
It wasn't until 2015 that JetBlue added a checked bag fee. The move was met with a sense of betrayal among fans who had originally fallen in love with the airline because it offered all passengers perks like free unlimited snacks, leather seats, and free TV and music for everyone.
What do other airlines charge for checked bags? And will they be increasing baggage fees alongside JetBlue?
Today, Southwest Airlines is the lone U.S. carrier that has free checked baggage for all passengers. What's more, Southwest customers still get to bring two checked bags on flights, totally free of charge.
Southwest is also unusual in that it doesn't charge fees when a customer changes flight plans. That's particularly exceptional given the state of the airline business nowadays, where fees for things like itinerary changes and bags account for a huge portion of airline revenues.
As of Tuesday, Delta, United, and American Airlines were still charging a $25 fee for the first bag checked by an economy passenger on a flight within the U.S. or Canada. Low-fare carriers like Frontier and Spirit Airlines, on the other hand, charge somewhere between $21 to $65 for a passenger's first checked bag. The wide range of fees depends on multiple factors, including whether the fee is paid during the booking process (always the cheapest option), or paid during airport check-in or at the gate just before boarding (always the most expensive option).
Some airline experts say it's only a matter of time before other airlines match JetBlue's baggage fee hike. Higher fuel prices put more pressure on carriers to seek new sources of revenues.
"I've been predicting this for years that bag fee inflation would help airlines cope with high fuel prices rather than raising fares," George Hobica, president of the flight research and deals site Airfarewatchdog.com, explained to the industry publication Travel Weekly. "Other airlines will follow. They always do once a competitor takes the first step."