Jimmy Fallon Announced His $1 Million Donation to J.J. Watt's Hurricane Harvey Fund in the Best Way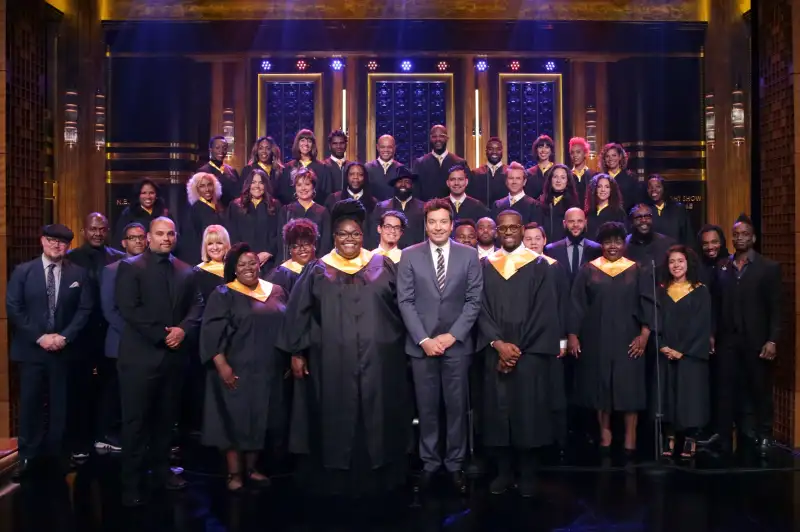 The Tonight Show host Jimmy Fallon brought one of Houston's gospel choirs onto the show to help him announce a one million dollar donation to Hurricane Harvey relief.
"One of most inspiring clips I saw last week was a video of two singers … who visited a storm shelter to sing to hurricane evacuees," he said before introducing Victoria White and Marquist Taylor, who sang a version of "Lean on Me" with their gospel choir.
Social media users later begged the choir to release an official version. "Please tell me you plan to record this version, release it for digital download, and donate the proceeds to Harvey victims. It was incredible and I (and assume many others) would download it in a heartbeat," one person wrote on Facebook.
Seconds before the choir sang, Jimmy Fallon announced that The Tonight Show would donate $1 million to J.J. Watt's disaster relief fund.
"We saw communities banding together," he said. "Neighbors helping neighbors. Strangers helping strangers. So many heroes — people like Mattress Mack, who opened up his stores and showrooms for those who needed shelter."
"The group of people who formed a human chain to save a man from a flooded SUV… And J.J. Watt from the Houston Texans, who has raised over $18 million dollars to provide food, water, and supplies to the victims."