Josh Altman of 'Million Dollar Listing' Has a Simple Trick to Make Buying a Home Less Stressful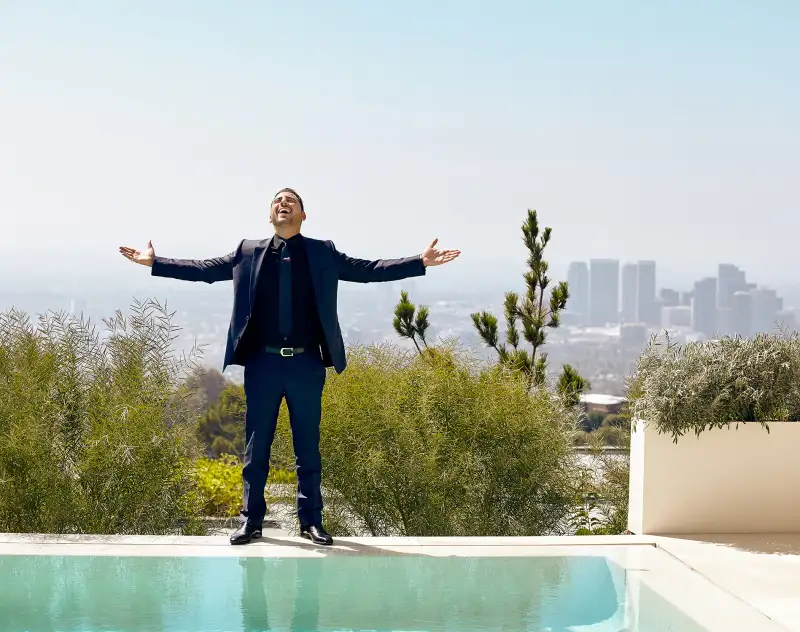 The biggest obstacle to landing the home of your dreams? Sometimes, it's you.
Buying a house is no walk in the park. The road between starting your search and closing the deal is peppered with challenges, from finding the right home and financing to negotiating on a price. But after all the hard work is finally done, some would-be buyers back out for another, more avoidable reason, says Josh Altman, star of Bravo's Million Dollar Listing: Los Angeles.
They're scared.
"We see people that kind of get gun shy," says Altman, who has bought and sold homes for Kim Kardashian and Shark Tank's Robert Herjavec. First-time buyers in particular are at risk of backing out when it's finally time to make an offer, he explains, because, "for 99.9% of people in the world, the biggest investment of their life is buying a property."
It's common to get cold feet when you start to hone in on a house, and Altman isn't the only agent to witness this. Dana Bull, an agent with Sagan Harborside Sotheby's International Realty, says when a buyer backs out at the very end, it's often because "it just becomes too real." Buyers, she explains, may point their finger at a trivial reason, "but they ultimately pull out of the deal because of cold feet and blame it on something else."
So what's the antidote for all that home-buying apprehension? Altman writes in his recent book, The Altman Close, that he finds "behavioral science more helpful than all the business books ever written." His fix starts at the very beginning of the search.
Why you should actually see as many houses as possible.
The average person looks at 10 houses before buying, according to a National Association of Realtors study. But this can be a frustrating experience, especially when a promising day of open houses reveals dud after dud. While every tour can't lead you straight to your dream house, the knowledge you gain along the way is an important step in the journey, Altman says.
"The more things they see, the better and more confident they're going to be when it comes time for writing an offer," says Altman.
Understanding the market — and seeing lots of homes along the way — is the best failsafe against cold feet.
Too fancy? Too small? Tour them anyway.
Unlimited Style Real Estate Photography
Altman brings his clients to a variety of houses, including those that fall a step above or below their price range. While there's a chance a house outside of a buyer's price range is owned by a "desperate seller" willing to negotiate down for a quicker close, seeing what's out there helps a buyer survey the market.
"You want to understand what you get for the next step up," he says. Just like with any big purchase, doing your research and becoming a market expert will make you more comfortable with your ultimate decision.
So don't be shy to tell your agent when you see an online listing that you like. Even if the 10 or 15 homes you visit aren't the right fit for you in the end, showing up for the open house is part of the learning experience—and prepares you to finally pull that trigger in the end.