Kamala Harris 2020: Here's Where the Presidential Candidate Stands on Taxes, Health Care, and More Key Issues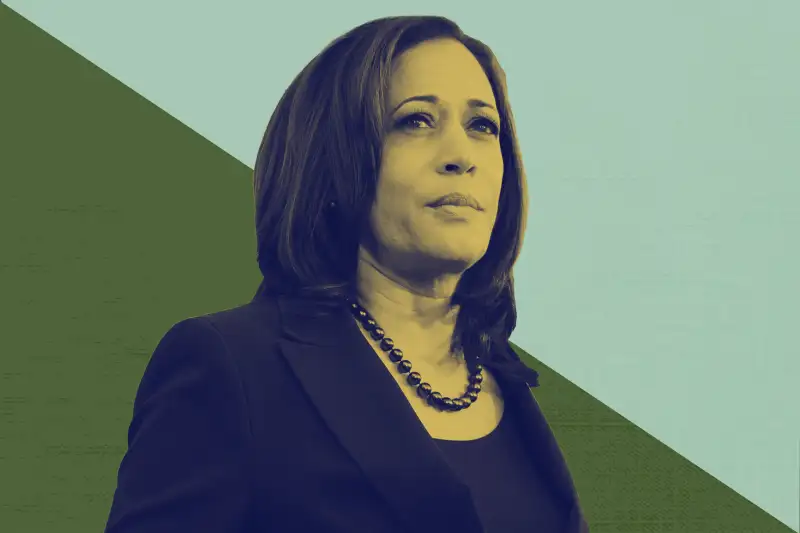 Photo illustration for Money by Lixia Guo; Mason Trinca—Getty Images
Kamala Harris, the 54-year-old former prosecutor and current junior U.S. Senator from California announced in early 2019 she was running as a Democratic candidate for president.
Harris entered a crowded field: There are already at least 10 major Democratic candidates seeking the party's 2020 nomination, and a few of the highest-profile potential candidates — including former Vice President Joe Biden, U.S. Senator Bernie Sanders, and billionaire and former New York City Mayor Michael Bloomberg — haven't officially announced if they too are running.
Alongside the large field of contenders, Kamala Harris's hurdles to winning the nomination include her short track in national politics. She has only been a Senator since 2016 after all. But Harris's national profile is clearly on the upswing, thanks in part to her relentless criticism of President Donald Trump's character and Trump administration policies, and her tough interrogation of Kavanaugh and Trump appointees such as former Attorney General Jeff Sessions.
A high-achieving multiracial lawyer born to two immigrant parents, Harris is one of several rising Democrats sometimes characterized as the "next Barack Obama." Kamala Harris has also quickly proven to be a formidable fundraiser, raking in $1.5 million in donations within 24 hours of announcing her run for president.
Even so, there are many voters out there still wondering: Who is Kamala Harris? Where is she from and what does she stand for? For that matter, who are the other likely 2020 presidential candidates, and what are their policies on issues that are important to voters like health care and taxes?
To help voters make informed decisions, Money will be publishing profiles for all the major 2020 presidential candidates, starting with Kamala Harris.
Kamala Harris: Her Early Days and Current Net Worth
Kamala Devi Harris was born in Oakland, California, on October 20, 1964. Her parents were immigrants who met as graduate students and civil rights activists at the University of California-Berkeley. Harris's mother, Shyamala Gopalan, came to America from India to pursue a doctorate in nutrition and endocrinology, while her father, Jamaican-born Donald Harris, studied economics and became a long-serving professor at Stanford University starting in the 1970s.
After her parents divorced, 7-year-old Kamala Harris moved with her mother and younger sister Maya to Montreal, Canada, where her mother worked as a hospital researcher and professor at McGill University. Kamala Harris attended high school in Canada and returned to the U.S. for college, earning a bachelor's degree from Washington, D.C.'s Howard University in 1986, followed by a law school degree from University of California – Hastings College in 1989.
Harris said she grew up idolizing lawyers for their roles in the civil rights movement. She worked as a district attorney in various capacities in northern California for two decades, and won an extremely close election to become state attorney general in 2010. In 2016, Harris ran for U.S. Senate, and her victory made her the first South Asian-American and second-ever African-American woman to hold the post.
As for her personal life, Kamala Harris married Douglas Emhoff in 2014 in a courthouse ceremony officiated by her sister Maya. Emhoff is an attorney and partner at DLA Piper, a global law firm, and he specializes in entertainment and intellectual property law. Harris has had no children of her own, but has been a stepmother to her husband's children from a previous marriage, Cole and Emma, who call her "S-Mamala."
Kamala Harris's net worth as of 2016 was estimated at roughly $400,000, including over $2 million in assets held with her husband and $1.7 million in liabilities — at least $1 million alone owed on the mortgage of their multimillion-dollar home in the ritzy Los Angeles neighborhood of Brentwood. More recently, estimates say the net worth of Kamala Harris and Douglas Emhoff could be much higher — perhaps as much as $2 million.
Harris is the author of three books: 2009's Smart on Crime: A Career Prosecutor's Plan to Make Us Safer, The Truths We Hold: An American Journey, her recently published memoir, and Superheroes Are Everywhere, a children's picture book also published in early 2019.
In The Truths We Hold, Harris writes about November 8, 2016, and how she was overjoyed and humbled to be elected to the Senate at the same time she was gutted to see that Donald Trump had beaten Hillary Clinton in the presidential election. She says she ate an entire family-size bag of Doritos while processing the 2016 election results.
Amid the uncertainty, Harris said in the book she realized "one campaign was over, but another was about to begin. A campaign that called on us all to enlist. This time, a battle for the soul of our nation."
Kamala Harris for President 2020
Three weeks into the new year, Senator Kamala Harris announced on social media and "Good Morning America" that she was running for president in 2020.
A few days later, she followed up by officially launching the Kamala Harris 2020 presidential campaign at a rally that attracted 20,000 supporters in her hometown of Oakland on Sunday, January 27, 2019.
In the 24 hours after her first announcement, Kamala Harris's campaign raised $1.5 million, with contributions rolling in from 38,000 donors. The massive one-day haul was on par with what U.S. Senator Bernie Sanders raised on the first day he launched his ground-breaking 2016 presidential campaign.
Kamala Harris has not had a long career in national politics, but she has demonstrated her strength as a fundraiser in previous election cycles. In her 2016 run for U.S. Senate, Harris raised over $15 million, including particularly large donations from Hollywood entertainment giants like WarnerMedia (owner of HBO and Warner Bros.) and 21st Century Fox. According to OpenSecrets.org, during the 2018 election campaign Harris raised $7.7 million — higher than the $5.8 million average for U.S. Senators — even though she wasn't on the ballot.
In 2018 Harris vowed to stop accepting corporate PAC (political action committee) money, to send the message that she will not be beholden to corporate interests, and 92% of her campaign contributions have come from individual donors.
Kamala Harris on Taxes, Health Care, and Other Issues
Like most Democratic candidates for president, Kamala Harris has been an outspoken critic of President Donald Trump's policies and character. In her 2017 commencement address at her alma mater, Howard University, Harris did not mention Donald Trump's name but clearly had him in mind while expressing grave concerns about the students graduating at "a time when throwing millions of working people off their health insurance to give tax breaks to the top 1% is considered a victory to some. A time when we worry that a late-night tweet could start a war. A time when we no longer believe the words of some of our leaders, and where the very integrity of our justice system has been called into question."
As a Senator, Harris has joined her Democratic peers in support of legislation that would increase the federal minimum wage to $15 an hour. This past fall, Harris proposed a middle-class tax break that would give a credit worth up to $500 per month ($6,000 per year) to households earning $100,000 or less annually. At the same time, Harris wants to repeal the Trump tax cuts that she argues disproportionally benefitted corporations and the rich, in order to help pay for credits aimed at helping the middle class.
She has also been a strong supporter of the Medicare for All bill, the plan most closely associated with Bernie Sanders that would guarantee universal health care for everyone regardless of their ability to pay for coverage. "I believe that health care should be a right, but the reality is that it is still a privilege in this country. We need that to change," Harris wrote in a December 2018 New York Times op-ed.
After announcing her run for president, Harris reiterated her support of universal health care, and has strongly implied that eliminating private health insurance would be part of making it happen. "I believe the solution — and I actually feel very strongly about this — is that we need to have Medicare-for-all," Kamala Harris said in a CNN town hall event in late January. "That's just the bottom line."