Kristen Bell's Dad Wouldn't Pay for Her Lemonade Stand. Now, She and Dax Shepard Are Teaching Their Kids 'Harsh' Money Lessons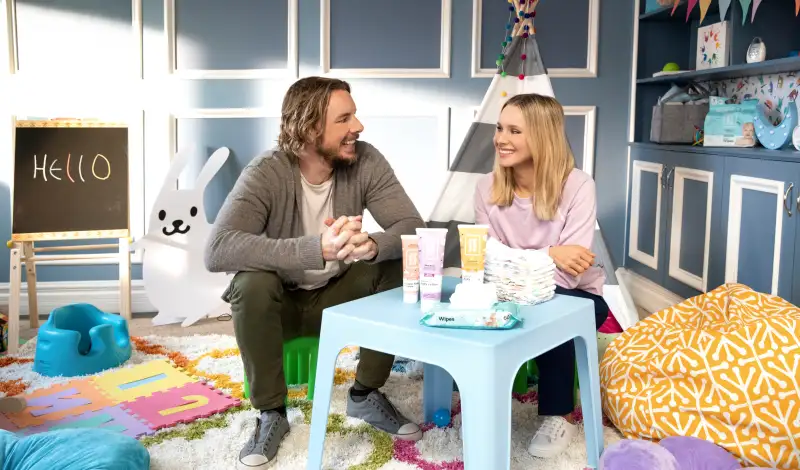 Actors Kristen Bell and Dax Shepard have vastly different money philosophies, but they agree on two things: Kids deserve high-quality products, and parents deserve to be able to afford them.
So when the celebrity power couple had their two daughters a couple of years ago, they started thinking.
"We have very unique access to a lot of great products, living in Los Angeles and also being blessed with being overpaid," Shepard says. "We felt like it was completely unfair that everyone we grew up with back in Michigan would have to make a decision between their budget and what was best for their baby."
Together, they came up with Hello Bello, a plant-based baby brand they recently launched with Walmart. Thanks to an economy of scale that allows for a reduced cost per unit, Hello Bello offers diapers, soaps and lotions that have "the exact same high standards that we used on our kids," Shepard says. And so far, nothing costs over $25.
Money caught up with Bell and Shepard in between filming projects like Veronica Mars and Bless This Mess. Here's what they said about family finances, the value of marbles, and a unique online shopping method.
When you first became parents, did you buy anything you wish you hadn't?
BELL: The one thing that I was told, across the board, that what you can't go into labor without owning, is The Happiest Baby on the Block DVD. Beyond that and some basic necessities, we made a choice to stay minimal with it. In fact, we didn't even buy a bassinet. We used the bassinet from our stroller for the first three months, and we wheeled it around the house.
SHEPARD: We were more focused on what things made Mom's life easier. Like your cordless breast pump — that was a lifesaver.
BELL: I really wanted to identify what my needs were before I picked out anything for me or the baby. That was the best thing I could have possibly done.
Part of your Hello Bello campaign is that you're acting as our collective mom and dad. If you were my parents, what would you tell me to do with my finances?
SHEPARD: Well, here's a really fun topic for us, because Kristen, by and large, doesn't think at all about money, which seems really helpful and enviable to me.
BELL: Zero.
SHEPARD: And I'm obsessed with money.
BELL: Money is a construct.
What?
SHEPARD: We agree on that. I think the construct will make our lives either easier or harder in our twilight years. I'm obsessed with how we're going to maintain our life into our 80s or 90s.
So Dax, you're a saver and Kristen, you're a spender?
BELL: I wouldn't say I'm a spender, per se. I don't think about it. When I work, I lead with what my passions are.
SHEPARD: What's interesting about Kristen is she knows her value and her worth, and she will fight for it in contract negotiations, but once that happens she'll never think again about that money. She likes to give away most of her money, so I have to make sure we are making decisions that allow her to [do that] and still [be] building something for when we stop working.
BELL: I've learned a ton from Dax, as far as, yes, if I want to make substantial donations to the places I care about, then I also have to consider when I want to buy myself something, or how often I'm going to be working.
SHEPARD: First and foremost, people need to actually be aware of where they're spending their money. It's easy to get hyper-focused on things that aren't really moving the needle. This is something Kristen would do. She would drive herself bonkers about an item at the grocery store, and I would point out what she's spending on some other high-ticket item that she isn't even thinking about on the regular. If you clean up that aspect, then you can never think again about how much lunch is.
You seem like a pretty frugal couple.
SHEPARD: We are. I do have some extravagant things, but I'll only buy them if I have the sense that they're going up in value. But I've also realized the error in my ways. There's a ton of scientific research now about saving to buy a big object versus spending on experiences.
BELL: That's how I think about it. I'll spend money on something, especially if it's experiential or it ups my happiness factor. That goes from a piece of jewelry to an Airbnb.
Do you have money advice you're trying to pass onto your kids?
SHEPARD: When we're checking out somewhere, we'll have them pay so they understand they're not just being given this stuff, it's coming out of our wallets.
BELL: When they use a whole shampoo bottle in the bathtub, I do, very bluntly, explain to them, "Mommy bought that shampoo bottle. You hate it when Mommy works late, right? Well, if we waste a ton of stuff in the house, then I have to work more hours to make more money to buy more of that stuff." That may sound harsh, but it's true, and I want them to understand that.
We're currently working on rewards for good deeds, which I think weirdly ends up filing under the financial category in your brain as an adult. We have marble jars, where if you do a good deed, you get a marble. At first it was to be able to pick out a toy. But lately they've just been concerned with collecting marbles; they don't even care about the prize. It's creating healthy patterns of accumulating smart choices, whether that is being nice to your sister or putting your dish in the sink.
SHEPARD: [Marbles] are way more fun than dollar bills for them.
When you were younger, did you ever have to save up for anything?
SHEPARD: I saved for two years to buy a color, 19-inch, remote-control TV when I was 10.
BELL: Michigan firmly roots you in the value of money, no matter how much you have of it. Of the same token, when I was 13, I saved up for a pull-out love seat in my room. I saved 700 bucks over the course of two summers to buy that.
I also remember wanting to start a lemonade stand. I asked my dad, "If we get a bunch of water and a bunch of lemonade and cups — if you go buy me all of that, I can start this business," and he was like, "What do you have as collateral?" And I didn't have anything. He wouldn't give me the money to start it. It resonated with me.
Would you do the same with your kid?
BELL: I would simply say, "I understand what you want to do. If I'm to invest in you, I need something in return, like collateral or chores." So they understand that an investor gets something out of their investment.
What do you like to spend money on? Do you have any guilty pleasures?
BELL: My guilty pleasure is sometimes I comb GoFundMe pages in the evening after everyone's gone to bed and try to [help out].
SHEPARD: Give them your good hack.
BELL: What?
SHEPARD: She has the desire to shop all day long, like everyone else. All night long, in bed, she puts items in a cart and then just never buys them. The act of picking them out and placing them in the cart satiates her desire to gather.
BELL: I spend a lot of money on organizations I care about because it makes me sleep better at night, and I still struggle with wanting to buy myself things. Then when I do purchase things, I either feel overwhelmed because I have too much stuff, or I feel guilty like I shouldn't have spent that much money. So [I go] to every beautiful website I've ever seen, clothing or jewelry or shoes or fancy kids' clothes, [and] I put those items in the cart. It feels just as good — except I don't have to unwrap the packages and figure out where to store it.
I have carts on every website you've ever heard of. And they are filled to the brim. And I will never check out.
This interview has been edited and condensed.