Lady Gaga's Diamond Oscars Necklace Cost Nearly as Much as the Budget of 'A Star Is Born'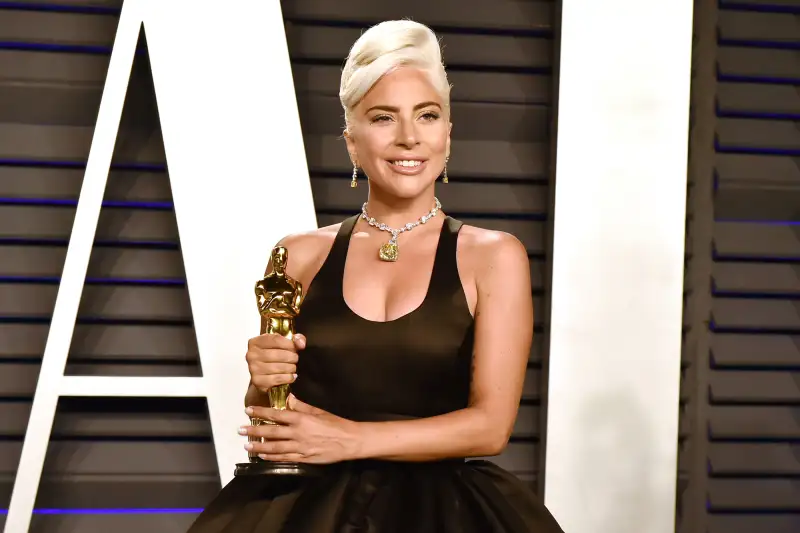 David Crotty—Patrick McMullan/Getty Image
Lady Gaga delivered everything you were hoping for at this year's Academy Awards: tears during her acceptance speech, a gleaming disposition sitting in the front row, and an emotional and stirring performance with co-star Bradley Cooper.
As the star is wont to do, Lady Gaga also turned heads on the red carpet — this time with a 128.54-carat yellow Tiffany diamond that was worth almost as much as it cost to produce A Star Is Born. The enormous, cushion-shaped diamond is worth nearly $30 million, according to estimates from Tiffany & Co. (For reference, A Star is Born cost around $36 million to produce.) That means Lady Gaga's diamond is reportedly the most expensive piece of jewelry ever worn at the Academy Awards.
While the diamond was perhaps less attention-grabbing than her iconic meat dress, it was historic in its own right. Audrey Hepburn once wore the same Tiffany diamond, set on a different piece, for promotional shots for 1961's Breakfast at Tiffany's.
The diamond itself was first discovered in a South African mine in 1877 at 287.42 carats before it was cut into its cushion shape.
In 2012, it was reset on a string of white diamonds that total more than 100 carats for Tiffany's 175th anniversary, according to the jeweler. That's the necklace Gaga wore during the Oscars, her performance, and at Vanity Fair's annual afterparty.
"The chance to work with such an amazing piece of design and history tonight is a creative dream come true," Sandra Amador and Tom Eerebout, Lady Gaga's stylists, said in a statement. "There are so many beautiful jewels in the world, but the radiant Tiffany Diamond ... is truly exceptional, which is just so fitting for Lady Gaga."
Tiffany's founder Charles Lewiss Tiffany purchased the rough diamond in 1878, a year after it was first discovered, and the company hasn't sold it since. The brand did, however, say in a 1972 New York Times advertisement that it could be purchased for $5 million — thus giving us a hint to its value today. "The offer, however, was good for 24 hours and whether for reasons of thrift or disbelief, there were no buyers," Tiffany's says.
It's not surprising that Lady Gaga would make such a big statement. The Academy Awards this year marked her first Oscar win and first nomination for Best Actress. And Lady Gaga has a history with Tiffany's, too. She appeared in their Super Bowl advertisement in 2017, the same year she headlined the game's coveted half-time show.
Expensive jewels are a regular presence on awards show red carpets year after year and the celebrities who don them typically don't pay anything to wear them. Jewelers and companies see these celebrities and high-profile events as prime real estate for marketing and publicity.
But for Lady Gaga, the diamond was an essential part of the latest iteration of her game-changing awards show ensembles.